[PHOTOS] 2013 Frankfurt Motor Show: General Motors (GM) Is Sending Its 2014 Chevrolet Camaro Convertible To European Car Expo In September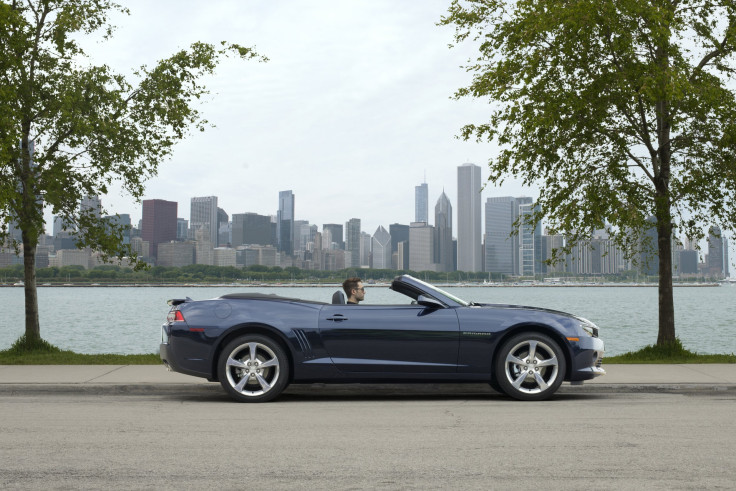 American muscle cars have long been associated with a combination of power and affordability, and the Chevrolet Camaro with the Z28 performance package has definitely endured.

Even while consumers are trending toward the fuel efficiency of a modern compact, or the hauling space of a utility vehicle, there are still plenty of people out there who just want raw American V-8 power for around $30,000. Today there's a trinity of American pony cars: the Ford Mustang, the Dodge Challenger and the Chevrolet Camaro.
General Motors Co. (NYSE:GM) unveiled the hard-top version of the 2014 Z28 Camaro at the New York International Auto Show in April; it's sending the convertible version to Frankfurt next month.
The specs for the 2014 Z28 Camaro convertible are the same: GM's high-perf LS7 7.0 liter V-8 gas guzzler is under the hood, delivering 500 horsepower, and the aerodynamics to keep the tires on the ground when you barrel around a corner fleeing the highway patrol.
The car outperforms the Camaro ZL1, in part because it's 300 pounds lighter, a weight advantage that comes in part from having only a six-speed manual transmission and no air conditioning (though climate control is available as an option).
Interior-wise, the Z28 has all the characteristics you would expect for a car that basically targets male speed addicts: Think matte metallic finish and Recaro seats. This is the most racing-worthy Camaro in the model's 47-year history. And now it will be available in soft-top.
© Copyright IBTimes 2023. All rights reserved.