Pittsburgh Steelers Predictions 2019: Record, AFC North Chances, Super Bowl 2020 Betting Odds
The Pittsburgh Steelers enter the 2019 NFL season in an unfamiliar position. A perennial playoff contender, Pittsburgh is no longer among the Super Bowl favorites.
Finishing the 2018 season with a 9-6-1 record, the Steelers missed the postseason for the first time in five years. Pittsburgh snapped a four-year streak of 10-plus wins, and the betting odds suggest the team could be in for another disappointing season.
The roster that made the Steelers one of the NFL's best teams in recent years has lost some key players. Antonio Brown was traded to the Oakland Raiders, having put up better numbers than any wide receiver during his tenure in Pittsburgh. Le'Veon Bell signed with the New York Jets in free agency after sitting out all of last season.
What can we expect from Pittsburgh in 2019? Here are a few predictions for the upcoming season, as well as the Steelers' betting odds, via New Jersey's FanDuel Sportsbook:
Win Total: Over 9 (-125), Under 9 (+105)
Only the New England Patriots have been more consistent winners than the Steelers. In their 12 seasons together, head coach Mike Tomlin and quarterback Ben Roethlisberger have never posted a losing record. Half of those seasons included at least 11 victories. The duo has totaled more than six losses in a single year just three times.
Even without Brown and Bell, the Steelers have explosive playmakers in running back James Conner and wide receiver JuJu Smith-Schuster. Roethlisberger remains a borderline top-10 quarterback after leading the NFL with 5,129 passing yards. One of the NFL's best offensive lines will provide him with plenty of protection, giving the Steelers a real chance to have a top-five offense for a third straight year.
Tied for 19th in strength of schedule, the Steelers could hit nine wins with a few weeks left to spare.
Prediction: 11-5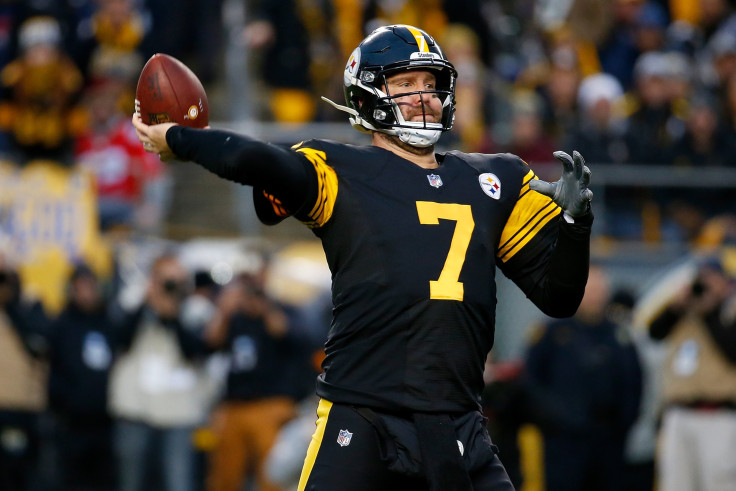 AFC North Odds: +170
The Cleveland Browns are favored to win the AFC North with +135 odds, giving the Steelers tremendous value. Cleveland certainly has a chance to make the playoffs, but they are still coming off a losing season and only two years removed from going 0-16. Tomlin has more than a decade of head coaching experience on Browns' rookie head coach Freddie Kitchens. Baker Mayfield still has a lot to prove.
There are plenty of questions surrounding the Baltimore Ravens, who lost several key defensive players and have an unproven passer at quarterback in Lamar Jackson. The Cincinnati Bengals aren't much of a threat to do anything in 2019. The Steelers have three division titles in the last five years, and they've finished worse than second just once in the last nine seasons.
Pittsburgh should be favored to finish in first place.
Prediction: AFC North champions
Super Bowl Odds: +2100
Ten NFL teams have better Super Bowl odds than the Steelers. Five of them reside in the AFC. The New England Patriots and Kansas City Chiefs are favored to represent the conference in the Super Bowl. The Indianapolis Colts, Los Angeles Chargers and Browns aren't far behind.
An argument can be made that the Steelers' championship window closed two years ago when they had a first-round bye and were defeated by the Jacksonville Jaguars in the divisional playoffs. But with higher than 20/1 odds, Pittsburgh is a solid Super Bowl bet. If Roethlisberger's play doesn't decline and the Steelers' defense improves, the Steelers have a championship ceiling.
Pittsburgh should make the playoffs, where they have a chance to go on a run.
Prediction: Divisional Playoffs
© Copyright IBTimes 2023. All rights reserved.