Pittsburgh Steelers vs. Cleveland Browns 2018: Prediction, Betting Odds Amid Le'Veon Bell's Holdout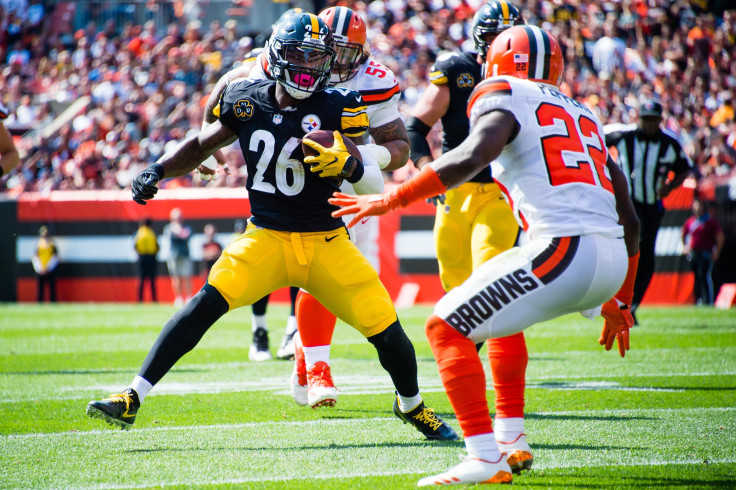 A win for the Cleveland Browns over the Pittsburgh Steelers would unquestionably be one of the most notable upsets in Week 1 of the 2018 NFL season. As the team that went winless a year ago prepares to take the field for the opening weekend, it might not be hard for gamblers to convince themselves that Cleveland is due for a victory.
Le'Veon Bell didn't report to Steelers' practice Wednesday, likely indicating that his holdout will stretch into the regular season. Even if the running back does show up by the weekend, the chances of him playing or being effective in the season opener are slim. There's no doubt that's a damaging loss for Pittsburgh, considering Bell is the league-leader over the last four years with an average of 137.5 yards per game from scrimmage.
Pittsburgh was once favored by 6.5 points, but the betting odds have changed dramatically, according to OddsShark. The point spread is down to 3.5 points and the over/under is 46.
But it isn't only what's happening in Pittsburgh that has the public picking Cleveland.
The Browns have gone from DeShone Kizer to Tyrod Taylor at quarterback. He'll have the option of throwing to either Jarvis Landry or Josh Gordon this season, neither of whom was part of the Browns' receiving corps for most of 2017. Cleveland has added a top-four overall pick to their defense in each of the last two drafts.
Add in the fact that the Browns were featured on HBO's "Hard Knocks" and you've got the makings of a sizeable bandwagon. Fans want to see Cleveland finally become a winner, and there's no shortage of reasons to point to when trying to justify why the Browns can defeat their big bad rivals at home.
That is if you choose to ignore some key facts: Pittsburgh remains one of the best teams in football, Cleveland is still among the NFL's worst, and Sunday's contest should be an easy victory for the Steelers.
No team in league history has had a worse two-year stretch than what the Browns produced in 2016 and 2017. Adding a couple of decent players isn't going to all of a sudden turn them into a playoff contender, and it certainly won't put them near the level of a Super Bowl contender.
The Steelers have won 24 games over the last two seasons, and they nearly earned the NFL's top record a year ago. Ben Roethlisberger arguably remains a top-10 quarterback and Antonio Brown is still the league's best wide receiver. James Conner is no Le'Veon Bell, but he'll find success as a starting running back in Pittsburgh's high-powered offense.
Cleveland will have to move the ball effectively if they hope to challenge Pittsburgh, who was third in total offense in last year's 13-win campaign. Can they do that against a unit that ranked fifth in overall defense and should be near the top of the rankings, once again?
As talented as Jarvis Landry might be, he didn't reach the 1,000-yard mark in 2017. He could be hard-pressed to do it this year when his current starting quarterback averaged just north of 200 passing yards per game over the last three years. Josh Gordon is practicing with the team, though he missed much of training camp and won't get the start Sunday.
Then, of course, you've got the mismatch at head coach. The often criticized Mike Tomlin is a perennial winner with two trips to the Super Bowl. Until further notice, Hue Jackson has to be considered the worst head coach in all of football.
Cleveland will be better than they were last year, as well as the year before. They've got promising young players and should show flashes of a team that can compete in the AFC North sometime in the future. The Browns will probably even upset a playoff team or two at some point this season.
But the Steelers are still the class of the division, and the Browns are far behind. Expect Pittsburgh to remind everyone of that in Week 1.
Prediction: Pittsburgh over Cleveland, 27-13
© Copyright IBTimes 2023. All rights reserved.