Plastic Pollution: Toxic Chemicals, Microplastics Found In Remote Antarctic Waters
After a three-month long expedition to Antarctica, a group of researchers from Greenpeace organization reported that even the most remote habitats of the continent were contaminated by microplastic waste and toxic chemicals, thanks to human activity.
The report, one of the most detailed of its kind, changes the view that Antarctic ecosystem mainly remained untouched by the consequences of dumping trash into our oceans and burning of fossil fuels.
"We may think of the Antarctic as a remote and pristine wilderness, but from pollution and climate change to industrial krill fishing, humanity's footprint is clear," Frida Bengtsson of Greenpeace's Protect the Antarctic campaign said in a statement.
The team collected snow and water samples from little known Antarctic ecosystems as part of the international campaign, which aims to build world's largest ocean sanctuary on Earth — approximately five times the size of Germany — to provide a protected environment to whales, penguins, and other marine life.
However, when the samples were brought back and analyzed, the researchers were totally shocked.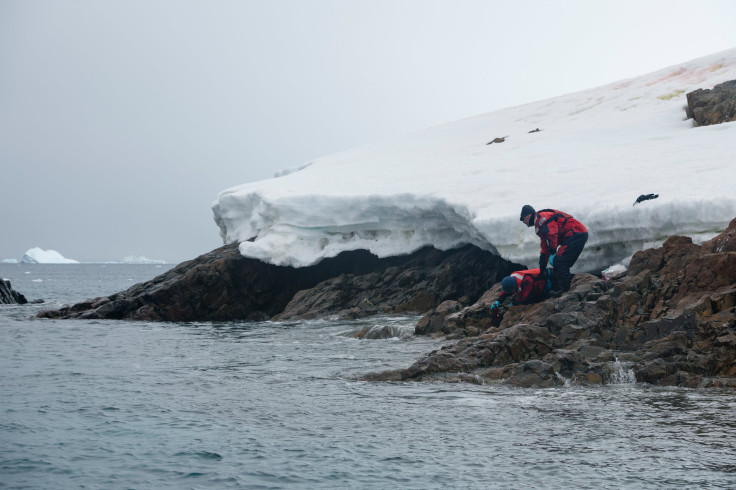 Out of eight sea-surface water samples, seven had traces of at least one microplastic element per liter of water. In another nine samples taken using a manta trawl sea-surface sampling net, two were found to contain microplastics. The situation got even worse when the team found signs of hazardous chemicals in snow samples. Out of a total of nine collected samples, seven had traces of toxic chemicals that are widely used in modern industrial processes and consumer goods.
These chemicals, called per- and polyfluorinated alkylated substances, or PFASs, don't occur naturally and are linked to a number of reproduction and development-related problems in wildlife. They normally take a lot of time to degrade, but in this specific case, the chemicals were found in fresh snow samples, something that suggests that they might have fallen from the atmosphere in the form of contaminated rain or snow.
"We also saw all kinds of waste from the fishing industry down in the Antarctic," Bengtsson added. "Buoys, nets, and tarpaulins drifted in between icebergs, which was really sad to see. We took them out of the water, but it really made clear to me how we need to put vast parts of this area off-limits to human activity if we're going to protect the Antarctic's incredible wildlife."
Visible plastic waste and microplastics were previously discovered in the Antarctic, but due to very little data on the trash, no work revealed the true scale of plastic pollution in the region. Many even believed that ocean currents around the continent acted as a buffer zone and protected the region from plastics polluting the world's oceans. However, this study changes all of that and calls for immediate attention to protect the ecosystem of the content.
"Plastic has now been found in all corners of our oceans, from the Antarctic to the Arctic and at the deepest point of the ocean, the Mariana Trench," Bengtsson concluded. "We need urgent action to reduce the flow of plastic into our seas and we need large-scale marine reserves — like a huge Antarctic Ocean Sanctuary which over 1.6 million people are calling for — to protect marine life and our oceans for future generations."
© Copyright IBTimes 2023. All rights reserved.