Players Championship: Tiger Woods Describes First Round Surprise After 2-Under 70
Tiger Woods opened with a 2-Under 70 in the opening round of The 2019 Players Championship at TCP Sawgrass Stadium course on Thursday. It was his first outing since pulling out of the Arnold Palmer Invitational just a week earlier with a neck strain.
The 14-time major champion started with an even-par 36 on the front nine, which included one bogey and one birdie. The action came in the back nine when he made just one par but still ended up with a 2-under 34 round after some messy approach shots.
Woods made a total of six birdies on the day to end up five shots behind the leaders Tommy Fleetwood and Keegan Bradley. The American was greeted with some gusty winds in the afternoon and admitted that he could have played a better round and even he was surprised with making just one par on the back nine and ending up with a score of just 2-under.
"I felt like I could have got something in the 60s today and got off to not actually the best of starts," Woods said, as quoted on Golfweek. "I hit some bad shots early, rectified that, made a few adjustments, and then went about my business. And then the back nine, there's nine holes on the back nine, made one par, so that was interesting. Usually, if I had one par it's usually shooting 30 or 29, not what I did today."
The 43-year-old started working on his putting recently with Matt Klein and Woods was happy with his putting after the first round when he had 30 putts. He revealed he got back to doing something he does naturally and that he was able to "rip it".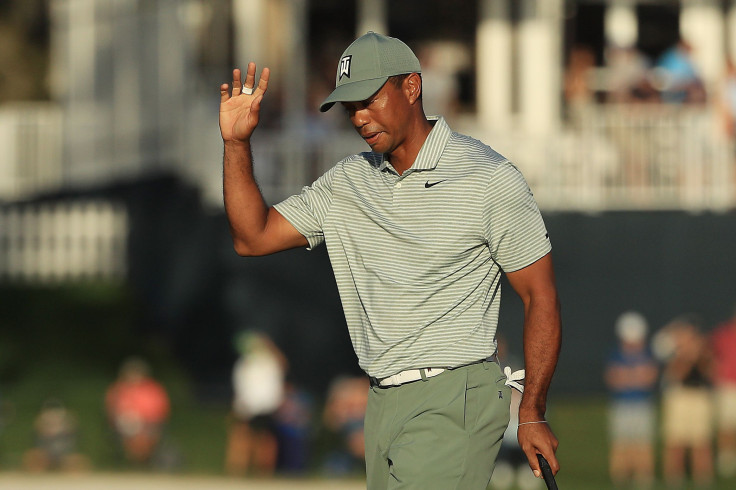 "Well, it wasn't like I had to do a lot," Woods said. "I just got back into something that I do naturally. I putt with the toe moving and toe releasing. My face moves a lot more than most players do, and we just went back to that," he said. "I feel like I can go ahead and hit it with my right hand again. That's how I've always putted. I always had a lot of hit in my stroke, and that felt good again. I felt like I rolled it today. I felt like I was able to get up there, and I felt comfortable. I was able to rip it, and I felt pretty good."
Woods will tee-off his second round at 8.32 a.m. EDT on Friday morning and is hoping for a repeat in the weather forecast, which saw the early starters face more calm wind conditions compared to the afternoon when it picked up. He also confirmed that the neck strain that kept him out last week was "all good".
"Hopefully we can catch it on the calm side and have some smoother greens and post a low number and then see if the guys have to face what we had to face in the afternoon with the wind moving pretty good," the American golf legend added.
© Copyright IBTimes 2023. All rights reserved.