As Police Put Paris In Lockdown, Parisians Confront An Eerie City Under Siege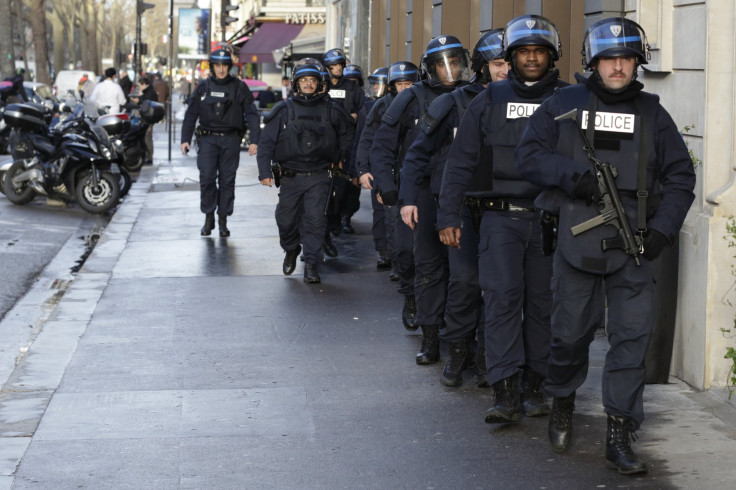 PARIS -- Like many Paris residents, illustrator Andrea Ipaktchi was glued to French television on a gray Friday, watching a second hostage standoff unfold in eastern Paris while images of elite French SWAT teams cornering two suspects in Wednesday's Charlie Hebdo massacre north of the city flashed to the right of the screen.
Ipaktchi, an American who has lived in Paris for 25 years, had an afternoon appointment, but she was reluctant to leave her apartment in the Trocadéro area of Paris, especially as she watched even more policemen in riot gear gather near a kosher supermarket in the eastern section of Paris, where gunmen linked to the Charlie Hebdo killers took at least six hostages.
"I'm jumping out of my skin," said Ipaktchi, who has two young sons, as she walked past the Louvre. "Everyone is. The city is traumatized. It's like we're living in a movie but it's real."
As Jewish shops quickly closed down all over the city, the sound of police sirens filled the air and people lined up at taxi queues. Traffic ground nearly to a halt near the Porte de Vincennes area where gunmen had taken hostages in the supermarket. Police were everywhere, and the mood remained extremely tense, even after news broke late Friday afternoon that the two suspects in the Charlie Hebdo attack were killed by elite French squads and their hostage freed without injury. One of two hostage-takers at the supermarket was also killed, while the other remains at large.
"There's no way I'm taking the subway," said longtime Paris resident Philip Dermargosian, who lives only a few blocks from the offices of Charlie Hebdo, where 12 people were murdered Wednesday by the two Kalashnikov-wielding men in guerrilla gear. "Right now I'm not happy to even be outside at all, but I've got things to do."
Pascal Fonquernie, who runs the paraismarais.com tourist website, said he was especially worried because he lives in the Marais district, home to many Jews and gay people.
"This is our 9/11," Fonquernie said. "It may seem a lot smaller, but for us that's what it feels like. People are scared that more attacks are going to happen. All day long I've been getting texts from my friends telling me not to go outside. Police and the French army are everywhere. I'm worried because gays and Jews are targets of these crazy people."
Fonquernie said he's also received calls and emails from concerned friends all over the world. "It makes me sad because I don't want people to be afraid to come here. The whole thing is so emotional. I was at the vigil the other night and to see so many people crying, it was very hard to take."
"I'm very worried and I hate to say this, but I wish I was anywhere else but here," said Cécile Brochot, a human resources consultant who lives near the Trocadéro, where police briefly feared another attack was taking place. "France is going down the drain because our leadership is incompetent. They knew about these guys. They should have stopped them."
The 9/11 analogy returned when another Parisian used it to describe how unexpected and shocking the Charlie Hebdo attack was. "I've lived all over the world but never thought something like this could happen in France," said May Michelle, a West Indian-born businesswoman who works in central Paris and grew up in French embassies as the daughter of a diplomat. "To me, the most shocking thing was how it was done … to see those men shooting the poor policeman in cold blood was horrible to watch. The only thing that's keeping French people going are all the messages of support coming from all over the world, especially everyone using 'Je Suis Charlie'."
© Copyright IBTimes 2022. All rights reserved.
FOLLOW MORE IBT NEWS ON THE BELOW CHANNELS