Jewish Institutions Worldwide Remain Vigilant After Paris Sieges End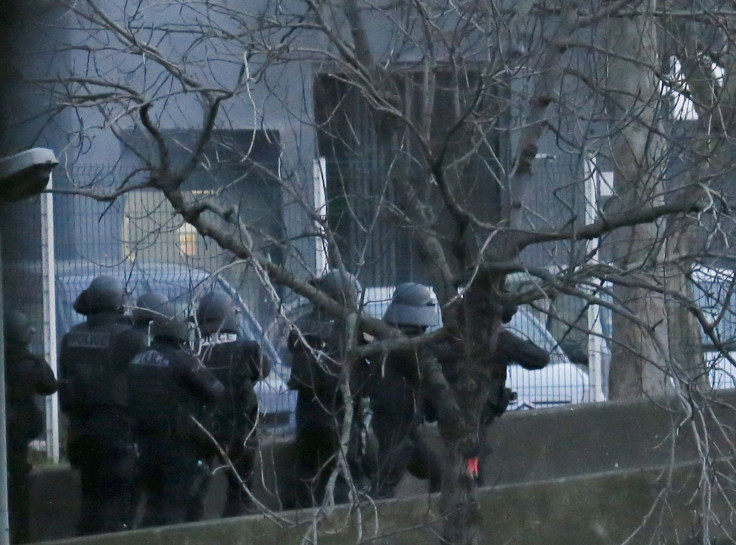 In the wake of two hostage situations around Paris that ended in gunfire Friday, police ordered all shops closed on the Rosiers street in the Le Marais neighborhood. The Jewish district is located one kilometer away from the offices of satirical newspaper Charlie Hebdo, where 12 people were murdered by apparent Islamic terrorists on Wednesday.
Four people reportedly were killed at a kosher supermarket Friday morning when one gunman seized the store and took several hostages. Some of the hostages were reportedly released and the gunman killed after a police siege. The gunman, Amedy Coulibaly, was reportedly linked to the deadly shooting of a female police officer on Thursday, as well as to the Hebdo attackers. About 30 kilometers away, the two men suspected in that attack were killed by police. They took a hostage at a printing house northeast of Paris. That hostage reportedly survived.
In his address to the French Friday evening, President François Hollande specifically denounced the supermarket siege as an anti-Semitic crime.
Meanwhile, Jews worldwide, not just in France, were on extra alert.
France
As the hostage situations unfolded, the Grand Synagogue of Paris, the city's largest place of Jewish worship, was closed for security reasons. It is the first time since World War II that the synagogue will not host services for the Sabbath. On Facebook, Le Service de Protection de la Communauté Juive, which combats anti-Semitism in France, advised Jewish residents to avoid gathering near community centers, to report any suspicious activity, and to make sure security devices are installed and working properly.
On Friday afternoon, Israeli Prime Minister Benjamin Netanyahu ordered his spy service Mossad to provide French officials any assistance they needed to handle the terror situation in Paris.
Jewish communities in France had already begun to increase security measures after the Charlie Hebdo attack. Jewish volunteers provided increased security along the perimeters of synagogues and Jewish schools, Chlomik Zenouda of the National Bureau for Vigilance against Anti-Semitism told the Jewish Telegraph Agency on Thursday.
"We are past red alert. At this stage, it's all hands on deck because, sadly, the question is not whether the French Jewish community will be targeted but when," Zenouda said. "There are indications that this may happen in the near future."
Britain
In Britain, the Community Security Trust, which provides physical security for Jewish schools, synagogues, charities and buildings across the country, said Friday it was in communication with police forces, asking them to increase patrols in Jewish neighborhoods. Jewish security officers have been asked to ensure sufficient security is established at Jewish institutions during the Sabbath – the weekly holy day of prayer and rest which begins at sundown on Friday and ends at sundown on Saturday.
United States
In the United States, Orthodox Jewish synagogues are remaining vigilant, Yehuda Friedman, associate director of synagogue services for the Orthodox Union, told International Business Times. The organization represents more than 400 synagogues nationwide.
"There are no specific threats, but the community will have Shabbat, they will have Friday-night services, schools are opened and they are conducting business as usual -- but with heightened awareness," Friedman said.
The United Synagogue of Conservative Judaism, which represents about 600 congregations, is reacting similarly.
"When the situation warrants, we send a notice to our congregations reminding them of the importance of being vigilant about security, being in touch with local law enforcement, and reporting unusual activities," Andrea Glick, director of marketing and communications at the United Synagogue, told IBTimes. "In light of the situation in France, we sent such a reminder to our congregations today."
Canada
In Canada, the Centre for Israel and Jewish Affairs says Jewish institutions have security measures in place.
"There is complete trust in law enforcement to recognize the risk to Jewish communities and to increase patrols around intuitions," Martin Sampson, director of communications and marketing, told IBTimes.
In October, a Quebec man with jihadist ties ran over two Canadian soldiers, injuring them. Two days later, a Canadian soldier was gunned down on Parliament Hill in Ottawa by a man with a criminal record who converted to Islam and adopted "radical views."
"The situation has evolved the same way it has evolved everywhere," Martin Sampson, director of communications and marketing at CIJA, told IBTimes. "Terrorism and extremism are real. They threaten our way of life and it's a problem we share developing a solution for."
© Copyright IBTimes 2023. All rights reserved.
FOLLOW MORE IBT NEWS ON THE BELOW CHANNELS