Charlie Hebdo Massacre: Illegal Gun Trafficking Brings Millions Of Weapons Into The EU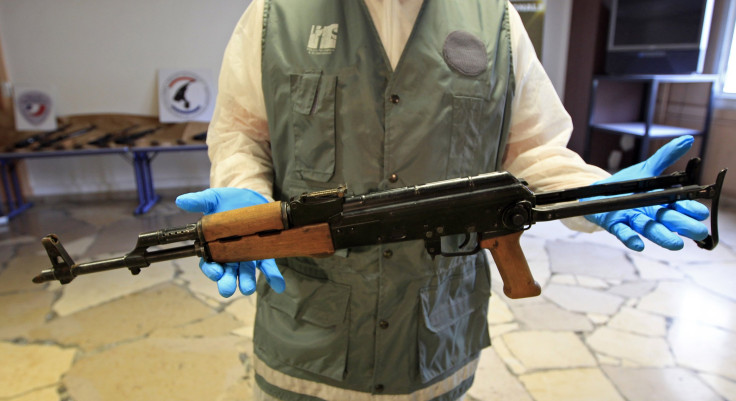 Despite stringent firearms controls and ramped-up efforts to combat illegal gun trafficking, thousands of "war weapons" remain strewn across the European Union's 28 member states. Many, like the AK-47 assault rifles used by the gunmen who attacked the Charlie Hebdo offices in Paris on Wednesday, are bought by gun collectors, organized crime affiliates and, as was the case this week, terrorists.
There is no definitive count, but the bloc estimates that around half a million lost or stolen firearms remained unaccounted for within the EU. And that only accounts for weapons that were once registered and later went missing. Many of the automatic "war weapons" are illegally trafficked from the Balkan Peninsula and former Soviet Bloc states, where millions of leftover arms from the Croatian, Bosnian and Kosovo wars are regularly stolen, bought and transferred in small numbers, mostly to organized crime clients in Southern Europe, according to Gunpolicy.org. In France, there are an estimated 10 million to 20 million illegal weapons alone, according to a Christian Science Monitor report.
One problem is the EU's Schengen Area open border agreements, which let Europeans travel freely between countries without comprehensive border checks, according to the Raffaello Pantucci, director of international security studies at the Royal United Services Institute, a defense think tank in London. "It's actually quite difficult to get this sort of weaponry in the United Kingdom … in contrast, on the continent in France and other countries, the free movement that is enabled by the Schengen Zone and the EU means that it's much easier to cross borders. Some countries have slightly looser or different gun laws than others," he said.
Guns can be acquired in the EU through a number of means. A .44-caliber Desert Eagle is advertised for 1,250 euros, or $1,481, by an anonymous European arms dealer on the Deep Web. The dealer ships that weapon through the mail. With the proper connections, which the Charlie Hebdo gunmen appeared to have, an AK-47 costs around $400 to $900 in certain European markets, and about $1,100 to 1,800 in France, according to a Bloomberg report.
In Kosovo, less than 20 years out of the Balkan's most recent all-out war, gunrunning is rampant. A 2007 report quoted a young Kosovar gunrunner who said an AK-47 made in China can be picked up in his town for just 250 euros, and for only 50 euros in neighboring Albania, which along with two neighboring Balkan states, is on its way to becoming an EU member country. The gunrunner said many of the guns that run through Kosovo come from Serbia and Macedonia. Many, like the gas pistols converted to lethal handguns, are brought to Albania and smuggled into Western Europe, he said.
Some of those "war weapons" have also made it to the Middle East and Central Asia and into the hands of terrorist groups like the Islamic State group and Al Qaeda, which trained at least one of the Paris gunmen. Said Kouachi allegedly traveled to Yemen to receive guidance on weaponry and military tactics.
He and two other suspects allegedly stormed the Charlie Hebdo office in Paris Wednesday with an AK-47 rifle and military accessories, killing two armed security guards and several Charlie Hebdo employees before escaping in a firefight with a police officer. One suspect executed a French police officer responding to the scene with what appeared to be little emotion. In all, 12 people were killed. The Kouachi brothers were killed in a printing company building outside Paris while taking an individual hostage on Friday, authorities said.
The EU made the disruption of illicit manufacturing and trafficking in firearms one of its nine law enforcement priorities through 2017. The EU and France have some of the most stringent gun control laws in the world, which are widely supported by voters there. The EU requires member states to have a minimum level of gun control, which include comprehensive background-check requirements to ensure a gun-buyer is not a potential danger to himself or others. Experts said that even in light of a terrorist attack like that on Charlie Hebdo, French lawmakers aren't likely to demand easing up gun laws for self-defense.
© Copyright IBTimes 2023. All rights reserved.