Polish Minister Does Nazi Salute In EU Parliament, Poland Apologizes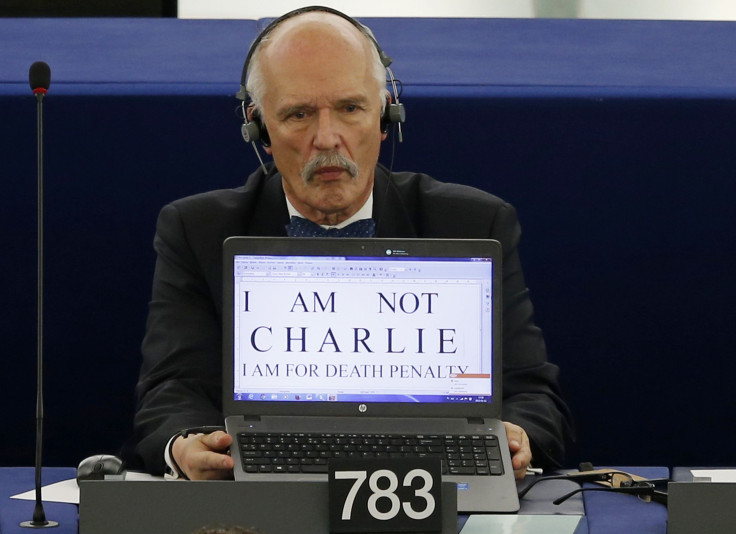 A right-wing Polish lawmaker raised his hand in a Nazi salute and made reference to a Nazi slogan in the European Parliament to criticize a transport reform proposed by Germany Wednesday, according to reports. The controversial gesture created uproar in the parliament, prompting Poland to issue an apology Thursday.
The parliament was discussing about plans to introduce single ticketing for buses and trains across European Union borders, Newsweek reported. However, Janusz Korwin-Mikke, of the New Right Party, did not seem to agree with the idea and raised his hand in the Nazi salute and said: "Ein Reich, ein Volk, ein Ticket," a reference to the infamous Nazi slogan, "Ein Volk, ein Reich, ein Fuehrer" (One People, one Empire, one Leader).
"All the time if there is voting, we are voting for the unification of everything," Korwin-Mikke, 72, reportedly said.
On Thursday, Polish Foreign Minister Grzegorz Schetyna apologized to Europe, the European Parliament and voters for Korwin-Mikke's "performance," saying "we all are ashamed of such behavior," the Associated Press reported. However, Korwin-Mikke did not issue any apology over the incident.
Citing Polish media, RT.com reported that Korwin-Mikke violated Article 256 Part 1 of the country's Criminal Code that prohibits the "public promotion of a fascist or another totalitarian system" that "incites hatred based on national, ethnic, racial, religious differences." People found guilty of violating this code can be reportedly fined and/or imprisoned for up to two years.
This is not the first time Korwin-Mikke has landed himself in trouble. He has previously said that the EU was a "communist project" run by "Maoists like Barroso" and stated that he would like to put the European commission building to better use by "turning it into a brothel," the Guardian reported. He has also made controversial comments about democracy, calling it "the stupidest form of government ever conceived."
© Copyright IBTimes 2023. All rights reserved.