Charles Koch Gave $50 Million To Higher Ed In 2016. What Did He Buy?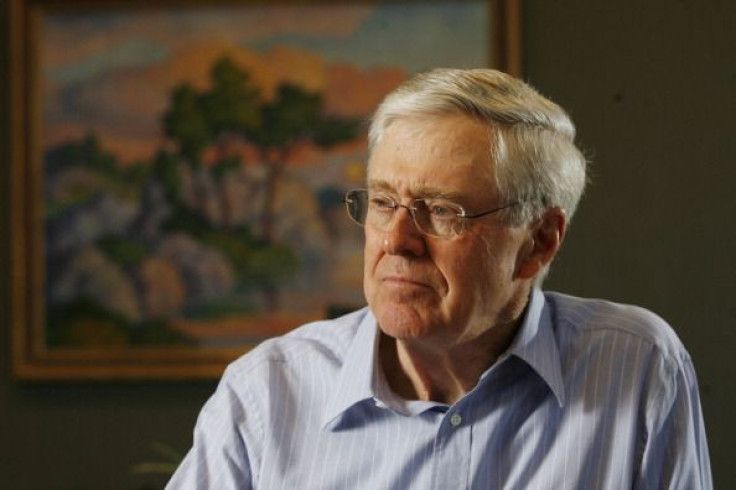 The foundation of billionaire industrialist Charles Koch is ramping up its ideological higher education donations, smashing last year's record amount given to colleges and universities. The foundation, along with smaller contributions from two other Koch family foundations, gave over $51 million to higher education institutions in 2016, according to tax records analyzed by International Business Times. Koch donations typically come in the form of multi-year gifts, which support free-market centers, courses, professorships, graduate scholarships and lecture series, all with the aim of producing bright, young conservatives to recruit into their political network and like-minded professors to create scholarship that dovetails with the Kochs' ideology and business interests.
Koch and his brother David are well known for running a giant oil, chemical and materials conglomerate, Koch Industries, and for leading a vast, conservative political network that rivals either of the two major political parties in size and funding. Lesser known, but crucial to their long-term strategy to bend America toward their small-government ideology, is their considerable funding of higher education.
The political activities of the Koch brothers have led to increased scrutiny into the family's university grants in recent years, and students and faculty at several academic institutions have protested proposed donation agreements. In many cases, despite the opposition, universities and their economics departments, eager for an influx of cash, approve the agreements and begin taking yearly installments of hundreds of thousands — and sometimes millions — of dollars.
Controversial Centers See First Gift Installments
Several new free-market centers received their first installments from the Charles Koch Foundation (CKF) in 2016, including the controversial Center for the Study of Free Enterprise at Western Carolina University (WCU). The foundation made a $1.8 million commitment in September 2016, and the first payment was made before the end of the year; Western Carolina took in $411,000 from CKF in 2016, according to the foundation's most recent tax form. CKF had been funding the WCU College of Business since 2009, with annual amounts ranging from $12,000 to $16,000, but the new agreement marks a huge increase in support.
In October 2015, the WCU Faculty Senate released a statement on the proposed center explaining its concerns including "potential constraints on academic freedom" and "reputational costs" that could result from association with Koch. In the past, CKF has engineered its university gifts to maximize its control over the use of its funding, most notably at Florida State University, where it originally had influence over hiring decisions and the curriculum. The WCU Faculty Senate voted 21-3 against approving the center, with four abstaining.
Nevertheless, the WCU Board of Trustees voted unanimously in favor of the free-enterprise center. In January 2016, a Smoky Mountain News investigation found that Ed Lopez, the professor who proposed the center and would be its director, sent a detailed letter to CKF that revealed his desire to recruit fellow conservative economics professors and to create a "pipeline of students" through the free-enterprise center. Faculty were concerned that the center would function as a de facto advocacy organization for the conservative economic philosophies of the billionaire brothers.
Lopez, a BB&T Distinguished Professor of Capitalism, earned his economics Master's and PhD, as well as a postdoctoral fellowship, from George Mason University — by far the biggest recipient of money from Koch family foundations — and he has lectured at two CKF events. Lopez is also on the executive committee of the Association of Private Enterprise Education, which hosts annual meetings of Koch-backed academics, CKF representatives and wealthy donors.
The University of Kentucky also received the first in a series of big payments from CKF in 2016, this time for a new John H. Schnatter Institute for the Study of Free Enterprise in the college of business, funded with $6 million from the family foundation of Papa John's CEO Schnatter and $4 million from CKF. In October 2016, the university's board of trustees officially approved the donations and the formation of the institute days after the faculty's University Senate voted against endorsing the terms of the gift agreement. Faculty were especially concerned about the stipulation that the Koch and Schnatter foundations would review the program annually and could revoke their yearly installments with 30 days notice if they didn't like the results. Such an arrangement, which is typical of CKF agreements, would incentivize a program to shape its output to please donors in order to keep the funds flowing, possibly risking academic freedom.
Ernest Yanarella, professor and chair of political science at UK, said the 30-day notice is "one of the many strings attached to the [agreement] that give the Koch and Schnatter foundations control over the institute and its programs and direction." The agreement "closes off investigation of the negative facets of capitalism," he said.
In 2016, the university received $473,000 from CKF to begin the five-year Koch/Schnatter deal, up from the $28,000 it received from CKF in 2015 and $120,000 in 2014. The money will allow UK's Gatton College of Business and Economics to hire new tenured and tenure-track faculty, research associates and administrative staff, and to fund Ph.D. fellowships.
Like Lopez at WCU, the Schnatter Institute's founding director, John Garen, holds a BB&T-funded professorship of capitalism. Garen was a visiting scholar at GMU's Koch-funded Mercatus Center in 2010 and is on the board of scholars of the Bluegrass Institute for Public Policy Solutions, which has received funding from CKF and from other nonprofits to which Koch family foundations contribute. Also like Lopez, Garen sits on the executive committee of the Association of Private Enterprise Education.
The dean of the College of Business, David Blackwell, who pushed for the center, is now one of two final candidates to become university provost, something students and faculty planned to protest outside a hearing Friday.
Faculty opposition to Koch donations has recently welled up at other campuses including Wake Forest University, Syracuse University and the University of Utah.
"Student and faculty resistance to the Koch network's academic programs is growing rapidly, while administrators continue to bulldoze faculty governance, mistaking money with strings attached for support of their institutional missions," said Ralph Wilson, senior researcher at the activist group UnKoch My Campus.
Many Schools Get Six- And Seven-Figure Gifts
More than 240 colleges and universities, almost all in the U.S., got donations from Koch family foundations in 2016, up from 218 the previous year.
George Mason University, as usual, took in the most money at more than $19.3 million. This total includes one installment of a total $10 million donation to rename the law school after the late, conservative Supreme Court Justice Antonin Scalia and fund new law professors, and $5.9 million went to GMU's Institute for Humane Studies. $85,000 to IHS came from the Charles Koch Institute, a nonprofit that gives out gifts to institutions and provides work grants, student internships and journalism fellowships with its web of conservative partners. The other Koch family nonprofit, the Frank and Mary Koch Foundation, gave several five-figure gifts to schools based in Kansas, where Charles Koch resides and where Koch Industries is headquartered.
Five other schools received over $1 million from the Koch foundations last year: Texas Tech University ($3.4 million), Catholic University of America ($2.2 million), Utah State University ($2 million), Purdue University ($1.1 million) and Florida State University ($1 million). Fifty-seven U.S. colleges and universities received $100,000 or more from Koch foundations in 2016. See a table showing all university donations from Koch foundations here.
Vast Increase In Funding
The $51.3 million towards higher education in 2016, a more than 50 percent increase from the the previous record, $33 million, in 2015. One year before that, the Koch foundations donated $24.8 million to colleges and universities, so, two years later, Koch higher ed contributions have more than doubled.
The academic gifts follow a general trend of CKF ramping up its overall donations. In 2016, the foundation gave $77 million in total, a 75 percent increase from the previous year. In 2017, CKF expects to dole out around $120 million.
In addition to higher ed donations, CKF funds many of the conservative think tanks and advocacy groups that make up the Koch political network, as well as conservative publications. In 2016, CKF gave nearly $2.6 million to the libertarian Cato Institute, which Charles Koch co-founded; close to $950,000 to the foundation of the right-wing news outlet The Daily Caller; $612,000 to the Texas Public Policy Foundation; roughly $550,000 to the conservative bill mill the American Legislative Exchange Council; and $207,000 to the Heritage Foundation, among other institutions.
'A Radically Different Social Philosophy'
In her most recent book, Dark Money, New Yorker staff writer Jane Mayer describes a 1976 New York City conference that Charles Koch organized for wealthy libertarians to plot a strategy to take over American politics. In order to broaden their radical conservative movement, Charles Koch advocated a focus on "attracting youth" because "this is the group that is open to a radically different social philosophy." Koch's political lieutenant at the time, former John Birch Society member George Pearson, said at the gathering that traditional university gifts would not be sufficient, but funding private institutes on campuses would make it easier for donors to exert more control over hiring decisions and the ideological bent of these centers.
The "Structure of Social Change," a plan devised by Koch and one of his closest lifelong associates, Richard Fink, begins with funding higher education. Next, academic output — or "intellectual raw materials" — moves on to right-wing think tanks funded by Koch and his network, which repackage the scholarship into more relatable policy proposals. Koch-funded political advocacy groups then rally people around these policies and pressure lawmakers to adopt them.
The strategy appears to be working. Not only are libertarian-minded academics raising their profiles with the help of Koch grants and providing "raw materials" for conservative think tanks to convert into policy proposals but some are rising directly into the halls of government. IBT recently identified a host of Koch-backed academics who have secured posts within the Donald Trump administration this year.
Meanwhile, business is booming for the wealthy brothers. Charles and David Koch are currently worth a combined $99.2 billion.
© Copyright IBTimes 2023. All rights reserved.