Election 2016: Wall Street-Funded Super PAC Airs New Iowa Ad Slamming Hillary Clinton's Ties to Wall Street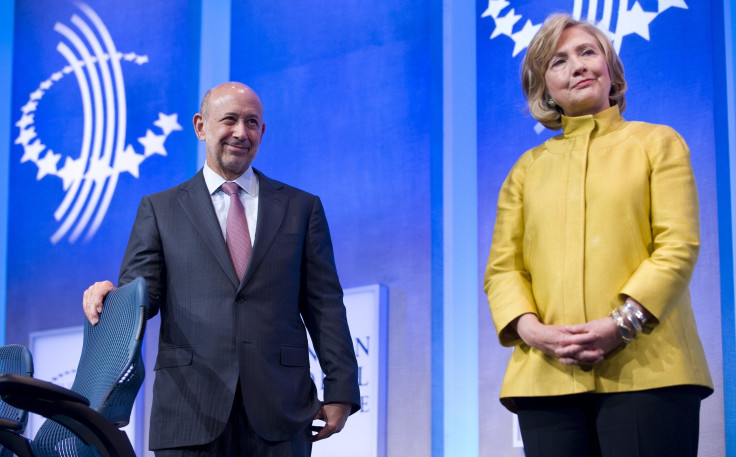 Hours before Sunday night's Democratic debate, a conservative super PAC launched a new television ad campaign in Iowa spotlighting Hillary Clinton's ties to the financial industry. As Clinton is set to raise more finance industry cash at an event with Jon Bon Jovi, the ad points out the strong support she has received from Wall Street firms, her vote for the $700 billion bailout package and her declaration that she "represented Wall Street as a senator from New York."
Skepticism about bailouts and the power of the financial industry is common among rank-and-file conservatives, so it may not seem surprising to see a conservative group running such an spot — especially with some polls showing Clinton's lead in Iowa evaporating in the face of her opponent Bernie Sanders' anti-Wall Street crusade. However, what the ad does not note is that the specific super PAC sponsoring it has itself been bankrolled by the financial industry.
The group behind the ad is American Crossroads, a conservative super PAC affiliated with Karl Rove, a former senior advisor to President George W. Bush. The Wall Street Journal wrote in July that Rove is "deeply involved with the organization."
According to data compiled by the nonpartisan Center for Responsive Politics (CRP), the sector that has donated by far the most money to the group is the "securities and investment" industry. Among the top contributors to the group in 2016 are investment banking billionaire Warren Stephens, who gave the group $500,000, according to Federal Election Commission reports.
During the 2014 campaign — which left the group with $1.5 million in reserve for the current election cycle — the group received more than $9 million from the securities and investment industry. That included $2.6 million from hedge fund mogul Paul Singer of Elliott Management, and $950,000 from billionaire Ken Griffin, who runs the high-frequency trading firm Citadel. Since 2010, the group has raised more than $24 million from the securities and investment industry.
American Crossroads has not yet reported the donations it received in the latter half of 2015. The group has a nonprofit affiliate, called Crossroads GPS, which does not disclose its donors. Crossroads GPS spent $1.3 million in the 2010 and 2012 election cycles, according to CRP.
Watch American Crossroads' ad below:
© Copyright IBTimes 2023. All rights reserved.
FOLLOW MORE IBT NEWS ON THE BELOW CHANNELS