Hillary Clinton Plans To Raise Money From Industries With Interests Before The Next President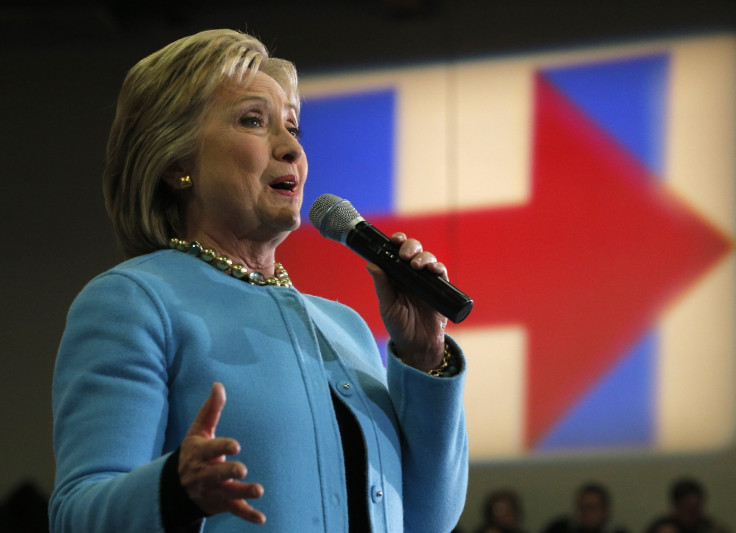 In conceding defeat in Tuesday's New Hampshire Democratic primary, Hillary Clinton cast herself as an opponent of money's influence in politics, a future president who would challenge corporate power.
"You're not going to find anybody more committed to aggressive campaign finance reform than me," Clinton said, promising to "crack down on corporations that game the system."
Only days later, Clinton's campaign is launching a fundraising blitz that includes events with representatives of industries that have significant business interests before the federal government. An International Business Times review of fundraising invitations found that the Clinton campaign's nationwide tour includes events with corporate officials from the food, investment and energy sectors — all of which have vested financial interests in the policies that the next presidential administration will decide.
According to fundraising information collected by the nonpartisan Sunlight Foundation, former President Bill Clinton is scheduled to appear Friday at a Hillary Clinton campaign fundraiser in Cincinnati chaired by Allan Berliant , CEO of frozen food conglomerate Best Express Foods. The company is regulated by the Food and Drug Administration, which in 2011 said it had discovered listeria and "significant violations" of food safety regulations at the company's manufacturing facility in Michigan. (Three years later, the FDA said the company had addressed the violations but that future "inspections and regulatory activities will further assess the adequacy and sustainability of these corrections.") The next president will be responsible for implementing recent rules under the Food Safety Modernization Act, which governs the FDA.
Three days later, Chelsea Clinton is scheduled to be in Columbus, Ohio, for a campaign fundraiser at the home of Susan Tomasky, who is listed as a board member of the multibillion-dollar energy behemoth Public Service Enterprise Group (PSEG). The New Jersey company is one of the nation's largest utilities, and has nuclear power plants and gas pipeline interests. In recent months, PSEG has lobbied federal regulators on nuclear energy issues, and lobbied Congress on environmental rules , energy regulations and issues related to nuclear waste disposal and a decontamination fee.
Next Tuesday, Hillary Clinton is scheduled to appear at back-to-back fundraisers co-hosted by officials from Wall Street colossus BlackRock — including Cheryl Mills, Clinton's former State Department chief of staff and a current board member of the Clinton Foundation. According to Politico, a BlackRock fundraiser for Clinton had been scheduled for last week, but Clinton's campaign postponed it until after the New Hampshire primary following criticism of her Wall Street ties by her opponent, U.S. Sen. Bernie Sanders of Vermont.
BlackRock has a major interest in federal policymaking: According to disclosure reports, the investment firm has recently lobbied Congress and government regulators on "retirement security and savings proposals," as well as financial regulations.
IBT previously reported that BlackRock could gain from a Pentagon proposal to shift billions of dollars of military pension money into a federal thrift savings plan managed, in part, by the Wall Street firm. The president appoints the board that oversees the thrift savings plan — and the plan's management contracts with financial firms like BlackRock.
In addition, the Intercept notes that BlackRock "buys and holds most of its investments, meaning that any policy punishing short-term capital gains and rewarding longer-term strategies would personally benefit the firm." Clinton's proposals to limit high-frequency trading could benefit BlackRock, and the firm's CEO, Larry Fink, has promoted the ideas in Clinton's proposals.
A day after the BlackRock fundraisers, Clinton is slated to be in Chicago for an event at the home of Valor Equity Partners' founder Antonio Gracias. The firm has invested in pharmaceutical, automobile and energy companies regulated by the federal government. As a private equity firm, it is also part of an industry that could face increased regulatory scrutiny from the next administration's Securities and Exchange Commission.
With Clinton's vast fundraising apparatus facing intensifying scrutiny, she has recently disputed that money influences public policy. In last week's MSNBC debate, she criticized Sanders for what she said was his effort to "link donations to my political campaign, or really donations to anyone's political campaign, with undue influence with changing people's views and votes."
John Osborne contributed research to this report.
© Copyright IBTimes 2022. All rights reserved.
FOLLOW MORE IBT NEWS ON THE BELOW CHANNELS