Hillary Clinton Says She Does Not Coordinate With Super PAC She Reportedly Raised Money For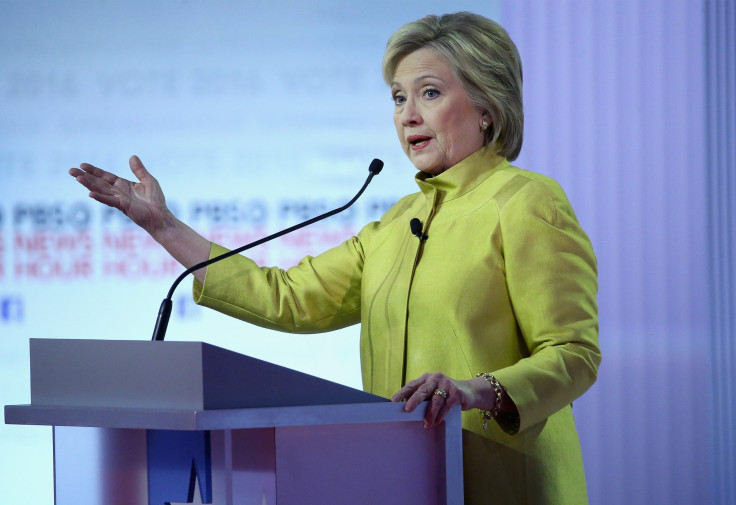 Hillary Clinton on Thursday night took offense at suggestions that she had anything to do with a political organization backing her presidential bid and raking in millions from financial industry titans. Questioned by PBS debate moderators about the money pouring into the group, the former secretary of state said: "You're referring to a super PAC that we don't coordinate with." Later, Clinton said, "It's not my PAC."
Last year the New York Times reported that Clinton would "begin personally courting donors for a 'super PAC' supporting her candidacy, the first time a Democratic presidential candidate has fully embraced these independent groups that can accept unlimited checks from big donors and are already playing a major role in the 2016 race." In November, the Times reported that former President Bill Clinton would be a "special guest" at a donor meeting for the group, called "Priorities USA Action." The super PAC — which is run by Guy Cecil, a former top staffer in Hillary Clinton's 2008 campaign — has raised more than $40 million to support her in 2016.
Under federal campaign finance laws, Clinton technically cannot coordinate with super PACs, like Priorities USA, which aren't subject to contribution limits. But another super PAC called "Correct the Record" has asserted it's permitted to coordinate with her campaign because its work is only online — and it's received $1 million from Priorities USA. Clinton has also donated to Correct the Record. Campaign finance reports show her campaign has given over $280,000 worth of "research" to the super PAC.
In her concession speech after her Tuesday loss in New Hampshire, Clinton pledged to support strong campaign finance reforms. Hours later, the Associated Press reported that Clinton's allies were setting up a so-called dark money group "aimed at expanding voter protection efforts and driving turnout and registration among Latino and black voters." AP additionally reported that Cecil, of Priorities USA, will advise the group — which "will operate as a nonprofit 'social welfare' organization, allowing it to take unlimited donations and keep its donors' identities private."
During Thursday night's exchange over campaign money, Vermont Sen. Bernie Sanders challenged Clinton's previous suggestions that campaign money has little bearing on public policy.
"Let's not insult the intelligence of the American people," he said. "People aren't dumb. Why in God's name does Wall Street make huge campaign contributions? I guess just for the fun of it; they want to throw money around." He added: "What we are talking about in reality is a corrupt campaign finance system, that's what we're talking about. We have to be honest about it. It is undermining American democracy."
Sanders also suggested that while the law is designed to prevent coordination between candidates and super PACs, there is no such independence in practice. He said his own team considered launching an outside group, even though federal rules are designed to prevent that.
"We had a decision to make early on, do we do a super PAC? And, we said no," Sanders said.
© Copyright IBTimes 2022. All rights reserved.
FOLLOW MORE IBT NEWS ON THE BELOW CHANNELS