Hundreds Of Donald Trump's Employees Have Sued For Alleged Labor Infractions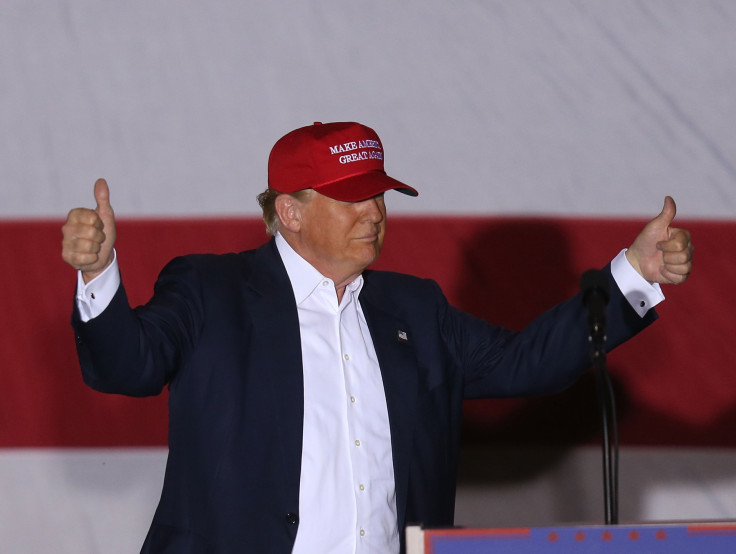 Donald Trump's campaign to be chief executive of the United States raises questions about what kind of executive he's actually been over the years. In his star role on "The Apprentice," Trump reveled in his persona as a no-nonsense disciplinarian of a boss. Not for nothing was his catchphrase, "You're fired." He was tough but fair — or at least that's what he played on TV.
Offscreen, hundreds of current and former Trump Organization employees have accused the company of being less than fair and more than tough. Multiple lawsuits have targeted Trump's businesses over the years with allegations ranging from anti-union intimidation to hiring undocumented workers. In one case, the Trump Organization paid $475,000 to settle a claim with nearly 300 Los Angeles golf club employees in a class-action suit alleging unpaid wages and age discrimination, among other offenses.
In another instance, in 1999, the Trump Organization settled for an unknown sum more than 15 years after unionized workers first accused the company of employing undocumented Polish immigrants at a New York demolition site. The workers allegedly "were paid $5 an hour or less when they were paid at all," and "worked 12-hour shifts, seven days a week with no overtime," according to the Daily Beast.
One legal struggle between the real estate conglomerate and its employees is still in progress. Last week, the National Labor Relations Board filed a complaint against Trump International Hotel Las Vegas, saying hotel management had illegally attempted to coerce workers into voting against unionization. Hotel employees voted to organize with the Culinary Union in December, but management has yet to recognize the union.
Thus far, none of the above cases have ended with a decisive loss for Trump's company. But Marquette University labor law professor Paul Secunda said the cases, taken as a whole, indicate "a pattern of disregard for what labor law requires."
"It just shows he's playing a little bit fast and loose with requirements of how employees should be treated in the first place," said Secunda, citing the sheer variety of accusations leveled against the company.
In a 2008 complaint filed by employees of the Trump National Golf Club in Los Angeles, lead plaintiff Lucy Messerschmidt accused management of denying her meal breaks and failing to pay her for accrued vacation time after she was fired. The case drew the attention of gossip site TMZ because of one accusation in particular: Messerschmidt, then 45, said management altered her schedule so she would not be working on days when Trump visited the premises. Her boss allegedly told her they were changing her shifts because Trump preferred to see "young girls" when he visited the club.
A later filing blamed systemic factors for the violations. In a 2012 motion for class certification, attorneys for the plaintiffs said Trump had personally "made decisions that ensured the law's requirements (and Trump's own stated policies) would not be enforced." Those decisions included an alleged failure to hire any management-level staff with expertise in either human resources or California labor law. The attorneys also said the golf club was routinely understaffed due to ownership's purported obsession with "keeping its expenses as low as possible."
In Las Vegas, the Culinary Union has accused Trump International Hotel of intimidating workers and attempting to stonewall their union drive. Early on in the campaign, the company fired five workers who showed up to work wearing pro-union buttons, but reinstated them the following day after the union filed a formal complaint. When the union won the election in December, hotel management asked the NLRB to toss out the results because the union had allegedly intimidated workers into voting "yes." An NLRB hearing officer found no merit to the claim, but management has appealed that ruling to the NLRB regional director.
Although Nevada is a right-to-work state where the law isn't necessarily favorable to organizing drives, most of the hotels and casinos of the Las Vegas strip are unionized. Culinary Union spokeswoman Bethany Khan said Trump International Hotel has been more resistant than most.
"There's a standard in Las Vegas that employers remain neutral and [leave] their employees to decide whether or not to unionize," said Khan. "Trump Hotels is not doing that."
The Trump Organization, for its part, stood by its labor practices and compliance record in a statement to International Business Times. Jill Martin, vice president and assistant general counsel, said the company "has had very few lawsuits in comparison with businesses of a similar size, and has achieved overwhelming success in defending against frivolous claims."
"Employment lawsuits are unfortunately a part of doing business," said Martin.
© Copyright IBTimes 2023. All rights reserved.
FOLLOW MORE IBT NEWS ON THE BELOW CHANNELS