Wall Street: Democrats Work To Block New Regulations After Flood Of Campaign Cash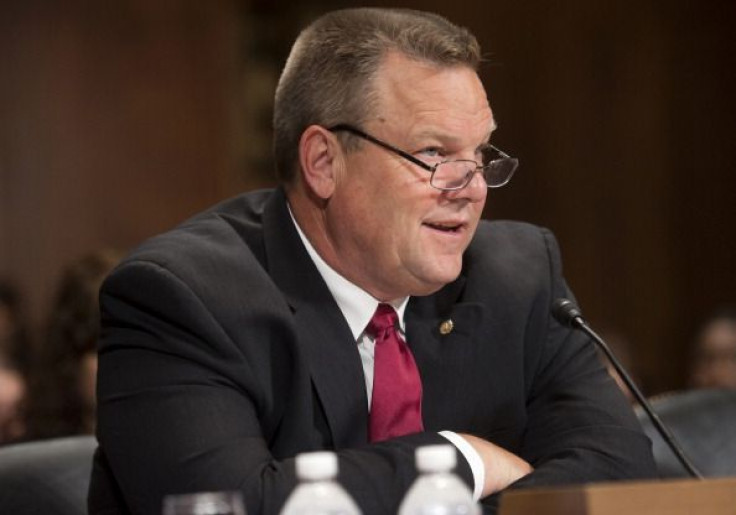 Correction, Nov. 23, 2015, 7:10 p.m. EST: This article originally said Dodd-Frank directed regulators to create a fiduciary rule. The story has been changed to reflect that the law empowered federal regulators to create such a rule.
Original story: The Obama administration's efforts to rein in Wall Street face opposition from members of the president's own party. In June, the Democratic Senatorial Campaign Committee attacked a Republican senator for having "supported repealing Wall Street Reform." But the DSCC's chairman, Sen. Jon Tester of Montana, is one of dozens of Democrats in Congress seeking to block implementation of key reforms in the party's 2010 law to increase the financial industry's accountability.
The discrepancy between Democrats' rhetoric and their actions could be crucial as Congress moves to close out the year with a flurry of bills designed to undermine regulation of the financial sector. Lawmakers may use unrelated, must-pass spending bills as vehicles to deliver legislative victories for Wall Street -- while the financial industry sends cash to their campaign committees.
One package of deregulatory riders would allow more banks to receive exemptions from new mortgage rules. Another would reduce the number of banks subject to added oversight from the Federal Reserve. Lawmakers may also vote on a bill to reduce prosecution of white-collar crime.
In each case, these votes are expected to be close, meaning some Democratic support for the Republican-backed initiatives would be crucial for passage. Democrats like Tester are also working with Republicans to block executive branch rules that would force investment advisers to prioritize clients' financial interests over their own.
Since 2011, after Dodd-Frank became law, Democrats have raised over $330 million from the financial industry, and their party's presumptive incoming Senate leader, New York's Chuck Schumer, is considered a close ally of the financial sector.
As the year-end legislative wrangling intensifies, here are the other Democrats who have been Wall Street's key allies in fighting the Obama administration. They have all raised big money from the financial industry.
Sen. Jon Tester of Montana
Over the course of his career, Tester has raised roughly $3 million from the financial industry, with $2.3 million of that money coming since the start of 2015. This year, Tester has chaired the DSCC, the principal committee working to elect Democratic senators, as it's raised $3.3 million from financial, insurance and real estate companies.
In 2010, Tester voted in favor of Dodd-Frank, the Democrats' law to overhaul regulation of Wall Street. The bill included a provision empowering federal regulators to adopt a fiduciary rule forcing investment advisers to prioritize their clients' financial interests ahead of their own. The initiative is designed to prevent advisers from recommending high-fee products that earn them big commissions but do not necessarily offer the best investments for customers.
But Tester has now joined Republicans to try to block the fiduciary rule proposed by the Department of Labor. A study released by the White House in February found that the "the aggregate annual cost of conflicted advice is about $17 billion each year."
Sen. Heidi Heitkamp of North Dakota
Heitkamp, who was elected to the senate in 2012, has raised $578,000 from the financial industry. She joined Tester in writing a letter to the Department of Labor requesting the agency make changes to its proposed fiduciary rule. The senators wrote that they are "concerned that the rule in its current form could stifle access to meaningful investment advice for millions of Main Street investors."
Sen. Joe Donnelly of Indiana
Donnelly, a congressman who won a tight race for Senate in 2012, has received over $1.2 million in donations from the financial industry during his career in Washington. He signed on to the Tester letter urging the Department of Labor to change the fiduciary rule.
Earlier this month, Politico reported that Donnelly, Tester and Heitkamp are working with Republicans on the Senate Committee on Banking, Housing and Urban Affairs on efforts to water down Dodd-Frank.
Rep. Kyrsten Sinema of Arizona
A Democrat in a competitive district, Sinema sits on the House Financial Services Committee -- known as a "money committee," where members regularly raise large sums with ease. She has pulled in roughly $895,000 from the financial industry since 2012 and has been a reliable vote for Wall Street interests.
Early this year, Republicans sought to jam through pro-Wall Street legislation combining the texts from 11 deregulatory bills. While the initial effort failed, it passed the House on a second try. On both attempts, Republicans had Sinema's support.
Sinema has backed Republicans' efforts to remove new mortgage rules issued by the Consumer Financial Protection Bureau (CFPB), the regulatory agency created by the Dodd-Frank law. She co-sponsored a bill in April to kill borrower protections for mobile-home loans, just weeks after the Center for Public Integrity exposed the abuses those borrowers face. That same month, Sinema co-sponsored a bill to block the CFPB from trying to stop discrimination by auto lenders, even though some lenders have settled with the agency for charging minorities extra fees.
Rep. David Scott of Georgia
A member of the Congressional Black Caucus, Scott joined Sinema in co-sponsoring the legislation to prevent the CFPB from enforcing rules aimed at protecting minorities from discrimination by auto lenders. He has also voted to repeal Dodd-Frank rules that prohibit taxpayer-backed banks from selling derivatives, mandating they set up separate units for risky financial products.
In July, Scott slammed his Democratic colleagues for exhibiting an "overwhelming, unhealthy preoccupation" with disparaging banks. He has raised over $2.2 million from financial, insurance and real estate companies over the course of his career in Congress.
Rep. Jim Himes of Connecticut
Himes, a former Wall Street executive, sponsored the legislation to roll back Dodd-Frank's rules regulating complex derivatives. He told the Huffington Post in 2013 that members of Congress and financial experts agreed the derivatives provision was "a pretty bad idea," and said his bill had "bipartisan support."
Himes has accepted $4.7 million in donations from financial, insurance and real estate companies, making the sector by far his largest source of campaign cash.
Rep. Patrick Murphy of Florida
In 2013, Murphy was the only co-sponsor of a bill to block the Labor Department from issuing its fiduciary rule. In March, he signed on to a bill to lower capital standards on banks with over $50 billion in assets. The next month, he joined Scott and Sinema in co-sponsoring the legislation to prevent the CFPB from barring discrimination by auto lenders.
In May, the DSCC formally endorsed Murphy's bid for Senate, with enthusiastic praise from Tester, the organization's chairman. Days later, the Hill reported that Murphy had signed on to a letter, similar to one from Tester, expressing concerns about the Department of Labor's proposed fiduciary rule. Murphy has raised over $2 million from the financial industry since 2012.
Rep. Terri Sewell of Alabama
Sewell, who has raised over $1 million from the financial industry, joined Sinema in co-sponsoring the bill to eliminate protections for borrowers with mobile-home loans. Like Sinema, she also voted in favor of the Wall Street grab-bag bill combining language from nearly a dozen pieces of legislation to deregulate the financial industry and roll back Dodd-Frank. In 2012, Sewell signed on to a letter requesting the Federal Reserve amend the so-called Volcker Rule in Dodd-Frank, which would prohibit banks from making speculative trades with their own money.
© Copyright IBTimes 2023. All rights reserved.