Pope Francis Says Coptic Christians Killed 'Only Because They Confessed Christ'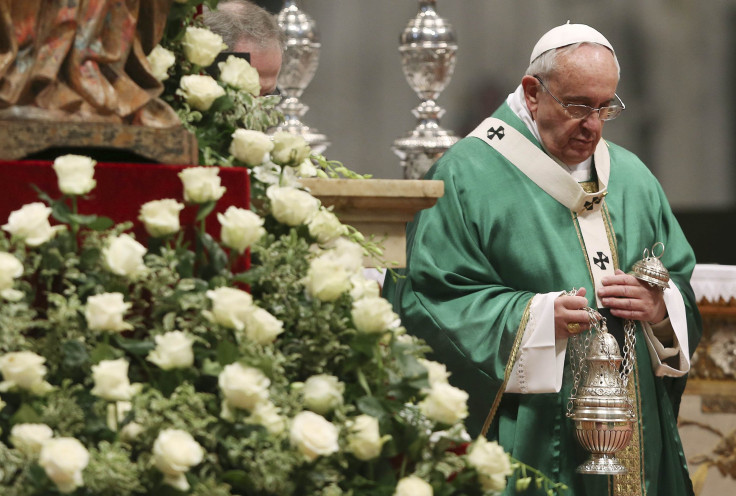 Pope Francis spoke candidly Monday, condemning the murder of 21 Egyptian Coptic Christians in Libya by militants from the Islamic State. Speaking at a meeting with an ecumenical delegation from Scotland, he said the victims were "murdered just for the fact they were Christians."
"The blood of our Christian brothers is a witness that cries out," Francis said. "If they are Catholic, Orthodox, Copts, Lutherans, it is not important: They are Christians. The blood is the same: It is the blood which confesses Christ.''
He added, "As we recall these brothers and sisters who died only because they confessed Christ, I ask that we encourage each other to go forward with this ecumenism which is giving us strength, the ecumenism of blood. The martyrs belong to all Christians."
The Islamic State group released a five-minute video on Sunday showing the beheading of a group of Coptic Christians in Libya that had been abducted in December and January. Entitled "Message Signed with Blood to the Nations of the Cross," militants in the video made two allusions to Rome. One said the group is sending a message "from the south of Rome," referring to the fact that Libya lies just across the Mediterranean Sea. At the end, an English-speaking militant says the group plans to "conquer Rome," the Catholic Herald reports.
After the video's release, Bishop Giovanni Martinelli, the Vicar Apostolic of Tripoli, told Vatican Radio he would remain in the country despite the growth of the terrorist group known as ISIS and future threats on the small Catholic population there.
"I have to stay," Martinelli said. "There is a small group of Filipinos, we are here, just witnesses of what Jesus tells us to do. And that's it."
Egypt has confirmed the video's authenticity and has called for a seven-day mourning period. On Monday, President Abdel Fattah el-Sisi launched airstrikes at ISIS targets in Libya in retaliation for the killings.
In a statement, a spokesman for Ban Ki-moon said that the U.N. secretary-general condemns the beheadings "in the strongest terms" and "deplores the targeting of people on account of their religious affiliation."
© Copyright IBTimes 2023. All rights reserved.