Pope Francis And Exorcism: How He's Brought The Practice Back To The Modern Catholic Church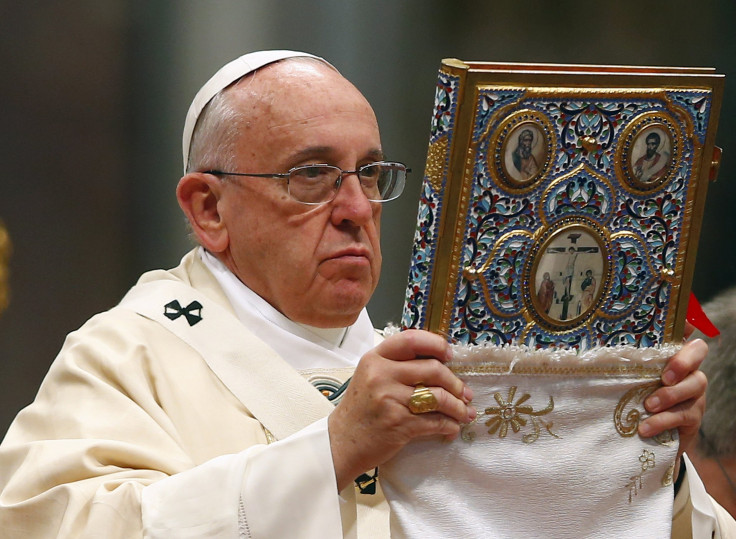 Pope Francis is being credited for a recent revival in interest in exorcisms among the faithful and Catholic clergy, a practice that until his appointment as pontiff was largely taboo in modern Catholicism. Dioceses across Europe and Latin American in particular have seen an uptick in the number of reported possessions and many have responded with increased training.
Francis does not shy from mentioning the Devil, unlike his modern predecessors. In his addresses, he often warns about the devil's temptations and educates Catholics on how to avoid them. Francis and the Vatican are endorsing a weeklong exorcism conference at the Pontifical University of Regina Apostolorum in Rome being attended by 160 priests from around the globe, according to Catholic Online.
Devil possessions are said to take many forms. In some cases, those said to be possessed obsess over an object or task; in other cases the victim will appear to speak in forgotten languages. The practice of exorcism isn't a strict set of actions or prayers, but rather allows the exorcist to use what pre-approved methods are needed to free a person from a possession. In order to be a legitimate exorcism, one only needs to be approved by relevant church authorities and be performed by an individual of complete faith.
"This generation, and many others, have been led to believe that the devil is a myth, a figure, an idea, the idea of evil," Francis said in a Mass just before Halloween last year. "But the devil exists and we must fight against him."
Father Cesare Truqui, a Switzerland-based exorcist, told the Telegraph that a third of calls received by Catholic officials in Rome are requests for exorcisms. Officials in Rome have responded accordingly, training more of their priests for exorcisms. Their counterparts across Italy, in the U.K. and in Spain have seen a similar resurgence in interest and also have offered more training to priests.
Francis himself performed what many people called an exorcism on a young man in the middle of St. Peter's Square, but the Vatican denies that characterization. Francis was seen putting his hands on the man's head and saying a prayer, which was met with deep heaving and shaking from the man. The Vatican said he didn't intend to perform an exorcism, and "simply intended to pray for someone who was suffering who was presented to him."
© Copyright IBTimes 2023. All rights reserved.
FOLLOW MORE IBT NEWS ON THE BELOW CHANNELS