Pope Francis Meets With Fidel Castro In Cuba, Gifts Exchanged In Unofficial Event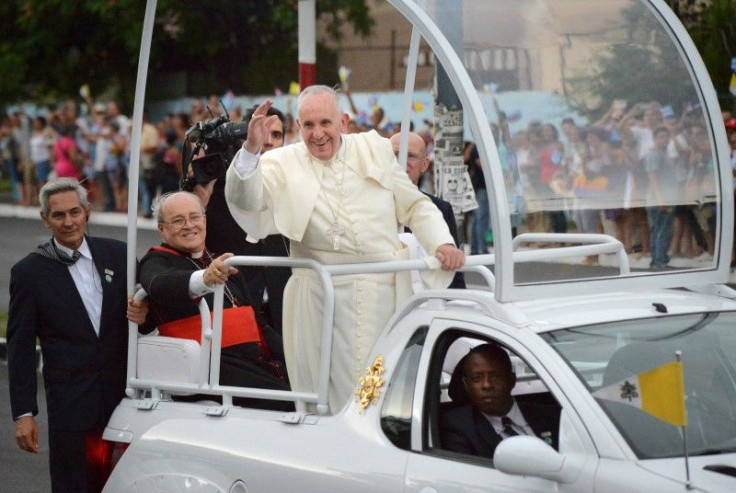 Pope Francis held an "initimate and familial" meeting with former Cuban leader Fidel Castro to discuss humanitarian and environmental issues during the pontiff's visit to Havana, the Vatican said. The meeting, which had been discussed leading up to the pope's visit though not on the official schedule, took place Sunday afternoon.
During the 30-40 minutes Francis spent with the former leader, gifts were exchanged and the pair discussed the "situation of humanity today, the great problems" as well as environmental issues that Francis has put at the forefront of his papacy, Vatican spokesman Federico Lombardi told reporters Sunday, describing the meeting as "intimate and familial."
The unofficial visit with the former president was part of Francis's historic tour of Cuba and the United States, which are both the first in his papacy. The pontiff met with Castro in Havana after saying Mass Sunday morning in Revolution Square.
Castro, 89, resigned from his position as leader of Cuba in 2008 because of health problems, and his younger brother Raul Castro took control of the nation. Castro first rose to power in a coup in 1959 that overthrew Fulgencio Batista. Though relations between Fidel Castro and the West were at first relatively friendly, amid Cuba's warming relationship with communist Russia as well as accusations of human rights violations, relations soon grew tense with the United States and many other Western powers and have only recently begun to thaw. The pope's visit with Castro has therefore received criticism from skeptics of the regime.
"I think this shows that the Vatican wants to engage with Cuba rather than confront it," said John Allen, a papal biographer, adding "Fidel is a symbol of the revolution." Allen went on to defend the pope's choice to visit Castro in saying a refusal to do so would have been perceived as a snub.
© Copyright IBTimes 2023. All rights reserved.