Pope Francis Philadelphia Visit 2015 Update: Want Some Holy Beer? Pope-mania Grips Pennsylvania Ahead Of Pontiff Trip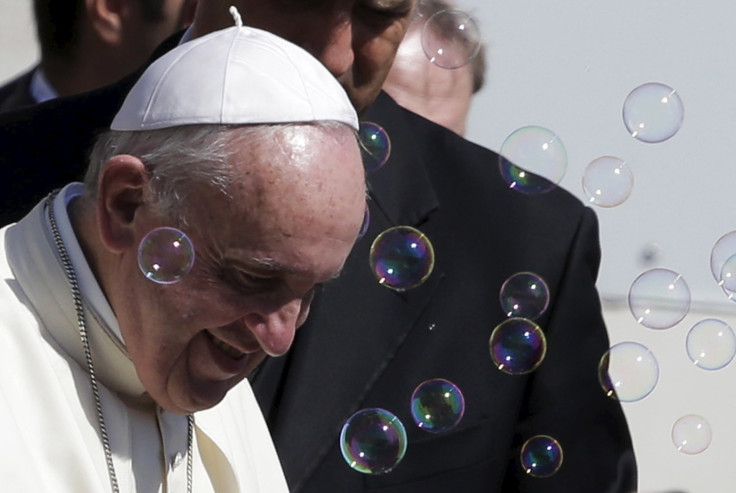 While some will be grabbing rosary beads and crosses for Pope Francis' visit to Philadelphia next month, other Philadelphians are preparing for the Roman Catholic leader's visit in less traditional ways. For example, some Philadelphia-area breweries are banking on beer drinkers enjoying some libations created to, unofficially, celebrate the pontiff's visit, National Public Radio reported.
One brewery, the Philadelphia Brewing Company, is playing on city's own dialect with its beer "Holy Wooder," which uses a phonetic spelling of the way Philadelphians say "water." At the Cape May Brewing Company in Cape May, New Jersey -- about 90 miles outside Philadelphia -- there's a pale ale called YOPO, or You Only Pope Once, a play on the popular "you only live once" phrase.
Some of the beer being made to commemorate the pope's visit is made with water that was actually blessed by a Pennsylvania priest. At the Manayunk Brewing Company, beer makers are using both holy water and some ingredients associated with the pope's native Argentina.
"We wound up using some malbec grape oak that was aged in some malbec wine from Argentina and some South American candy sugar as well," Evan Fritz, head brewer at Manayunk, told NPR.
Pope-mania is known to sweep countries before he makes a visit. During a trip to the Philippines in January, life-size cutouts, dolls and apparel bearing the pope's likeness help people celebrate the visit. Some Filipino singers even recorded full-length albums in preparation for the visit, the Huffington Post reported.
The pope is scheduled to arrive in Philadelphia on Sept. 26 -- after stops in Washington, D.C., and New York City. He'll depart for Rome on Sept. 27. Some in Philadelphia were creating papal swag with the intention of donating at least some of the profits to local Catholic churches and charities. The merchandise includes T-shirts with the word "Pope" stylized after the "Love" sculpture in Philadelphia's Love Park, Pope Francis bobbleheads and even Pope Francis shot glasses.
© Copyright IBTimes 2023. All rights reserved.
FOLLOW MORE IBT NEWS ON THE BELOW CHANNELS