Pope Francis Says An 'Elegant Demon' Lives In Those With Holier-Than-Thou Attitudes
Pope Francis said Thursday in his Christmas address that the Catholic Church should be vigilant for "elegant demons" in people who have holier-than-thou attitudes and that there exists "evil that quietly lurks among us."
In his annual holiday address to cardinals, the pope said that there is a temptation for those who serve "at the heart of the Church" to think that they are "better than others, no longer in need of conversion."
"Yet we are in greater danger than all others because we are beset by the 'elegant demon,' who does not make a loud entrance but comes with flowers in his hand," Francis said.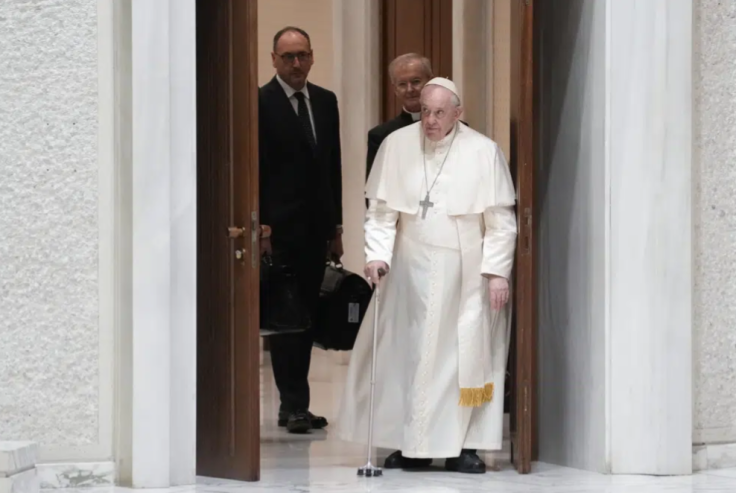 The pope also emphasized, "it is not enough to condemn evil, including the evil that quietly lurks among us."
Francis does not shy away from controversy and often addresses Vatican bureaucrats and the Catholic Church to be more self-reflective in their acts of faith. For example, in November, he addressed the Iranian protests, female genital mutilation, and the Ukraine War.
Francis also seemed to make an abstract reference to the current sex abuse scandal accusing Rev. Marko Ivan Rupnik of assaulting women and the priest hierarchy of covering up his crimes. "Don't take advantage of your position and role to mortify the other," Francis commented.
In correspondence released Monday from Bishop Bishop Daniele Libanori, he said that the women's claims about Rev. Rupnik were valid and they had "seen their lives ruined by the evil suffered and by the complicit silence" of the church.
Rupnik has since been excommunicated from the church.
Francis ended his address by saying, "Permit me to use the expression ... these 'elegant demons'... enter smoothly, without our even being conscious of them. Only the daily practice of the examination of conscience can enable us to be aware of them."
© Copyright IBTimes 2023. All rights reserved.