Pope Francis Says Palestinian Authority President Mahmoud Abbas Is An 'Angel Of Peace'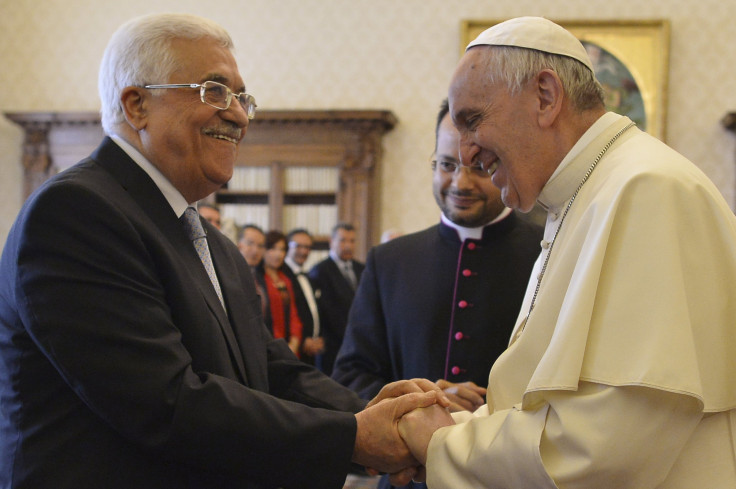 Pope Francis called Palestinian Authority President Mahmoud Abbas an "angel of peace" on Saturday, three days after the Vatican upset Israel by recognizing the Palestinian state's right to exist. The comment came during a canonization ceremony honoring Mariam Baouardy and Marie-Alphonsine Danil Ghattas, two 19th century nuns who lived in Palestine under its Ottoman rule.
"You are an angel of peace," France24 quoted the pope telling Abbas during an exchange of gifts. Abbas gave the pope relics belonging to the Arab nuns. The pope gave Abbas a medallion that he said honors Abbas' efforts to fight the "the bad spirit of war."
On Wednesday the Holy See and the Palestinian Authority signed a treaty that formally recognizes the "state of Palestine" and gives the Vatican authority to oversee aspects of Catholic life within the West Bank territory. The move rankled Israel advocates.
"Formal Vatican recognition of Palestine, a state that, in reality, does not yet exist, is a regrettable move, counterproductive to all who seek true peace between Israel and the Palestinians," David Harris, executive director of the American Jewish Committee, told CNN this week.
The Vatican has recognized a Palestinian state in the West Bank since the 2012 United Nations General Assembly vote granting the Palestinian Authority that Abbas leads nonmember, observer status. The UN decision was a significant step toward legitimizing the Palestinian state and one that isolated the U.S., Canada and Israel in a small group of nine countries that voted against the measure.
Abbas unilaterally extended his term that was set to end in 2009. He's been in power since he was elected in 2005 and is opposed by Gaza's less secular Hamas political and militant organization. A 2013 report from the Coalition for Accountability and Integrity (AMAN), a Palestinian accountability group, said corruption and nepotism persist in Palestinian public institutions.
© Copyright IBTimes 2023. All rights reserved.