Pope Francis-Raul Castro Meeting: Cuban President Gets Private Face Time In Vatican City Ahead Of Pope's Visit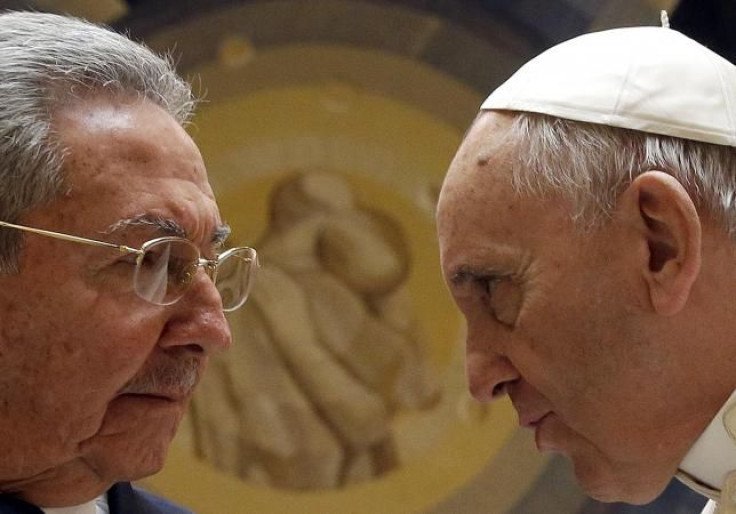 Pope Francis met with Cuban President Raul Castro on Sunday for a private meeting in Vatican City. The Catholic leader was a key figure in brokering a deal that eased diplomatic relations between the United States and Cuba after more than a half-century of sanctions that have left the country virtually frozen in time.
Castro, 83, is the younger brother of the revolutionary leader Fidel Castro. During the brief meeting, he thanked the pope for his role in easing tensions between the two countries, Reuters reported. The meeting, which was private and not a state affair, comes as restrictions loosen on travel between the United States and Cuba.
In December, President Barack Obama unveiled a new open policy toward Cuba after decades of tough sanctions. Last year, Francis wrote separate letters to Obama and Castro urging the two leaders to "resolve humanitarian questions of common interest," as USA Today reported.
The pope, who is from Argentina, is due to travel to Cuba in September ahead of his much-anticipated trip to the United States, his first as pontiff. During Sunday's meeting, both he and Castro spoke their native Spanish. The meeting, as the Associated Press reported, lasted nearly an hour.
Castro also met with Italian Premier Matteo Renzi. In interviews after that meeting, he expressed hope that diplomatic relations between the United States and Cuba would improve more quickly. "Maybe the [U.S.] Senate will take us off the list of terrorist nations," Castro told reporters, according to the AP.
Obama's move toward easing U.S.-Cuba relations has received strong pushback from conservative politicians, and that criticism has already intensified in the early stages of the 2016 presidential election cycle.
The pope, however, has a lot of sway, both in the United States and throughout the Catholic world. A February poll from Pew Research Center showed that 9 in 10 U.S. Catholics view the pontiff favorably, marking an all-time high in his popularity.
© Copyright IBTimes 2022. All rights reserved.
FOLLOW MORE IBT NEWS ON THE BELOW CHANNELS