Pope To Open Catholic Synod On Family System Amid Gay Priest Controversy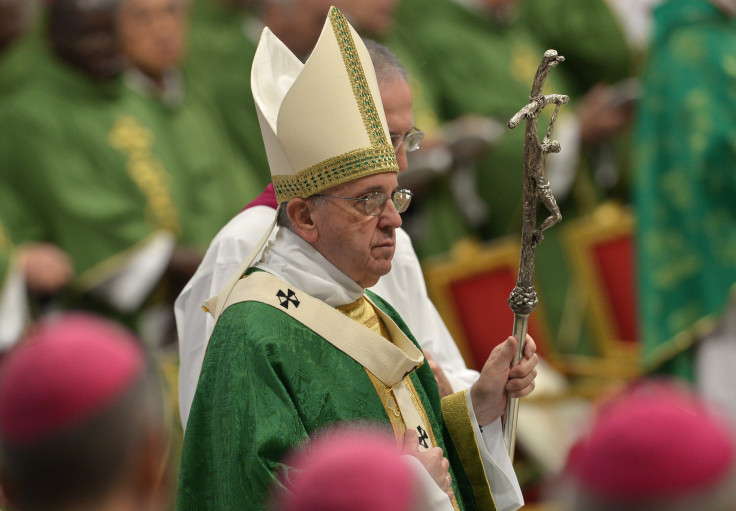 Pope Francis is set to open a synod of bishops alongside a Mass at St Peter's Basilica in the wake of the ongoing controversy over the firing of a Vatican priest. The Catholic Church fired Polish-born Krzyztof Charamsa after he announced he was in a gay relationship.
The Vatican called Charamsa's decision to publicly announce his sexual orientation through the media on the eve of the synod "grave and irresponsible". The Vatican quickly removed the 43-year-old from his post of guarding Roman Catholic doctrine.
Vatican spokesperson Federico Lombardi said in a statement: "The decision to make such a pointed statement on the eve of the opening of the synod appears very serious and irresponsible, since it aims to subject the synod assembly to undue media pressure."
On Saturday, Oct. 3, Charamsa, flanked by his boyfriend, told reporters at a press conference in Rome: "I'm out of the closet and I'm very happy about that. I want to be an advocate for all sexual minorities and their families who have suffered in silence." The bishop went on to say that most Catholic priests have homosexual orientation but they are afraid to come out.
The controversy over the gay priest is likely to cast a shadow over the three-week gathering of about 300 Church leaders. The Church is set to discuss familial issues including the treatment of gay, divorced, and people who live together without being married.
Francis has often expressed mixed views on the Church's position on homosexuality. Shortly after his election, the pontiff said: "If a person is gay and seeks God and has good will, who am I to judge?"
However, during a tour of the Philippines, he said: "The family is also threatened by growing efforts on the part of some to redefine the very institution of marriage. [Society is] tempted by confusing presentations of sexuality, marriage and the family. As you know, these realities are increasingly under attack from powerful forces which threaten to disfigure God's plan for creation and betray the very values which have inspired and shaped all that is best in your culture."
This article is copyrighted by IBTimes.co.uk, the
business news
leader