Pope Visit 2015: Meet The Next Generation Of Priests And Sisters In The US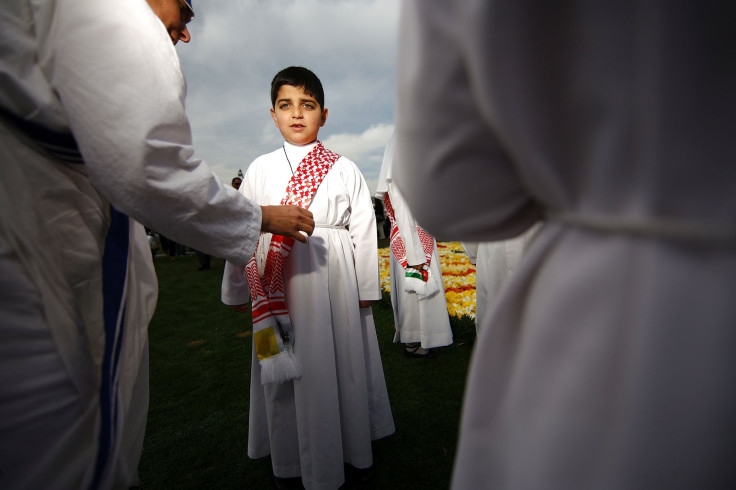 When Christopher Calderon told his family he was going to become a Roman Catholic priest, his mother asked him, "Who will give me grandchildren?" And when Sister Laura Downing told her high-school friends she had decided to enter consecrated religious life, she said she felt like a novelty to them, "a bit like a circus freak."
The reactions both experienced should come as no surprise, as the ranks of Catholic priests and sisters have dramatically declined across the country during the past 50 years. Religion experts say the low numbers have much to do with the Catholic Church's policy on celibacy, the continuing repercussions of the clerical sexual-abuse scandal, the vows of poverty taken by priests and sisters, increasing secularization in the country and better economic opportunities for women in 2015 than in 1965. All of those circumstances underscore the curiosity surrounding Catholic priests and sisters and the reasons why, considering their age, the commitments that Calderon, 31, and Downing, 35, have made to religious life are all the more significant.
"The increasing lack of priests is very ominous for the church," said Thomas H. Groome, a professor of theology and religious education at Boston College. He explained that priests are needed in local communities for Catholics to have access to Holy Communion, a central tenet of the faith.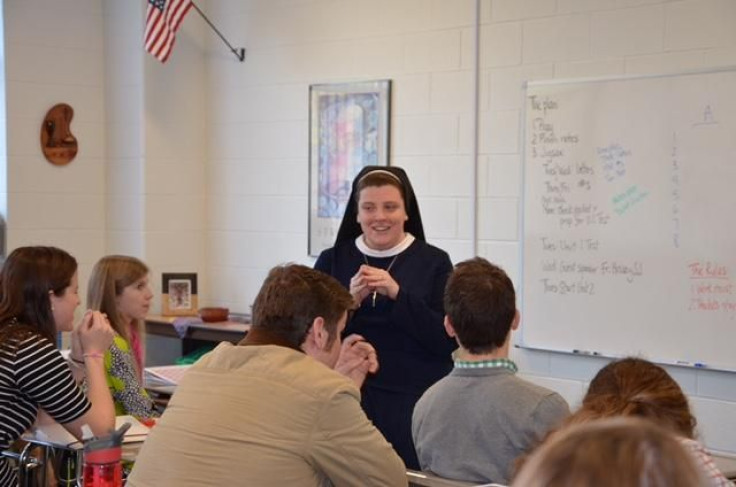 In 1965, there were 58,632 priests. In 2015, there are just 37,578 of them. The drop in the number of sisters has been even more pronounced over the same period, from 179,954 to 48,546.
The number of potential ordained priests was higher this year than last year, but it was nowhere near high enough to replace all the members of the clergy either retiring or dying, experts said. In contrast, the number of lay professional ministers in the American church has more than doubled in the past two decades, from 10,674 in 1995 to 23,448 in 2015.
Finding Their Calling
"It was a tidal wave that hit me," Downing said while describing the moment in her freshman year at Immaculata University in Pennsylvania when she began seriously thinking of devoting her life to God.
Raised in an Irish-Catholic family outside Washington, Downing previously had not taken religion very seriously even though one of her aunts was a religious sister. She admitted she used to think that people who devoted their lives to the church had to be "a little weird." But when she began college and met faculty who were "well-adjusted people who knew what they believed," she changed her outlook.
The average age for women entering the sisterhood is 37, and the average age for men entering the priesthood is 34, according to the U.S. Conference of Catholic Bishops.
Downing, who entered the Immaculate Heart of Mary community in 2001 and took her final vows in 2009 at age 29, knows some people cannot understand the vows of chastity, poverty and obedience. But she stressed that members of her community view this as a choice. While knowing she will not have her own children sometimes bothers her, Downing said she remains happy with her decision.
"There are little costs, but I've never gotten to the point where I've seriously thought of leaving," said Downing, who wears a modified habit but has departed a bit from traditional garb choices with her shoes: bright blue sneakers. She is now working toward her doctorate in sacred scripture at Boston College as she prepares to teach at her alma mater.
Calderon's journey into religious life began at the age of 8, when his grandmother signed him up to be an altar boy. "I think there the seeds were planted," he said. Raised in a Mexican-American family in Los Angeles, Calderon attended a Jesuit high school where he witnessed Jesuits both serving and teaching. As a senior in high school, he spent three weeks serving at the House of the Poor in Tijuana, Mexico. When he returned home, his grandmother admitted to him for the first time that she had been deported from the U.S. when she was young and pregnant and found help at the very same House of the Poor.
For Calderon, it was an amazing moment: "This is God saying, 'Are you paying attention?'" Now a Jesuit seminarian in his 10th year of formation, he expects to be ordained a priest in 2017 after he finishes work on his master's degree in divinity, also at Boston College.
"I want to be there and do more and help other people experience those sacred surprises," Calderon said of his future life as a priest.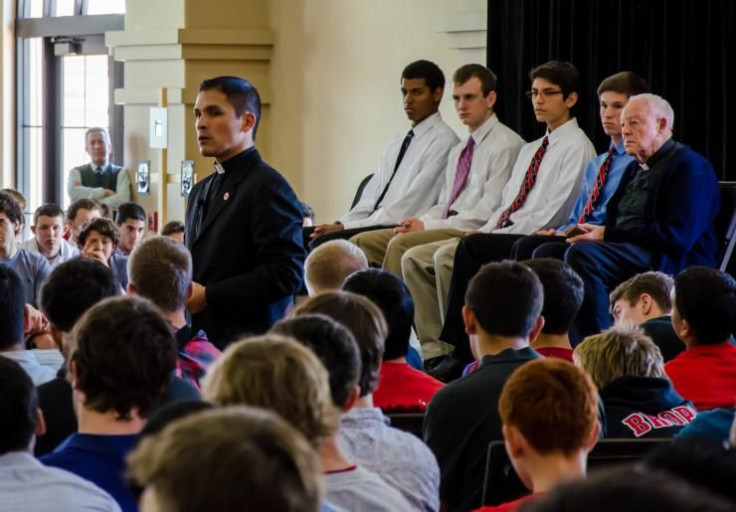 A Changing Church
About 45 percent of the adults in the U.S. have some connection to Catholicism, according to a new survey released by the Pew Research Center based in Washington. At the same time, 52 percent of U.S. adults who were raised Catholic have left the church.
"Catholicism is facing a challenge of retention of its members," said J. Patrick Hornbeck II, chair of the theology department at Fordham University in New York. Other religions in the U.S. are facing similar issues, but the Catholic Church is still feeling the effects of the clerical sexual-abuse scandal, he noted. Both Calderon and Downing virtually echoed that sentiment.
"There are moments where wearing a Roman collar can be a real test sometimes," Calderon said, explaining that reactions range from sweet smiles to dirty looks. He recognizes how much hurt the scandal caused, which is why he wants to get to know people in his community. "I don't want to be a mystery to people," he said.
The church is also dealing with a changing population, marked by an increasing number of Latino members. About 57 percent of adult Hispanics identify as Catholic, while only 3 percent of priests identify as Hispanic or Latino, according to the Center for Applied Research in the Apostolate.
"It can't be a matter of allowing them to come to church -- there has to be an embrace of Latino Catholicism," Boston College's Groome said. "It could be a new lease on life for the Catholic Church."
This is something Calderon, a Spanish speaker, wonders about: "How do we be attentive to communities that really need us and that we really need?"
The End Of Communities
As members of the Catholic clergy and consecrated religious grow older, some religious communities are now confronted with a new challenge: What happens if (or when) no new members join?
When Sister Mary Ann Clausson, the director of new membership for the Dominican Sisters of Hope, based in Ossining, New York, entered religious life in 1968, it was common for women straight out of high school to join the congregation. Now, Clausson said, it appears to her that fewer women are entering religious life because younger people value spirituality over organized religion. Additionally, she said, sisters are currently scattered around the U.S., while in previous decades it was common to see large numbers of them working in places such as hospitals and orphanages, with their presence inspiring people to join their ranks.
While Clausson said she steadily receives expressions of interest in joining the community, the youngest sister among the more than 160 now in the congregation is 53, prompting discussions about the group's future.
"We are looking at our legacy and what we want to leave," said Clausson, 68. She added that the congregation is undergoing a transformation, but that it was possible things could still change. "Is that frightening? Yeah, it is a bit."
Meanwhile, church officials and some experts remain optimistic about what is to come.
"There definitely is a movement in the other direction, the start of the trend perhaps," Mark M. Gray, the director of CARA Catholic Polls, said about the increase in the number of ordinations over the past few years.
While Downing would love to see more sisters, she said that quality mattered over quantity: "Five great sisters are worth more than 50 mediocre sisters."
The Rev. Enrique Salvo, director of vocations for the Archdiocese of New York, is optimistic about the church's future, noting that its recruitment strategies have entered the age of social media. "It [the number of clergy] fluctuates, and there have always been times that are low and times that are higher," he said.
Despite the challenges, both Calderon and Downing are committed to the paths they've chosen and see themselves serving for many decades to come.
"I want to be, hopefully, on a good long run," Calderon said. "I want to be a priest for many years."
© Copyright IBTimes 2023. All rights reserved.