Possible Al-Shabab Attack Foiled: Kenya Authorities Arrest Terrorist Suspects In Garissa, Town Where Nearly 150 People Were Massacred In April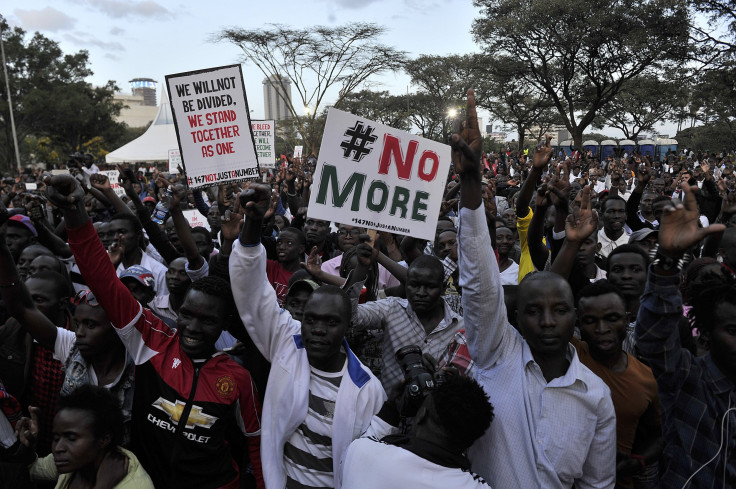 Kenyan authorities said Sunday they have arrested suspected terrorists in Garissa County, the site of numerous attacks in recent years by al Qaeda-linked members of Somalia's al-Shabab militant group. "At least two suspected terrorists have been arrested in Garissa in [a two] day security inter-agency led operation," Kenya's Interior Ministry announced via Twitter.
Authorities say they interrupted a terrorist plot hatched in neighboring Somalia. A cache of handguns, ammunition and grenades was discovered at an undisclosed location and authorities are searching for accomplices.
Garissa County runs along Kenya's border with Somalia and most of the county's inhabitants are ethnically Somali. On April 2, al-Shabab gunmen murdered 148 people on the Garissa University College campus after taking hundreds hostage in the bloodiest attack by Shabab militants on record.
As they did in the September 2013 attack on the Westgate Mall in Nairobi, in which 67 people were killed and more than 175 were wounded, al-Shabab gunman quizzed hostages about their religious background, freeing Muslims while executing Christians. Authorities raided the Garissa campus, killing the four gunmen involved in the assault. Five accomplices were later arrested. Kenya stepped up security in the capital of Garissa County following the university massacre.
In June, 10 al-Shabab militants stormed a village in Garissa County unsuccessfully targeting nonlocal masons that were constructing a mosque as part of the militant group's ongoing attacks inside western Kenya.
Kenya has been battling al-Shabab militants who have been engaging in cross-border attacks in recent years. In 2011, the Kenyan military joined an African Union peacekeeping force in Somalia, a move that emboldened al-Shabab to increase attacks inside Kenya.
Somalia's weak central government has been battling al-Shabab militants amid the country's decades-long civil war. On Saturday, a suicide car bomb attack claimed the lives of 30 Somali troops in Somalia's port city of Kismayo. Nearly 50 others were wounded in the attack that took place during a training exercise.
© Copyright IBTimes 2023. All rights reserved.