Possible Boko Haram Attacks In Nigeria: Bombings After Buhari Inauguration Leave Dozens Dead, More Injured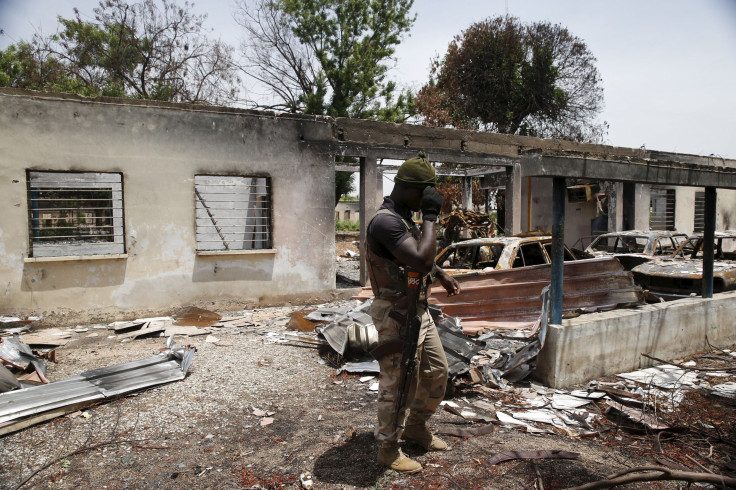 At least 20 people are dead Sunday after two separate bombings in Nigeria's Borno state, an area that has long been plagued by attacks carried out by the Islamist militant group Boko Haram. In the first, 16 people were killed in a suicide bombing at a mosque in the state capital Maiduguri Saturday, according to Al Jazeera. And in the second, four people were killed in a blast at the Moru-Moru market outside Maiduguri Sunday, Lagos-based Channels Television reported.
Channels TV reported the blast at the market is believed to have been caused by a concealed improvised explosive device. The attacks came on the heels of Nigerian President Muhammadu Buhari's inauguration Friday. That same day, there was an attack on a wedding party that resulted in seven people being killed and 12 being injured in twin bomb blasts by suspected Boko Haram militants in Borno state, according to Reuters. Buhari vowed during his electoral campaign to stamp out the militant group, and he responded to the attacks in Borno early Sunday.
Buhari said his administration "will not tolerate wanton and willful destruction of life by criminal elements that are bent on anarchy," Nigeria's Daily Post reported. The new president said he would use all available resources to curb terrorism on Nigerian soil, describing the militants as "cowardly murderers that target innocent people." He called on local communities to continue their vigilante activities.
During his inauguration speech, Buhari vowed that the "mindless, godless" militants would be defeated. He has said the country's command center for military operations will be moved to Maiduguri from the national capital Abuja to be closer to the northeastern area of the country where the majority of Boko Haram's violence has taken place.
Borno has borne the brunt of many of the recent attacks by the group. The violence has forced millions of people from their homes.
The bomber who killed 16 people blew himself up inside the Alhaji Haruna mosque just after afternoon prayers began Saturday, Borno Police Chief Aderemi Opadokun and witnesses told Al Jazeera. "The roof was blown off, and fire destroyed the mats and a few Qurans," market trader Nura Khalid told Agence France-Presse.
Boko Haram is believed to have killed thousands of people -- more than 10,000 last year alone -- mostly in northeastern Nigeria. Buhari, a former military leader who previously led the country under a dictatorship, won the country's presidential election on a platform based largely on his self-professed ability to defeat the militant group.
© Copyright IBTimes 2023. All rights reserved.