Prefabricating Buildings Offsite, Then Installing Them In Location: Is There A Real Renaissance?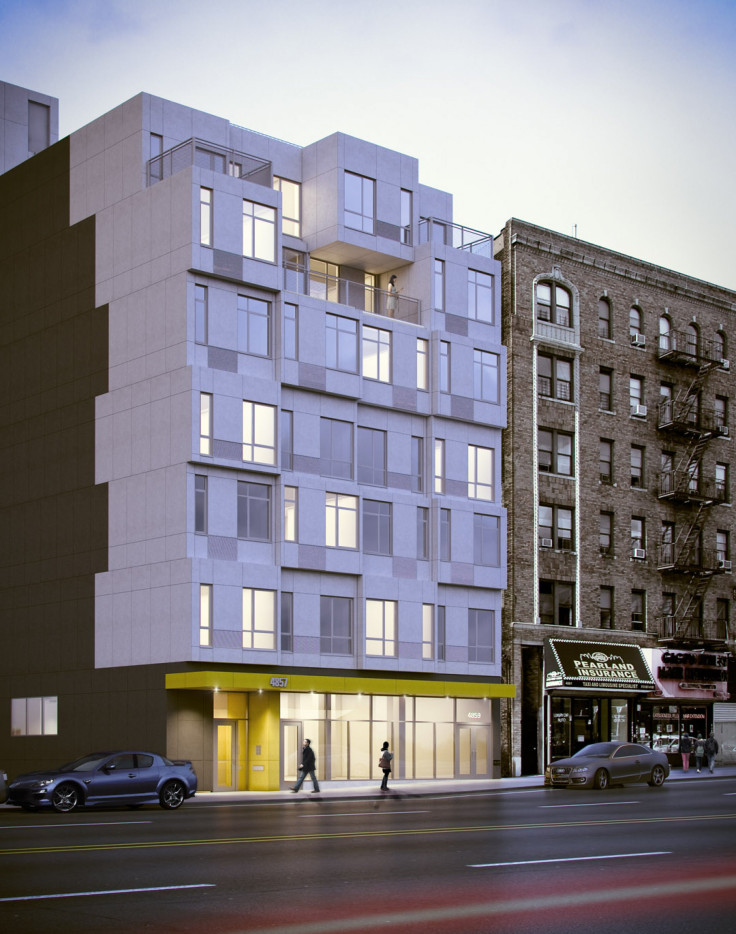 In New York's Inwood neighborhood, workers are busy stacking together weighty prebuilt modules made in Pennsylvania, as they piece together one of the city's latest and more notable residential complexes built almost entirely offsite.
Prefabricated construction, as it's technically known, is constructing a building away from its ultimate location. Developers and architects increasingly look to the technique as a way to save time and money, even as they try to shake off the technique's negative associations.
In the case of Inwood, project principals at the 28-apartment complex dubbed "The Stack" point out that construction should take only 10 months from start to finish, down from the 16 months they would project for traditional construction.
Developer Jeffrey Brown and architect Peter Gluck told International Business Times that the prefab option in this case is cheaper and faster and doesn't drag down the quality of the finished work.
"There are savings in time, savings in money," said Brown, who noted that The Stack is his first wholly prefabricated project. "There are advantages by just condensing the entire construction process."
At the site, workers deploy a crane to lift a sizeable wrapped box, or module, onto the top of the stack. Fifty-six such modules were built for this project by hand in a Pennsylvania factory over three months, and installation onsite is scheduled to take only a month.
Gluck, who has worked with prefabricated projects since the 1970s, also acknowledged obstacles specific to prefab building. Overseeing the manufacturing required close supervision, he said.
The technique is not new, said Gluck, citing a failed 1970s push to develop prefabricated homes in American suburbs. But both Gluck and Brown believe there's a budding renaissance in offsite construction. That comes despite a widespread perception that prefab buildings lack design cachet and are used mostly for cheap and poor-quality mobile homes.
"I think there is a renaissance," said Brown in an onsite interview, during the initial installations in July. "It's starting with an awareness that this type of construction can be done with an imagination, and it can be done with a thoughtful design, and it can produce a really cool product."
A May 2011 McGraw-Hill Construction report found that prefab building is emerging once again as a U.S. trend, tied partly to the popularity of "green" buildings and digital modeling.
After surveying hundreds of industry professionals, researchers found that the real estate industry is increasingly moving toward prefab to boost productivity and cut waste.
Michele Russo, who worked on that report, told IBTimes: "There have been some really huge transformational trends taking place in construction over the past three to four years, which have also created this push for prefab."
Digital modeling allows you to see how prefab pieces fit together, allowing better advance planning, while reduced waste and better safety for workers are also factors, she said.
"All of these things combined with an economy that put pressure on the industry means that they've looked for efficiencies," she said. "Prefab has been around forever, but the next evolution of prefab has been in the last three or four years."
Cheaper labor in a controlled factory environment, where there's less safety risk, is part of the appeal, added McGraw-Hill Construction researcher Harvey Bernstein.
Although interest in prefab technique ebbs and flows, the renewed interest this time could be permanent, he said.
"When you start to look at some of the real benefits, in terms of shorter schedules, lower costs and less waste, all of sizeable percentages, it just makes good bottom-line business sense," he said.
"I think you're going to see more and more predominance" of prefab, he said, even if only for specific small components, like plumbing or electrical systems.
The McGraw-Hill survey found that 98 percent of engineers, architects and contractors expected to be doing some prefab work by the end of 2013, up from 85 percent currently. While only a third of the industry now uses prefab construction heavily, that's expected to grow to about 45 percent by the end of 2013.
Hospital, hotel and educational construction are the most promising fields for expansion into prefab construction, said the report.
Global interest in offsite construction is also rising. In one well-known example, the world's tallest building, in China's Changsha, will be prebuilt in four months. It just broke ground in June, reports Treehugger.
Broad Sustainable Building, the Chinese firm building Changsha's "Sky City," also built a 30-story building in Hunan last year in 15 days from prefab materials. Other notable recent examples include Seoul's residential skyscraper Velo Towers and the Kilk building system, by Australian companies Elenberg Fraser and Unitised Building.
Gluck, too, said Japan has hosted several notable prefab projects, adding that Europeans seem to welcome the concept more than Americans. Bernstein said he had no data on global prefab trends but that anecdotally there is apparent heightened interest.
A September 2012 report on global prefab trends by industry researcher Timetric valued the global prefab market at $65 billion in 2011, with the European market representing about half of that, making it the largest single market. Asia is the second-largest market, where prefab is still rapidly becoming more popular.
Nonetheless, prefab construction still has its critics. Some point out that budget savings for developers don't always translate to cheaper homes for tenants, at least for single-family homes – individual prefabricated homes are often customized expensive trophies for wealthy clients. (Gluck wouldn't disclose how much it cost per square foot to build The Stack, nor how much they'd rent their apartments for, but he said rents would be competitive.)
Other critics say that developers can't turn profits by making prefabricated residential development their chief business because the market is still very underdeveloped. Bernstein noted, though, that Maine firm Cianbro is prefabricating power plants and refineries and shipping them out to Texas by sea, part of a rising trend of prefabrication in industrial development.
On a related front, some argue that outsourcing construction to offsite factory workers lowers labor and building-quality standards.
In New York, plumbers and mechanics sued the New York City buildings department earlier this week, alleging that safety standards were violated when developer Forest City Ratner used factory workers to build a planned 32-story complex offsite. The project is destined for Brooklyn's Atlantic Yards.
In an email to IBTimes, Stewart O'Brien, a former commissioner at the city's building department, said that workers doing prefab construction offsite must have the same credentials as those doing construction work onsite.
O'Brien is a party to the suit, for the plaintiffs, and now leads the New York Plumbing Foundation. A ruling by the city's building department that normal plumbing and fire safety rules don't apply to buildings made offsite is plainly wrong, said court papers.
"Modern day, more and more modular construction has moved toward high-density projects," wrote O'Brien. "Should tenants or occupants of modular buildings be afforded any less safety protections?"
But back in Inwood, these sorts of concerns about prefab are far from people's minds.
Marc Gee, another principal from the GLUCK+ architects behind the project, is more focused on prospective tenants.
"We've had so many calls that I don't think it's going to be an issue," he said of filling The Stack's 28 rental flats. "There's a lot of need for this kind of housing… This is really modern."
© Copyright IBTimes 2023. All rights reserved.
FOLLOW MORE IBT NEWS ON THE BELOW CHANNELS