President Obama Pledges 'Ironclad Commitment' To Security In The Gulf Ahead Of Iran Nuclear Deal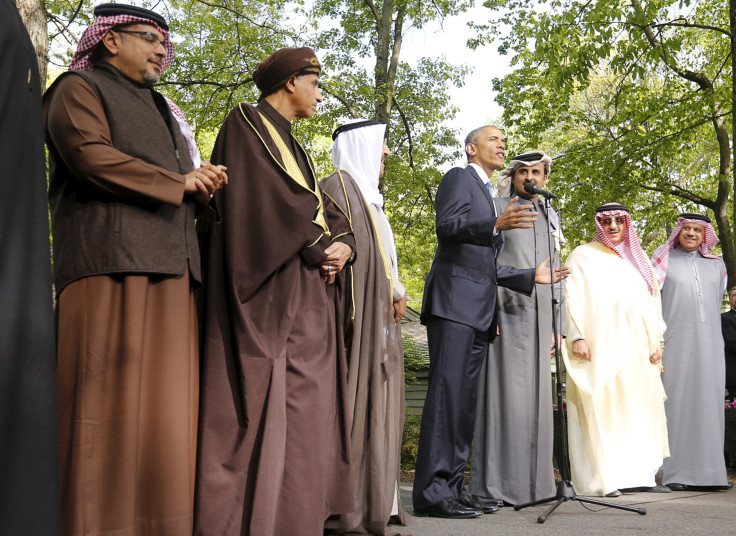 Military force isn't off the table when it comes to protecting America's Gulf state allies from Iran, President Obama said Thursday. Among Obama's promises to Gulf leaders was America's "ironclad commitment" to securing Persian Gulf nations amid fears that lifting economic sanctions against Iran could fuel the country's aggression and allow Tehran to expand its influence in the region, according to the Associated Press.
President Obama reassured Gulf leaders that the U.S.'s nuclear agreement with Iran would not put them at risk. "Let me underscore, the United States keeps our commitments," the president said during a press conference from Camp David on Thursday. He later told reporters he was "very explicit that the United States will stand by our [Gulf Cooperation Council] partners against external attacks.…We want to make sure that this is not just a photo op but a concrete series of steps."
The president met with leaders from Saudi Arabia, Kuwait, Bahrain, Oman, Qatar and the United Arab Emirates this week at his country retreat in the Maryland mountains to discuss security in the Middle East, counterterrorism and the U.S.'s deal with Iran over its nuclear program.
The Obama administration argued that if the nuclear deal meets its June 30 deadline, it would prevent Iran from building a nuclear weapon in the next 10 to 15 years, shielding the region and the U.S. from a Tehran threat. Many Arab leaders have voiced concerns over the deal because it would eliminate nearly all of the restrictions on Iran, according to the New York Times. While Obama said the U.S. could provide military assistance to Gulf states, including joint training exercises and missile defense technology, he did not go so far as to formalize a defense pact that would compel the U.S. to become involved should Iran launch an attack against a Gulf state.
"We do not want to see a nuclear arms race in what is already the most volatile part of the world," Ben Rhodes, the president's deputy national security adviser for strategic communications, said at Thursday's event. He called Obama's pledge a "broad strategic discussion."
Leaders from the U.S., Russia, China, France, the U.K. and Germany met with officials from Tehran in April to negotiate the terms of a deal with Iran over its nuclear program. The agreement was aimed at making sure Tehran wouldn't have the ability to make a nuclear weapon, while offering relief from international sanctions that have crippled the country's economy.
© Copyright IBTimes 2023. All rights reserved.
FOLLOW MORE IBT NEWS ON THE BELOW CHANNELS