Presidential Candidates 2016: Why January Is Busy For Mitt Romney, Jeb Bush And Other Possible GOP Contenders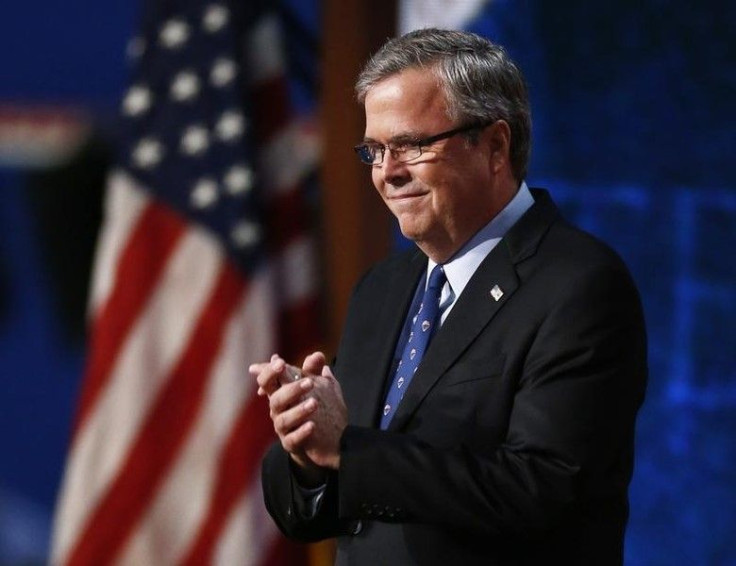 The race for money and staff among prospective 2016 presidential candidates is starting to heat up, especially on the Republican side. Former Florida Gov. Jeb Bush is the closest to officially declaring after announcing the formation of his Right to Rise leadership PAC last week, while Mitt Romney of Massachusetts has said he's eyeing a third bid for president and 2008 contender Mike Huckabee of Arkansas is leaving his show on Fox News for what's expected to be a second run at the White House. A fourth former governor, George Pataki of New York, meanwhile, has made stops in early primary states and courted GOP donors.
The action is far quieter on the Democratic side, where former Secretary of State Hillary Clinton is universally expected to announce a 2016 run -- a decision that most likely forces Vice President Joe Biden and other big-name candidates out. But that hasn't stopped Jim Webb, a former one-term Democratic senator from Virginia, from forming a presidential exploratory committee, often a precursor to running for president.
"We are now one year away from the New Hampshire primaries and the Iowa caucuses, so in order to raise the kind of money that's needed for a campaign, you have to get started a year ahead of time," said Richard Benedetto, a former White House correspondent and political columnist for USA Today who teaches at American University in Washington.
Since 1972, when the presidential nominee selection process opened up with the expansion of primaries, campaigns have traditionally started in January, or about a year before the first-in-the-nation Iowa Caucuses, according to Chris Arterton, a professor of political management at George Washington University in Washington.
"You want to get in there and sign people up to your campaign, court them before they sign up with a competitor," he said. "I think there's pressure -- it's almost like an arms race. If one candidate starts early, the other candidates need to get in there as well. I think it does take about a year to put in place all of the machinery that one needs to get effectively contesting in the early primaries and primaries that take place down the road."
We're seeing this play out now between Bush and Romney. Before forming his leadership PAC, Bush announced he was "actively exploring" a 2016 run -- the first major potential GOP candidate to make a move. The announcement was as much an effort to start lining up donors and political operatives for Bush as it was to block contributors and staff from going to the Romney camp, according to Arterton. "You're seeing the impetus to get into the race early as a way to start to build the connections that one needs to be effective coming a year from now," he said.
Some lower-tier presidential candidates are also signaling flirtations with a White House run, including Pataki, a former three-term Republican governor of New York. Out of seven tiers of Republican presidential candidates, Pataki is listed in the seventh by Larry Sabato, director of the University of Virginia's Center for Politics and publisher of Sabato's Crystal Ball. Pataki has made stops in New Hampshire and South Carolina -- two of the earliest primary states -- and has met with Republican donors while being featured in an ad funded by a super PAC calling for "less government, more freedom," according to the New York Daily News.
Republican Govs. Scott Walker of Wisconsin and Chris Christie of New Jersey have also been strongly signaling potential 2016 runs by quietly assembling staff. Walker hired Rick Wiley, a presidential campaign veteran and former political director for the Republican National Committee, earlier this month, according to CNN. Meanwhile, the RNC's top fundraiser, Ray Washburne, is expected to be in the Christie camp, the Associated Press reported.
The finite number of resources is what spurs the activity, according to Arterton. There are only so many capable political operatives to go around, especially in Iowa, New Hampshire and South Carolina, where consultants have specialized knowledge of those states.
Having to run a national campaign, where each state has varying regulations for getting on the ballot or assigning delegate slates, means candidates need a year of preparation. "Managing a 50-state process with different rules, timing, dynamics, it's understandable that they would need a substantial period of time to get things in line," Arterton said.
On the donor side, some deep-pocketed contributors may be averse to picking a horse so soon after the 2012 election, according to Robert Howard Wicks, a communications professor at the University of Arkansas in Fayetteville who has researched political communication and campaigns. Sheldon Adelson, the Las Vegas-based casino magnate, spent $20 million funding New Gingrich's campaign before committing nearly $100 million to Romney in a losing cause. "So while the wealthy donors would like to have influence on picking a candidate, they don't want to get burned. So a year is enough time to see who is gaining traction and who isn't, and also enough time to contribute to the campaign(s)," he wrote in an email.
Still, there are advantages to lining up behind a candidate early, including the recognition from being an early supporter and looking prescient, according to Arterton. "Both candidates and donors understand that the earlier you get on board, the more likely you are to be seen as someone who supported a candidate early," he said.
© Copyright IBTimes 2023. All rights reserved.