Mitt Romney President 2016: Former Governor Tells Donors He May Run For Third Time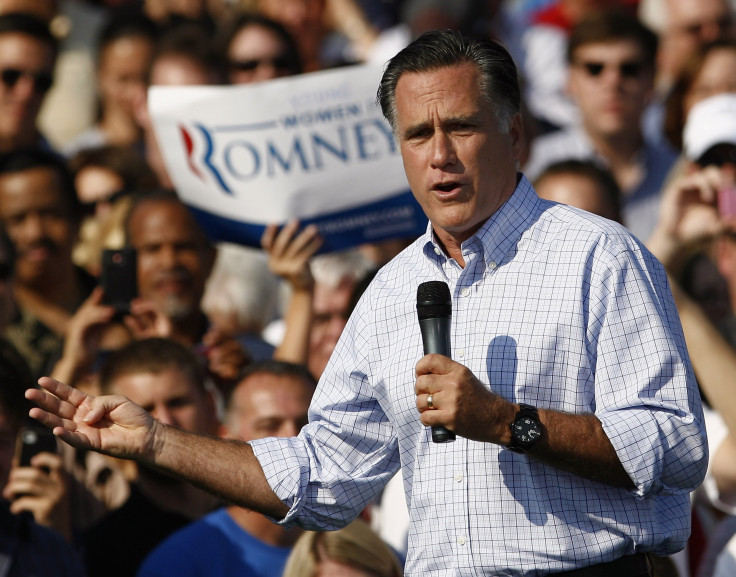 Former Massachusetts Gov. Mitt Romney told donors Friday that he may run for the White House again in 2016, the Wall Street Journal reported. Romney has been a top pick in the polls for the 2016 Republican presidential nomination, but he has sent mixed signals on whether he will make another run.
Romney reportedly made the comments during a meeting with dozens of top Republican donors in midtown Manhattan Friday afternoon, citing the economy and unrest overseas as main motives, according to the Wall Street Journal. It would be Romney's third bid for the Oval Office, following an unsuccessful try for the Republican nomination in 2008 and a failed 2012 campaign against President Barack Obama after securing his party's nomination.
Results of a CNN/ORC International poll last month indicated Romney had an edge over Republican contenders, with 20 percent of right-leaning voters saying they would support him if he ran in the Republican primaries. Romney has told reporters he has no plans to run again but seems to be telling supporters a different story.
"I came away from the conversation with the distinct impression that he was running and that he did not think anyone in the field right now was particularly strong," one Wall Street executive who recently met with Romney told Politico in December. "It sounded like he felt he could win.
The reports come as other leading GOP figures Jeb Bush and Chris Christie face speed bumps on their potential road to the 2016 presidential election. A Bloomberg Businessweek story cited Bush's involvement in an offshore private equity fund, while some GOP fundraisers worry Christie will likely have to defend himself against claims he is too liberal on guns and judicial appointments for most Republican voters.
A 2016 campaign to secure the Republican nomination would likely cost $80 million, according to a New York Times report. In addition to Romney, Bush and Christie, Kentucky Sen. Rand Paul and Florida Sen. Marco Rubio also are seen as possible candidates for the 2016 Republican presidential nomination.
© Copyright IBTimes 2022. All rights reserved.
FOLLOW MORE IBT NEWS ON THE BELOW CHANNELS