The Price Of Happily Ever After: Negotiating Marriage In Modern China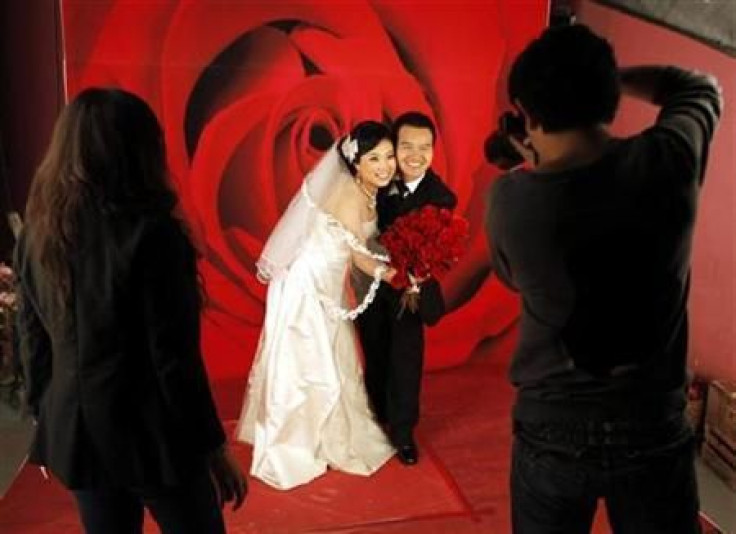 It's no surprise that the whole song-and-dance around getting married has made the wedding industry a multibillion-dollar market in the West, but in China newly introduced wedding customs have those headed to the altar making a trip to the bank first.
Many attribute China's pricey wedding trends to two things: new wealth and an old policy.
China's three-decade-long One Child policy has reportedly created, for various reasons, a steep imbalance in the nation's male-female ratio, estimated at 117 boys born for every 100 baby girls. As a result, an estimated 24 million Chinese men will be left without potential mates by 2020.
In this sense, the women of China generally have the upper hand, using their scarcity to gain leverage over their pick of men. Conversely, China's bachelors are now expected to woo women with promises of luxury, such as cars or homes, to set them apart from others.
"It's like a negotiation," Derek Wei, a Chinese newlywed, said to NPR. "What do you need to get married? What can I provide? When we reach a deal, we discuss: What does your family want? What does my family have to bargain with?"
Under Chinese wedding customs, Wei was required to give his future wife, Lucy Wang, a "chuangmen," a monetary gift that has recently resurfaced as normal practice in Chinese matrimonials.
Wei handed over 68,000 yuan, more than $11,000, to Lucy's parents as a betrothal gift. Wang said a typical "bride price" given to families in her hometown, an area dense with coal mine owners, runs at around $10,000.
"To be honest, where I'm from, that's hardly anything," Wang added.
Wei estimates that he spent a year's salary on his wife's bride price, which also included pieces of gold jewelry.
Some think Wei got off easy. NPR reports that some people even ask for new cars or homes as their bride price.
While the idea of a chuangmen isn't new, the expectations for its value has increased exponentially.
Wang's former classmate, Frank Zhang, will be the couple's master of ceremony at their wedding, and he's amazed at how much has changed since he was married 12 years earlier.
Zhang told NPR that he gave his wife's parents 888 yuan, an auspicious number in China, or roughly $100.
According to a 2011 survey, taken by the Committee of Match-Making Service Industries of China, 70 percent of women believe that a man should provide an apartment, along with a proposal of marriage. But the financial burden doesn't stop there. The report also shows that 80 percent of women said that they think a man should only consider being in a relationship if he makes a monthly income of more than 10,000 yuan, roughly $1,857, which is more than double the average monthly salary of a Beijing resident of 4,672 yuan.
There may be a silver lining for those who are looking to get married, but don't have the dough.
Statistics from the survey also show that 70 percent of interviewees that had "flat marriages" -- marriages without a house, car, diamond ring or elaborate ceremony -- are satisfied with their relationships.
© Copyright IBTimes 2022. All rights reserved.
FOLLOW MORE IBT NEWS ON THE BELOW CHANNELS