Prison Reform 2015: Amid US Inmate Release, Employers Wary Of Lawsuits From Job Applicant Criminal Record Legislation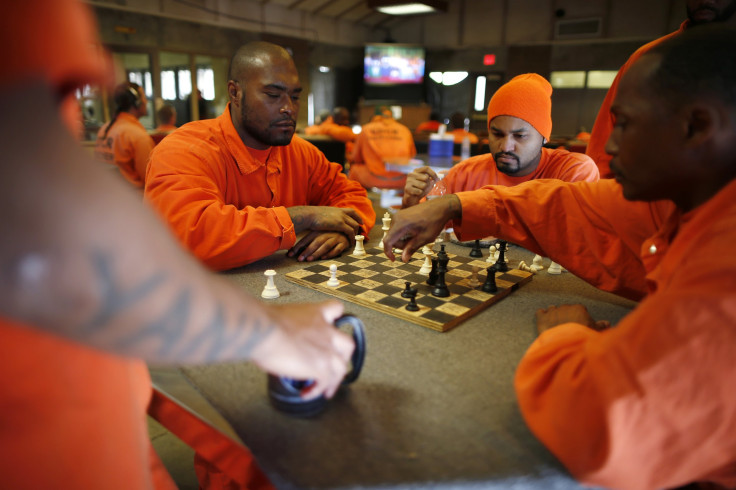 Job seekers sitting down for an interview with Michael Kaufman, manager of a commercial printer in New Jersey, might typically hear these questions: "What's your work history like?," "Can you explain this gap in your resume?," or one of his favorite inquiries, "What's the last book you've read?"
He will make assessments about how the applicant articulated the answers and whether they seemed honest. "That tells me if they are a quality person," said Kaufman, who in more than 30 years at Cox Printers in Linden, New Jersey, has interviewed scores of people looking for work.
One question Kaufman won't ask outright is whether an applicant has been convicted of a crime, which is increasingly illegal in U.S. states and cities seeking to make the job market fairer to formerly incarcerated people. As the nation's leaders come together on criminal justice reforms that they hope will reduce the U.S. inmate population and the harshness of criminal penalties, advocates for the formerly incarcerated want to discourage public and private employers from using criminal records to weed out job applicants. Many employers generally support the idea, but said they are wary of labor regulations that might increase the risk of lawsuits even when they've appropriately rejected someone based on their work experience.
Kaufman and other business leaders said disclosure of criminal records tends to happen voluntarily, when an interviewee or the person referring them feels like there's a fair shot at the job opening. "When people show respect to the employer during an interview, they expect respect back," said Kaufman, who has hired people with criminal pasts. "But now when someone doesn't agree with your decision not to hire, the only people that [profit] are the lawyers."
Conscientious employers aren't a rarity, prison reform advocates said, but many are still asking about criminal records on paper applications, perpetuating a cycle of incarceration for people looking to permanently turn their lives around. Approximately 70 million Americans have an arrest or criminal conviction on their records and they can struggle in the job market for years, even decades, some formerly incarcerated individuals said. Lack of employment is often cited by researchers and policymakers as a main reason for why so many people often end up back in prison.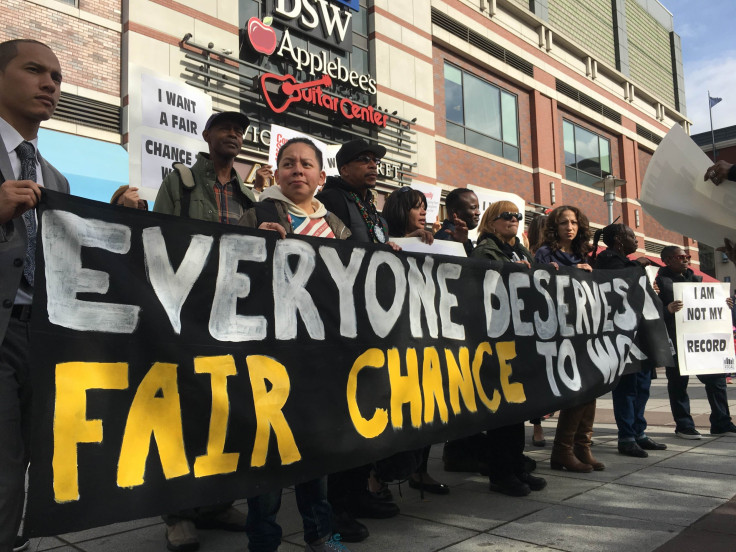 'Ban The Box' Laws Spreading
That lack of employment is what inspired the "ban the box" movement, a decade-old national campaign that calls for removing or delaying questions about criminal convictions for employment and other purposes. As of September, over 100 cities and counties, and 18 states had some form of law that removed criminal record questions in public employment. Several major American corporations have adopted similar policies.
But employers' commitment to hiring formerly incarcerated people will soon be tested amid a federal push to reduce the country's inmate population. The Justice Department this month announced plans to release 6,000 inmates, the largest one-time release of federal prisoners in history, between Oct. 30 and Nov. 2. An additional 8,500 federal inmates could be eligible for release between now and November 2016 based on prison sentencing reforms that reduced future punishments for nonviolent drug offenses and that were made retroactive.
Some of the nation's largest cities with "ban the box" legislation, including Philadelphia, San Francisco, Seattle and Washington, D.C., have seen employment among formerly incarcerated individuals increase by as much as 40 percent after these laws were passed, experts have said. New York, the nation's most populous city, this week saw its "Fair Chance Act" take effect for private employers. It has existed for public employment since 2011.
Billed as one of the strongest "ban the box" laws in the country, New York City now requires employers with four or more employees to hold off on background checks and criminal history questions until they've qualified a candidate and conditionally offered them a job. With the applicant's permission, employers can run a background check, but organizations can withdraw the job offer only if the applicant's criminal record is germane to the job or if the individual might pose an unreasonable risk.
'Everyone Deserves A Fair Chance To Work'
That's a major relief to Marilyn Scales, a 53-year-old New Yorker who waited 18 years to land her first full time job as a drug counselor just last month because of a felony drug conviction that put her behind bars for 24 months. Scales was among more than 25 formerly incarcerated advocates to rally in support for the city's law Tuesday outside of Brooklyn's Atlantic Terminal Mall, where major U.S. employers Starbucks, Target and Best Buy have stores. Barclays Center, the state of the art sports and entertainment arena, is located right across from the mall.
The group unfolded a large banner that read "Everyone deserves a fair chance to work," and held it up near the mall's main entrance. When the group began chanted, "Winning our lives back," Scales was among the loudest of participants.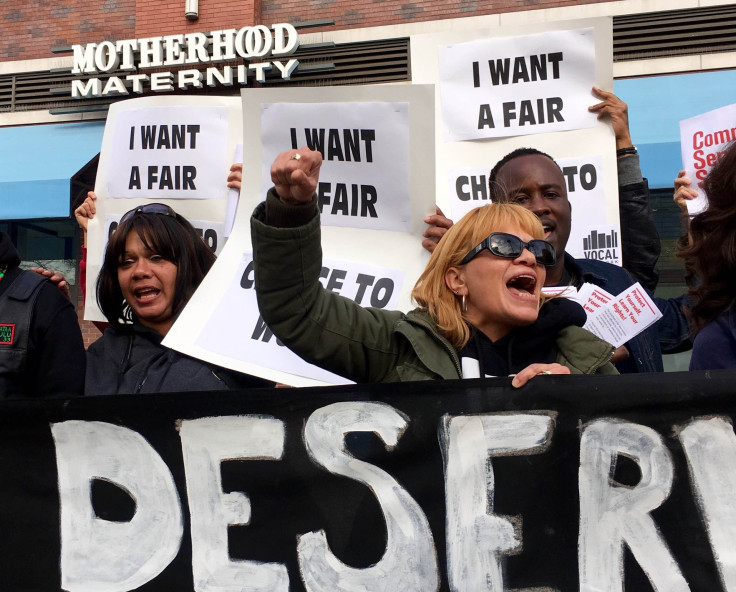 "I had nothing to hide after I came out of prison," Scales said before the rally. "But no one told me anything after I applied for jobs and I got depressed. I wanted to be self-sufficient and I didn't want anyone else taking care of my kids."
Scales has six children, ranging from age 34 to 14. When she was released from prison in 1997, she applied for positions at U.S. retailers Macy's, K-Mart, and Victoria's Secret, among others. Today, those same companies might face up to $125,000 in fines if they rejected her based solely on her criminal record, according to New York City law. Scales could also sue for lost wages and punitive damages.
That's a big concern for small business owners, many who lack the capital or legal resources that national and international corporations have. Marc Mathios, third-generation owner of Ace Apparel, a work wear and corporate uniforms retailer in New York's Bronx borough, said he currently employs "extremely productive" people who have a criminal record. But between federal employee health care requirements and local paid sick leave policies, among other regulations, it's becoming more challenging to predict costs and legal exposure.
"You have enough risks in business," Mathios said of labor laws generally. "But on the other hand, we have these very productive people [with criminal records] and I'm glad that we're giving them a second chance."
Inmate Work Release And Tax Incentives For Employers
Before "ban the box" regulations existed, there were already incentives encouraging employers to hire the formerly incarcerated. Some state corrections agencies have funding for work release, or programs that pay inmates to work a real job and allows them serve some part of their sentence from home or in a halfway house. There are also federal work opportunity tax credits, which give breaks to companies that hire a formerly incarcerated individual up to one year after their conviction or release from prison.
Carl Stubbs, a 64-year-old New York City native, left an upstate New York correctional facility nearly 20 years ago through a work release program at a company that sorts mail. But when the funding dried up for the program, Stubbs was let go and he could not find a job the conventional way.
Out of desperation, he resorted to stealing from family members and using drugs. "At one point, I was either going to be killed or I was going to kill myself," said Stubbs, who eventually found full-time employment for the first time in his life. He now works for a city organization that campaigns for the rights of formerly incarcerated people and was among the protesters in Brooklyn Tuesday advocating for work reform laws.
Approximately 27,000 New Yorkers are released each year from jails and prisons every year, said Gale Brewer, the Manhattan borough president who helped push New York's Fair Chance Act legislation. While the unemployment rate for those individuals hasn't been tracked nationally, the unemployment rate for parolees in New York was a whopping 61 percent in 2011, according to the state Department of Corrections. In 2011, the national unemployment rate hovered around 9 percent for most of the year.
Opponents of "ban the box" regulations often complain of seeming unfair to independent businesses, said Judy Conti, a federal advocacy coordinator for the National Employment Law Project, which has offices in Washington and New York City. "It has been our observation that not only does this not negatively impact employers, compliance with the law is incredibly simple," Conti said.
She added: "It opens up their application pools. People in New York understand that this is a big part of the civil rights agenda, but with any new laws you are going to have the knee-jerk opposition from those who don't want more rules and burdens."
Kaufman, the New Jersey commercial printer, said changing the culture around criminal records is less a government responsibility and more of a moral one. "If we're all willing to hire some of our returning [military] vets, who have been in some really tough positions protecting us, it's the same thing as far as the [formerly incarcerated] person needing a chance to work," he said.
Prison Population Rate in the United States | FindTheData
FOR FREE to continue reading
✔️ Unlock the full content of International Business Times UK for free
offer available for a limited time only
✔️ Easily manage your Newsletters subscriptions and save your favourite articles
✔️ No payment method required
Already have an account?
Log in
© Copyright IBTimes 2023. All rights reserved.