Pro-life Robocalls After Savita Halappanavar's Death Originated In US: Listen Here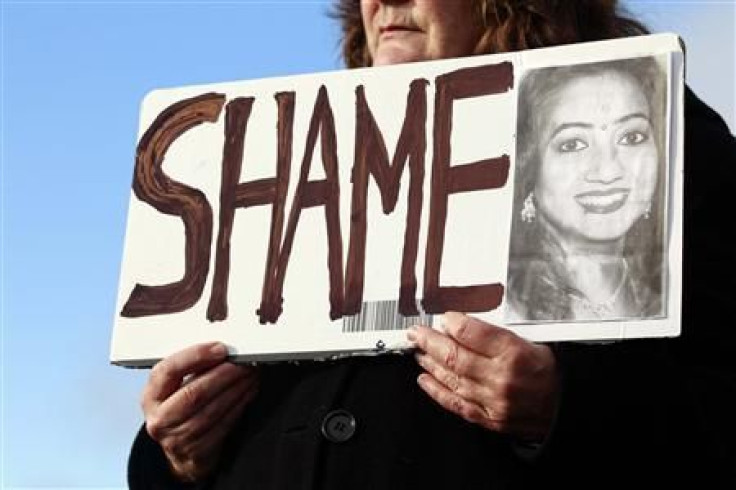 Automated pro-life phone messages targeting Irish residences in the aftermath of the death of Savita Halappanavar, who perished last year after she was denied an emergency abortion at a Galway hospital, originated from the United States, according to IrishCentral.com
Halappanavar, 31, was 17 weeks pregnant when she arrived at Galway Hospital in October 2012 complaining of severe back pain. After doctors told her she was miscarrying and the fetus was no longer viable, she requested a life-saving abortion. But, because Ireland currently has strict laws that make it illegal to terminate a pregnancy while the fetus' heart is still beating, her request was denied.
She died of septicaemia, a severe infection of the bloodstream, only days later.
"I am distraught, I have lost my soulmate," Praveen Halappanavar, her husband, told the Daily Mail after her death. "Doctors refused the termination on the grounds that the [fetal] heartbeat was still present and being a Catholic country it is not permitted."
Her death outraged Irish citizens and the world community, who argued the country's unyielding anti-abortion laws directly resulted in her unnecessary death. So far, government leaders have refused to comment on a potential political response to the situation until an official inquiry is completed.
But pro-life groups are rallying to press back against the idea that Ireland's staunchly Catholic culture could put the lives of pregnant women at risk. Irish phone numbers across the country have reportedly been plagued by pro-life phone calls in the months following Halappanavar's death, which the country's communications and data privacy regulators say came from another nation with a strong anti-abortion faction: the United States.
"Ireland's ban on abortion does not prevent doctors from acting to save women's life," stated the automated phone message, a direct quote from Eamon O'Dwyer, a veteran obstetrician from Galway. "Claims that doctors cannot intervene to save mothers in danger are untrue."
Dwyer, however, reportedly had no connection to the making of the message.
The Ireland Data Protection Commissioner has reported the country can take no action against the individuals who produced the messages since those calls cannot be prosecuted under U.S. law.
But a leaked draft of the hospital investigation into Halappanavar's case suggests medical incompetence could have played just as large of a role in her death as Ireland's restrictive abortion law.
Hospital staff should have considered terminating the pregnancy even before the couple requested the procedure, according to the shocking report, leaked to the Independent. The draft also reports physicians did not follow up on medical tests showing a possible blood infection on the day Halappanavar was admitted and were too overwhelmed by other patients to properly attend to the miscarrying woman.
Pro-choice activists fear Halappanavar's story could repeat itself if the U.S. adopts similarly obstructive laws, which have been proposed by dozens of state legislatures. A record number of abortion restrictions -- 90 -- were passed by states in 2011, while another 43 were voted into favor in 2012.
In recent years, there has been a surge of proposals that would ban abortion once the fetal heartbeat can be detected -- something that can occur as early as six weeks into a pregnancy.
© Copyright IBTimes 2022. All rights reserved.
FOLLOW MORE IBT NEWS ON THE BELOW CHANNELS