Pro-Russian Hacker Group CyberBerkut Claims Attack On German Government Websites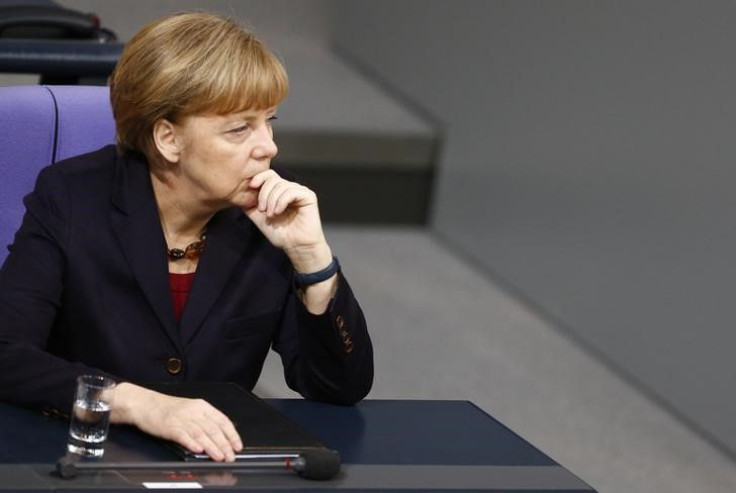 German government websites were brought down Wednesday by a deliberate attack claimed by a pro-Russian hacking group connected to the separatist movement in eastern Ukraine. The hack came a day before German Chancellor Angela Merkel was set to meet with Ukrainian Prime Minister Arseny Yatsenyuk in Berlin to discuss economic cooperation.
A group calling itself CyberBerkut, in reference to a Ukrainian special police unit that largely aligned itself with pro-Russian separatists as hostilities grew in Ukraine last year, claimed responsibility for the attack. In a post on their website, the group accused Yatsenyuk of seeking money from the European Union and International Monetary Fund to extend the war in eastern Ukraine, not to rebuild the country.
"That's why we appeal all people and government of Germany [sic] to stop financial and political support of criminal regime in Kiev, which unleashed a bloody civil war. We are CyberBerkut! We will not forget! We will not forgive!"
The group included the website of Merkel's government seat and the website of Germany's legislative body, the Bundestag, in the post. Both were still unavailable as of 8:50 a.m. EST. The attack appeared to be a distributed denial of service attack, also known as a DDoS. Simple software allows a group like CyberBerkut to flood a targeted website with millions of requests from internet signatures all over the world, which overloads its server and causes a crash.
Steffen Seibert, a spokesman for Merkel, called it a "serious attack clearly caused by a multitude of external systems," but did not speculate who was behind the attack. Seibert said "countermeasures" were put in place to combat the attack.
The group previously hacked and published official correspondences between the Ukrainian military and the U.S. military, including documents that outline a Ukrainian request for monetary assistance to take part in a U.S.-led military exercise in western Ukraine. The group is highly critical of the government in Kiev, which is largely made up of pro-European politicians elected to office following the collapse of pro-Russian President Viktor Yanukovych in February 2014.
Based on the writings on Cyber-Berkut.org, the group appears to be based within Ukraine, although it posts in English and Russian, suggesting it could be based in Ukraine's east, an ethnically Russian region along the Russian border.
More than 5,000 people have died, mostly in eastern Ukraine, since hostilities boiled up into an all-out war between the new, pro-European government and groups in the east seeking to remain close to Russia. Western nations like the U.S. and France accused Russia of directly intervening on behalf of separatists, but Russian officials deny that.
The pro-European government has gone ahead with plans to shift economically towards the EU and away from Russia since it came to power last year, which have been popular with many in western Ukraine but unpopular with many in the east.
© Copyright IBTimes 2023. All rights reserved.