Pro-Russian Separatists Call For Cease-Fire With Ukraine To Avoid 'Humanitarian Catastrophe' In Donetsk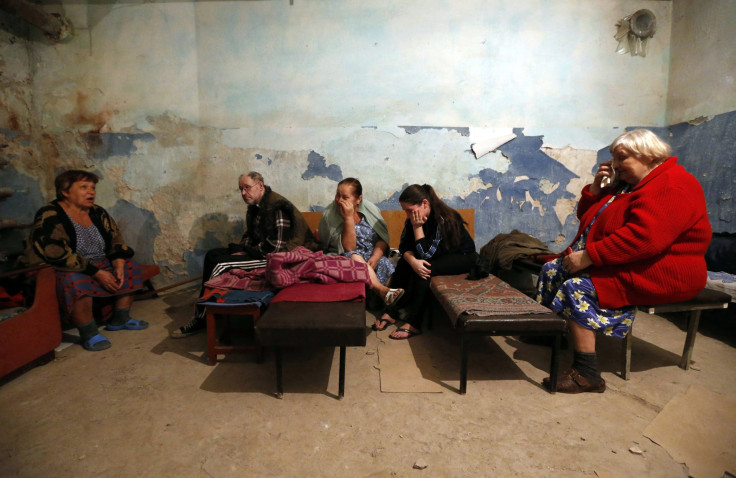 Pro-Russia separatists called for a cease-fire in eastern Ukraine Saturday after Ukrainian troops surrounded the rebel stronghold of Donetsk and began shelling last night. The militants' new leader warned of a humanitarian catastrophe if the assault did not promptly stop.
At least one person was killed and 18 wounded in shelling that hit more than two-dozen apartment blocks, in a city that once held 1 million people, a spokesman for the Donetsk leadership told the Associated Press. "The situation is getting worse with every hour," the spokesman said.
Alexander Zakharchenko, prime minister of the separatists' self-proclaimed People's Republic of Donetsk since Thursday, said water and electricity were scarce in the Ukrainian city and food and medicine have been running out since fighting cut off supplies weeks ago, the Los Angeles Times reported.
"We are ready for a cease-fire to prevent an increasing humanitarian catastrophe in Donetsk," reports in Russian media quoted him as saying. "In the event of a storm[ing] of the city, the number of victims will increase by magnitude. We have no humanitarian corridors. There is no supply of medicines ... food supplies are nearing their end."
Kiev gave no immediate response to the call for a truce. Zakharchenko's motive for offering a break in fighting was not clear, the AP said, but could be aimed at pressuring Ukraine to allow Russia to supply humanitarian aid.
Earlier Saturday, Ukraine said it had stopped a column of Russian troops posing as "peacekeepers" who were traveling with a humanitarian convoy. During the week, NATO and Western governments warned Russia about the 20,000 troops amassed at the border, calling it a "dangerous situation."
By evening, Ukrainian President Petro Poroshenko said he was ready to accept an international humanitarian mission in the eastern city of Luhansk, which remains marginally under the control of pro-Russian militants, the Washington Post reported. In a conversation with German Chancellor Angela Merkel, Poroshenko said the assistance would need to pass through Ukrainian-controlled border checkpoints and would not be provided a military escort.
© Copyright IBTimes 2023. All rights reserved.
FOLLOW MORE IBT NEWS ON THE BELOW CHANNELS