?Prometheus? Star Michael Fassbender: A Chronology Of His Meteoric Rise To Fame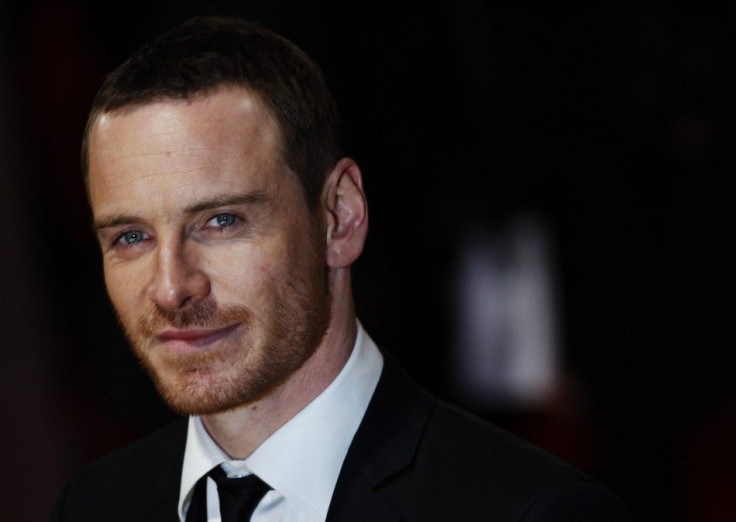 With the debut of Prometheus, Ridely Scott's blockbuster Alien prequel, Michael Fassbender is making headlines yet again. The actor, whose legions of fans refer to themselves as Fassinators, Is earning critical raves for his performance in the sci-fi action flick. But just how did the German-born Irishman go from an underemployed actor to the inspiration for blogs like Fascinating Fassbender and To Fassy With Love in a few short years.
Here's a timeline of the roles and accolades that elevated Fassbender to superstardom.
2008: British artist Steve McQueen directs Fassbender in the political shocker Hunger. Set in a Northern Irish prison, the film recounts the final days of activist Bobby Sands (Fassbender), who went on a hunger strike in 1981. Fassbender loses 30 pounds for the role and delivers a harrowing 5-minute monologue that wows critics. When the film premieres at the Cannes Film Festival he is dubbed the British Brando. The London Film Critics Circle names him the Best Actor of the Year.
2009: Fassbender stars in the British indie Fish Tank which nabs the jury prize at Cannes. The film follows a troubled 15-year-old girl (Katie Jarvis) whose life takes a drastic turn when her mother brings home a new boyfriend (Fassbender). The actor's smoldering sex appeal in the film boosts his female fanbase. The role earns him his second London Film Critics award.
The actor also stars as British commando Lt. Archie Hicox in Quentin Tarantino's Inglourious Basterds, which goes on to be the directors highest grossing film.
2011: Director Cary Fukanaga directs the actor in a bold new adaptation of Jane Eyre. The classic tale tells the story of an orphaned governess (Mia Wasikowska) who falls in love with her enigmatically alluring employer, Mr. Rochester (Fassbender). His portrayal of the famed literary character (who inspired Stephenie Meyer's Twilight hero Edward Cullen) intrigues critics.
The New York Times describes Fassbender's Rochester as greyhound lean, with a crooked, cynical smile set in an angular jaw, is very plausibly a thinking girl's half-inappropriate crush object.
Fassbender also ventures into summer blockbuster territory in X-Men: First Class. The film, a prequel to previous film releases based on the comic book franchise, allows Fassbender to take on the iconic role of role of Magneto. Various outlets single out Fassbender's performance, such as the Hollywood Reporter which concludes:
The cast is almost absurdly easy on the eyes and is most powerful at the top, thanks to the intense Fassbender, who will now need no audition if Daniel Craig decides to give up Bond after another picture or two.
As Oscar season approaches, so does Fassbender's career defining moment. The actor reunites with Hunger director Steve McQueen for the NC-17 drama Shame. The haunting film follows Brandon, a corporate loner who suffers from a crippling sex addiction. The actor appears fully nude in the film's opening scene and in various shockingly realistic sex scenes.
Shame receives critical raves. Roger Ebert notes: Not many actors would have the courage it took Michael Fassbender to play this role. This is a great act of filmmaking and acting.
Variety also praises the actor, comparing his remarkable performance to his breakout role in Hunger.
As self-starved IRA member Bobby Sands in Hunger, Fassbender gave a performance so frighteningly physical it seemed almost as committed an act of martyrdom as his character's. He matches that achievement here and in some ways surpasses it, enacting a more figurative form of imprisonment and self-mortification. Even when he says nothing, which is most of the time, Fassbender transfixes.
2012: By the time 2012 rolls around, Fassbender's penis is the talk of Hollywood (putting Michael Fassbender's Penis into Google yields about 46,300 results). In his Best Actor acceptance speech at the Golden Globes, George Clooney proves he's also deserving of a Wingman Of The Year award.
Really Michael, honestly, you can play golf like this with your hands behind your back, mimicking the action with his hands behind him. Go for it man, do it!
Several articles such as A Year in the Life of Michael Fassbender's Penis, by Vanity Fair, analyze the public's fascination with his sizable...talent. When the actor is passed over for a Best actor Oscar nomination, a member of the Academy tells the Los Angeles Times that Fassbender's penis may be to blame:
That was a super-brave performance but ... perhaps it inspired people to fantasize, and not actually vote.
McQueen too blames nudity for the snub, telling the Press Association: In America they're too scared of sex, that's why he wasn't nominated.
As the debate ensues, Steven Soderbergh's Haywire is released. Fassbender doesn't strip all the way down in the film, though there's a towel scene that in no way serves the plot.
© Copyright IBTimes 2023. All rights reserved.