Puerto Rico Debt Crisis: Government Shutdown, Tax Increases, High Unemployment, Other Woes Plague US Commonwealth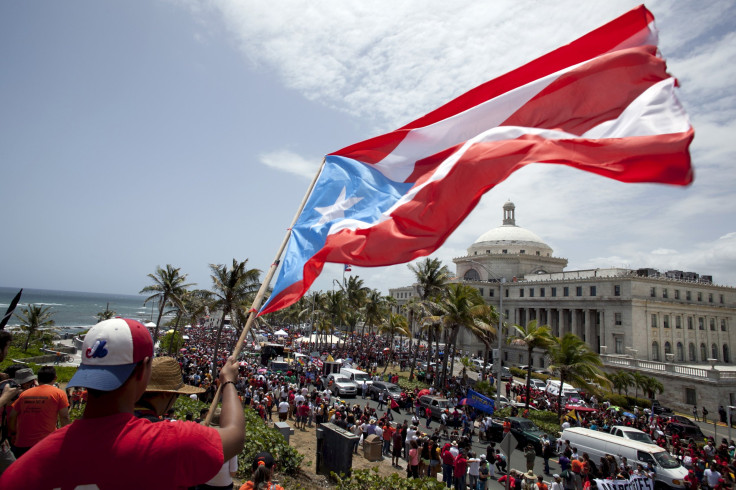 SAN JUAN, Puerto Rico -- For years, Ignacio Rodriguez dreamed of making a name for himself in his native Puerto Rico, building a career and enjoying life in this Caribbean island known for its turquoise shores, warm climate and Latin culture. But in recent months, he has found himself torn between the Puerto Rico he has always loved and the reality of the economic crisis holding his picturesque homeland hostage. Officials in San Juan, the capital, are grappling with roughly $72 billion in debts, prompting Rodriquez and thousands of other young people here to weigh leaving behind the so-called Island of Enchantment to relocate to the mainland of the United States for a more secure future.
"I cry myself sometimes to sleep just to think that I could abandon my country," said Rodriguez, 26, the manager of a painting supplies store. "This is a beautiful island. We have hundreds of miles of beaches, it's sunny every day and you don't want to leave. But it's very emotional to me to see your country not know what to do. We don't have a north. We are lost."
After years of governance under hefty deficits, Puerto Rico can no longer pay off its debts and the ensuing credit crisis has cast a dark cloud over this tropical paradise, raising questions about its economic future and controversial relationship with the United States. The looming financial collapse has seen San Juan threaten to raise taxes as its impoverished population battles high unemployment, while financial analysts have begun to compare the unincorporated U.S. territory to Greece: a Caribbean version of Europe's economically failed and virtually bankrupt nation. Critics blame the government's inability to make tough decisions and cobble together a new budget ahead of the fiscal year that begins Wednesday, but lawmakers claim their hands are tied. If creditors refuse to renegotiate the terms of Puerto Rico's debts, San Juan could run out of cash in a matter of weeks, triggering a government shutdown and other emergency measures.
Puerto Rican GDP Per Capita Growth Over Time | FindTheData
The island's financial obligations are overwhelming. Under its constitution, Puerto Rico must cover about $93 million each month on its general obligation bonds before making any other payments. The government's Public Finance Corporation owes $94 million on July 15. Its Government Development Bank must repay $140 million of bond principal by Aug. 1, and the electric power authority has a $416 million payment due Wednesday. In all, Puerto Rico's debts from government and government-backed companies are equal to more than 60 percent of its gross domestic product, but unlike like Detroit, which has struggled with its own financial problems in recent years, Puerto Rico cannot legally file for bankruptcy because it is a commonwealth.
"We can't say where is Puerto Rico going to be in five years, where is it going to be next year. We have to get through the next 90 days first," said Rep. Rafael "Tatito" Hernandez, chairman of Puerto Rico House's Treasury Committee. "A big change is going to have to happen."
'Our Darkest Moment'
Old San Juan is the heart of city life in Puerto Rico, a historic neighborhood where tourists sip rum cocktails, climb forts built by Spanish settlers and dance salsa in colonial-style buildings painted in the colors of the sea. On a recent day, visitors and tourists alike gathered along its famed Paseo de la Princesa to watch the setting sun sink into green-blue waters as a sailboat glided by, creating a postcard-worthy moment. But the many "for sale" signs hanging throughout the city center suggested not everything was quite so idyllic.
Before its economy was downgraded to junk status, Puerto Rico was for decades an attractive bet for investors who purchased bonds exempt from state, local and federal taxes and saw high yields. In turn, Puerto Rican lawmakers borrowed huge amounts to boost the island's economy and appeal to voters with flashy construction projects such as San Juan's Urban Train, a heavily subsidized metro line launched in 2004 that costs $85 million a year to operate and is used by only 5 percent of the metropolitan area's residents.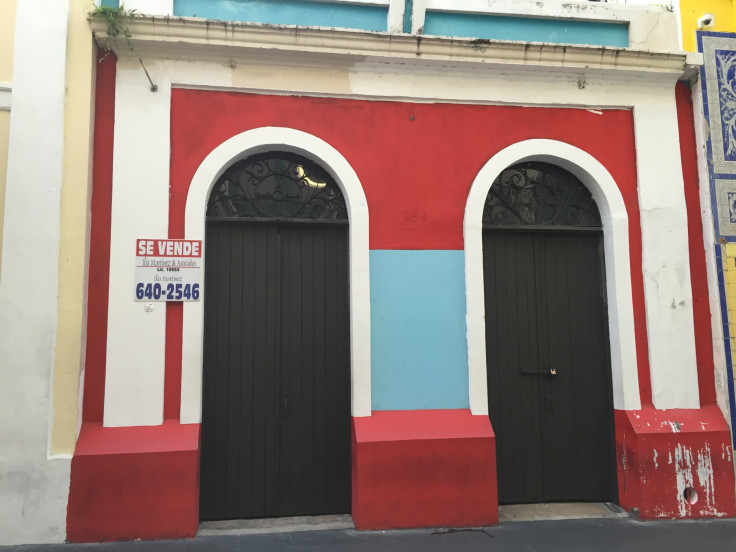 All those years of sluggish economic growth, sinking tax revenue and climbing unemployment have caught up to Puerto Rico. In February, its rating was dropped further into junk and its fiscal outlook was declared negative after a judge's decision to block a proposed debt restructuring plan. It now has more debt than any U.S. state. While Puerto Rico Gov. Alejandro García Padilla has taken steps to reduce the island's debt, including a proposed $9.8 billion budget that calls for $674 million in cuts, creditors have not been impressed.
"The first and perhaps fundamental problem is that the economy here has not been growing for the past eight or nine years, the economy has been stagnant or contracted, so your ability to pay is limited when the economy isn't growing," said Sergio M. Marxuach, public policy director and general counsel for the Center for a New Economy, a San Juan-based consulting group. "The government is doing what traditional financial advisers would tell them to do: cut spending, raise taxes, but, unfortunately, the short term impact of those policies is to make the economic situation worse."
Padilla's most far-reaching measure includes raising the sales tax to 11 percent, a 4 percent hike on residents whose average yearly salary is roughly $19,500. Padilla also plans to close nearly 100 public schools.
"The reality is that the economic situation is hurting education here," said Puerto Rico Teachers Association chief Aida Diaz. "Our teachers haven't gotten a raise since 2008. Many are leaving the country to Dallas or Miami. If the economic situation doesn't get better, we are going to see more schools closed in a year, and even more in five years. It's our darkest moment for public education."
A group of mothers kept one school open by volunteering to do administrative tasks. Fathers signed up to do security work. Across the island, parents are being asked to bring in school supplies, including paper, Diaz said.
Puerto Rico's healthcare system is also under attack. The island's cash flow problem means it can't pay for its share of Medicare and Medicaid, federal insurance programs that help seniors and low-income families. At the same time, the island is battling an ongoing exodus of healthcare workers, who are leaving for the United States, where Medicare and Medicaid reimbursement rates are much higher. Roughly 2 million Puerto Ricans, or 60 percent of its population, rely on Medicare, Medicare Advantage or Medicaid to cover their healthcare costs. Hundreds of doctors reportedly move from Puerto Rico every year.
"The people are facing a brutal economic stress," said Victor Ramos, president of the Puerto Rico College of Physicians and Surgeons. "The reality is that if this doesn't get fixed, the healthcare system of Puerto Rico is going to collapse within a few months. The doctors will continue to leave and the hospitals won't have staff."
Puerto Rican Unemployment Rate Over Time | FindTheData
Mayor Carlos Méndez Martínez of Aquadilla in western Puerto Rico is widely considered one of the most popular politicians on the island for his cost-saving measures. In the nearly 20 years since he has been in office, he has eliminated the city's $11 million deficit and opened a string of successful government-run enterprises, including a bowling alley, ice skating park and waste management service. Still, despite his conservative fiscal approach, he said the proposed sales tax increase would do more harm than good and send further Puerto Ricans to the United States.
"It's a disaster," said Méndez, who wants Congress to allow the island's government to file for bankruptcy. "It's going to destroy Puerto Rico, You don't tax people to spend money. It doesn't make any sense whatsoever."
'The Cloud Is So Heavy'
It's not just healthcare professionals and teachers who are packing up and leaving. Puerto Rico's migration problem has touched nearly every industry, with workers from across the island hopping on a one-way flight to growing Puerto Rican communities in Florida, Texas and New York. In 2013, an estimated 74,000 people left for the mainland of the United States. The median age of those leaving was 28.5 years old, according to government statistics.
Life in Puerto Rico can be difficult for those struggling to make ends meet. The price of shipping goods to the island has driven up the cost of living for residents who earn low wages. Compared to the U.S. mainland, food costs roughly 23 percent more and utilities cost a staggering 85 percent more, according to the Council for Community and Economic Research, a Virginia-based institute that analyzes cost of living data. The unemployment rate was 12.4 percent in May.
Rodriquez, who graduated with a bachelor's degree in finance in 2013 and later moved from San Juan to the southern coastal city of Ponce for work, estimates he would earn $10,000 more a year if he worked in the United States. His friends who have left the island have urged him to make the move. He briefly considered quitting his job after a man robbed the paint store where he works twice, both times emptying the register.
"People don't see the money they give for taxes being put to good use," Rodriquez said. "The pavement on the streets, they are not in good condition, our infrastructure projects are at a stop. We are not constructing. Our low-income citizens don't have jobs and it's just the perfect storm. You start to get depressed. It's a little bit overwhelming. The cloud is so heavy. It's just wearing me down."
For others, the decision to leave seems like an obvious choice. Earlier this year, Idaliz Ortiz Morales filled out dozens of employment applications, certain that with her resume boasting several internships and four years of challenging coursework at the University of Puerto Rico she would have no problem landing a summer job. But after months of seeking work, she didn't have a single offer. The dismal employment prospects made it easier for her to make the decision to move from San Juan to Washington, D.C., this month.
"It's pretty serious and scary at the same time because I have a lot of friends that are leaving the island trying to find the opportunities," said Morales, 22, who hopes to become a broadcast journalist. "There are no jobs here."
Morales has lived in the same house in San Juan her whole life. It's where her dog was born and she played with her younger brother when she was a child. She worries about missing her mother's tostones, a fried treat made of fruit plucked from the plantain tree in their backyard. But her past in Puerto Rico isn't enough to keep her from possibly missing out on a future, she said.
"It's really hard because I am Puerto Rican and Puerto Ricans are about family and closeness and my family is used to having parties and staying together," she said. "Not being able to have that is really sad."
Puerto Ricans staying on the island, meanwhile, might just be in denial, said Mario Marazzi, executive director of the Puerto Rico Institute of Statistics, which was founded in 2007 to keep track of government spending.
"We have been in crisis mode for as long as we can remember so people are just basically crisis exhausted," he said. "The day that we were downgraded to junk status, I was sitting in the restaurant I always eat at looking around reading the news and, you know, nobody cared. Everybody knew that it was coming."
Is Statehood The Answer?
For decades, Puerto Ricans have debated their fragile relationship with the United States. Should the island be an independent nation? Should it remain a commonwealth? Is statehood the answer? In 2012, a majority of Puerto Rican voters for the first time cast ballots in favor of statehood in a nonbinding referendum. Of those who voted, 54 percent also rejected the island's status as a U.S. commonwealth. Only 6 percent voted for independence.
The building economic crash has only intensified such debates in recent months, however unlikely it is that Congress would vote to change Puerto Rico's status.
Being a commonwealth is what got Puerto Rico in trouble in the first place, said Kenneth McClintock, Puerto Rico's former secretary of state and a fierce defender of the statehood movement. The federal government should cover infrastructure improvements and healthcare services for Puerto Ricans at the same rate it funds such services for other U.S. citizens instead of forcing the island's lawmakers to govern with insufficient revenue, he said.
"The level of debt we have now is because we are not a state," he said. "Probably half of the bonds we issued were because we are not a state."
Jose Resto also blames the commonwealth's ineffective governing for the debt crisis. Resto, who owns a computer repair business in Corozal, a small town located west of San Juan, has lived on the island for most of his life. He said statehood would fix Puerto Rico's fiscal woes by ensuring it had the backing of the federal government.
"The government spends more than it makes and it's a problem," said Resto, who claims Puerto Rico's government is too bloated and municipalities should consolidate their services. "They haven't been paying attention to this for years."
But Rebeca J. Agosto Rosa, 23, said statehood supporters are using the economic meltdown to rally Puerto Ricans around a cause that is unlikely to become a reality. "It's part of the problem because it's a way of not dealing with the actual problems. It's like, 'If we change the status things will be different,' but they won't be," she said.
Agosto graduated earlier this month with a bachelor's degree in political science and journalism from the University of Puerto Rico, a leafy oasis in an industrialized neighborhood of San Juan that has become the epicenter of the island's nascent anti-austerity movement. On a recent day, political messages scrawled in chalk filled the campus' sidewalks. One message read: "Feel something. Vote!"
Many of Agosto's classmates moved to the United States to find work. Her apartment building has seen waves of new tenants as unit owners have been unable to pay their mortgage. She rushed out to buy a computer and clothes before the sales tax hike took effect on Wednesday.
"People don't have any trust or any hope in the government being able to fix this, like even if the economists gave us a perfect plan to get us out of this mess I don't think anyone trusts the government to do that," said Agosto, who has participated in recent student marches against government budget cuts. "We keep hearing all these terrible things are happening but honestly I don't know what rock bottom is for us."
'I See The Future, I Have Hope'
The historic neighborhood of Santurce sits just beyond the bland tourist enclaves that hug San Juan's pristine beaches. Young islanders call it the Brooklyn of Puerto Rico because of its hipster-friendly businesses pushing bite-sized cupcakes, herb-infused lemonade, vintage dresses and hemp T-shirts. Like the New York City borough it's modeled after, Santurce has also become a hotbed for gentrification as a growing network of young, artsy entrepreneurs have slowly begun to replace affordable businesses owned by Dominican immigrants. The newer shops are more attractive to the well-heeled tourists who trickle in from the neighboring districts of Condado, Ocean Park and Isla Verde. But Santurce is also a place of hope.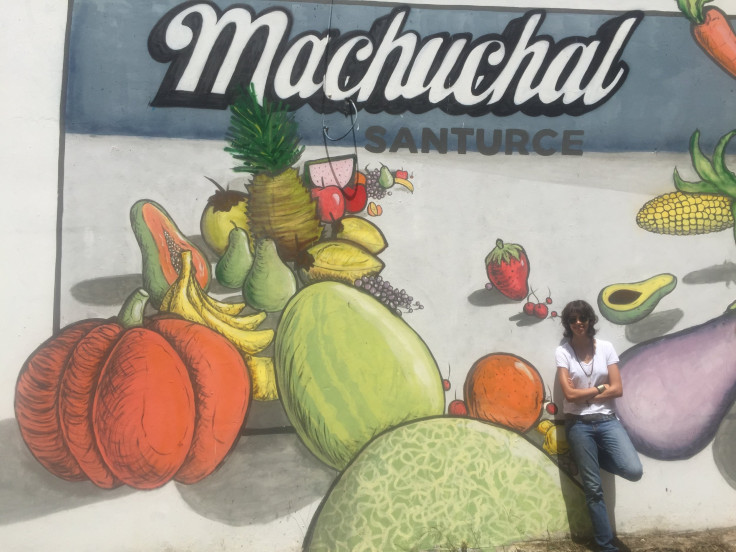 Gaby Pagan, 26, opened Monticello, a smoke shop, off a side street in the neighborhood last year. Because of Puerto Rico's credit crunch, she couldn't obtain a small business loan but sat through a free management course the government offers to minority entrepreneurs. Her parents are fierce supporters of an independent Puerto Rico, but she doesn't see how the island could survive without help from the United States.
In recent years, three of her sisters have left Puerto Rico in search of better public schools and higher wages. Still, Pagan said she was optimistic about the future despite fears that the sales tax increase could make her customers more cautious about their purchases.
"I can't lower my prices," she said, shrugging. "We just have to see how it goes."
Valerie Bosch, 33, opened Len T. Juela, a boutique pushing dainty vintage dresses and jewelry, along Santurce's main drag three years ago. Over Christmas, as her friends and family began their annual tradition of shopping for presents at Macy's, Sears and other American chain stores, she asked a friend to film her shop and others like it in the neighborhood and started a web campaign to promote small businesses in San Juan. Puerto Ricans can save their island, she said, by investing in themselves. On every receipt, she writes, "Thank you for supporting small businesses!" To help her customers deal with the sales tax increase, she said she will offer an 11 percent discount through July.
Bosch said she tries not to judge people who leave Puerto Rico for the mainland, but abandoning the island was never an option for her and her husband.
"I don't want to leave here," Bosch said on a recent day as a handful of customers flitted around the shop trying on vintage dresses. "I see the future. I don't know how, but I have hope for Puerto Rico."
© Copyright IBTimes 2023. All rights reserved.