'American Horror Story' Season 4 Premiere: Get Ready For 'Freak Show' With These Movies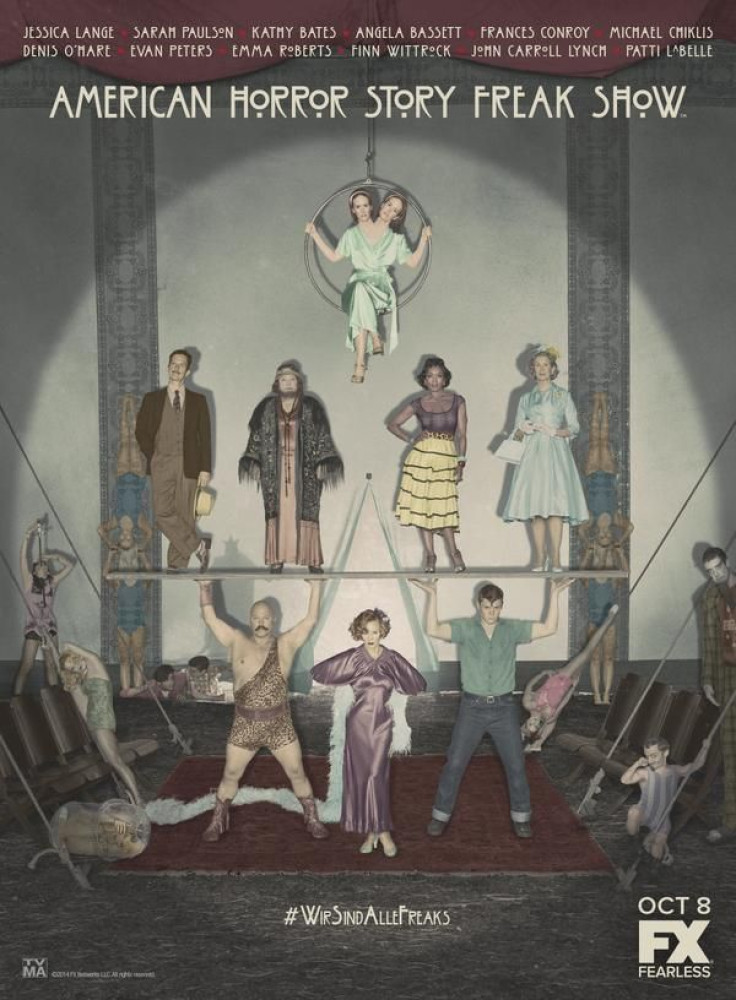 Can't wait for "American Horror Story: Freak Show" and want some carnival-themed entertainment? Well, you're in luck as there are plenty of options, from the scary to the fantastic. If you're feeling adventurous, you can marathon-watch HBO's "Carnivale" ahead of Wednesday's "AHS" premiere. If that's too much of a time commitment, here are our "Freak Show"-inspired picks:
"Freaks"
This is the classic carnival horror movie. Directed by Tod Browning, "Freaks" was quite shocking when it was released in 1932 and its legacy has only grown, becoming a cult favorite and selected for preservation by the U.S. National Film Registry in 1994. "Freaks" features actual sideshow performers using their stage names and who can forget the initiation ceremony and the lines "We accept her, we accept her. One of us, one of us. Gooba-gobble, gooba-gobble."
"Killer Klowns From Outer Space"
While not a true circus movie, 1988's "Killer Klowns From Outer Space" is a fun horror movie about aliens that happen to look like clowns. The aliens kill and collect humans, and the movie features a ship that looks like a circus tent, a popcorn gun and a killer balloon-animal dog.
"It"
Tim Robbins' classic portrayal of Pennywise the Clown has haunted many a childhood. The Stephen King adaptation was a made-for-television miniseries released in 1990 and follows "The Losers Club" as children and as adults who return to Derry, Maine.
"Final Destination 3"
The "Final Destination" series is a mixed bag, but the third installation sees the return of series creator James Wong, who also served as an executive producer for "American Horror Story." Set in an amusement park, the film features plenty of elaborate set pieces and deaths -- which fans have come to expect from the franchise.
"The Funhouse"
"The Funhouse" is a bit underrated, but this 1981 horror flick, directed by Tobe Hooper ("The Texas Chain Saw Massacre"), is a fun trip around a carnival. A group of teens spends the night inside the funhouse after the carnival closes, leading to some gruesome discoveries and, of course, deaths.
"Something Wicked This Way Comes"
Adapted from the Ray Bradbury novel, 1983's "Something Wicked This Way Comes" deals with the dark mysteries around a traveling carnival. The movie has a very human side to it as it explores human relationships.
"The X-Files" - "Humbug"
For a quick "Freak Show" fix, this episode of "The X-Files" from Season 2 is an ideal choice. Drawing inspiration from "Freaks," the episode includes real-life sideshow performers and is a funny and unique episode from the classic show.
"Carnival of Souls"
While this isn't really a carnival movie, its climatic scenes take place in an abandoned pavilion that was converted into a carnival before shutting down. "Carnival of Souls" is heavy on atmosphere and general spookiness.
"Santa Sangre"
For something completely different and unexpected, 1989's "Santa Sangre" is the perfect thriller. Directed by avant-garde director Alejandro Jodorowsky, the film follows Fenix as he grows up in a circus.
"House Of 1,000 Corpses"
Rob Zombie created a great character in Captain Spaulding, but your mileage may vary depending on how much you like exploitation movies and gory violence.
"Are You Afraid of the Dark?" -- "The Tale of Laughing in the Dark"
Anyone who grew up in the 1990s will immediately remember Zeebo the Clown. "The Tale of Laughing in the Dark" follows three kids as they learn the truth of an urban legend.
"The Cabinet of Dr. Caligari"
The German silent film has inspired generations of directors, most obviously Tim Burton. "The Cabinet of Dr. Caligari" follows the titular character and his somnambulist circus attraction Cesare, who are suspects in a string of murders.
The "American Horror Story" Season 4 premiere airs Wednesday at 10 p.m. EDT.
© Copyright IBTimes 2023. All rights reserved.