Can Gay Marriage Reverse The Institution's 40-Year Decline In America? One Gif Has All The Answers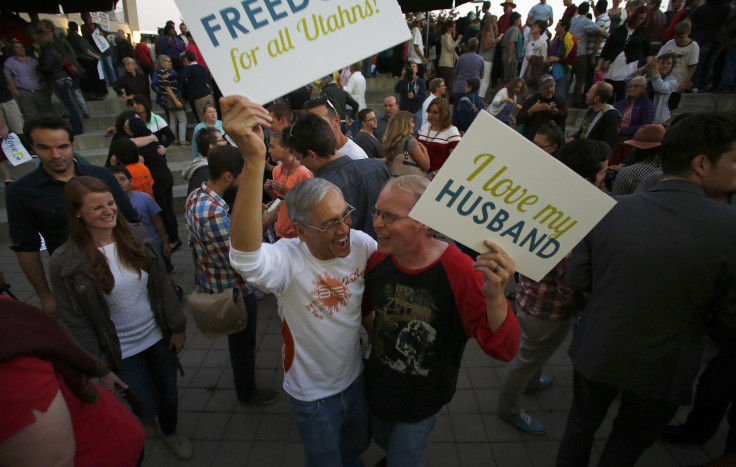 No one wants to get married anymore -- but that's hardly breaking news. Marriage in the United States has been in decline since 1970. But could the legalization of gay marriage affect marriage rates?
That's the question Movoto, a real estate brokerage agency whose blog sets up guides and lists for cities, is trying to answer with a GIF that looks at the steady decline in marriage rates for the last 40 years. Nevada is the marriage capital of the U.S. -- a drastic outlier compared to the other states -- but Hawaii has the second-highest average marriage rate (15.89 per 1,000 residents) in the U.S. and is the only state to actually see an increase in these rates. South Carolina, with the third-highest marriage rate (14.01 per 1,000 residents), Arkansas (13.16 per 1,000 residents), Idaho (12.79 per 1,000 residents) and Tennessee (12.7 per 1,000 residents) rounded out the top 5.
South Carolina had the greatest total decline from 1970 to 2011, followed by South Dakota, Oklahoma, Maryland and Georgia.
Movoto also looked at the seven-year period between 2004 and 2011, citing cultural changes and the legalization of gay marriage in Massachusetts. Hawaii had the most accelerated decline after 2004 but several states, including Oklahoma and South Carolina, and the District of Columbia, reversed their declines.
Interestingly, after 2004, it was split pretty much down the middle with 24 states reporting accelerated rates in decline, and 25 states and Washington reporting rates that slowed or reversed.
There are 19 states that currently allow same-sex marriage and that number could grow to 30 following the actions of the U.S. Supreme Court Monday. The court decided against hearing appeals on gay marriage from Virginia, Wisconsin, Utah, Oklahoma and Indiana, paving the way for the legalization of same-sex marriages in those states and six more: Colorado, Kansas, North Carolina, South Carolina, Wyoming and West Virginia.
© Copyright IBTimes 2023. All rights reserved.