Putin Leads Record Victory Day March In Moscow
MOSCOW — Russian President Vladimir Putin took part in a huge rally in the Russian capital Monday to commemorate the end of World War II and the millions of Soviet citizens who died fighting Nazi Germany. The march in downtown Moscow was the largest of its kind ever seen in Russia, with police estimating a turnout exceeding half a million people.
Called the Immortal Regiment, the event saw people carrying pictures of relatives who had served or been killed during the Great Patriotic War, as it known here. Putin held a picture of his father, who was wounded in combat.
"I wanted my mother to take part today," said Lyudmilla Vetrova, carrying a photograph of her mother, who she said helped build the defenses that protected Moscow from the Germans in 1941.
"When the whole world is against us and wants to forget that our soldiers died, it is important to show that we haven't forgotten," said Vetrova's sister, Inna Onlitaeva, who was walking alongside and carrying a photograph of their father, who also fought in the war.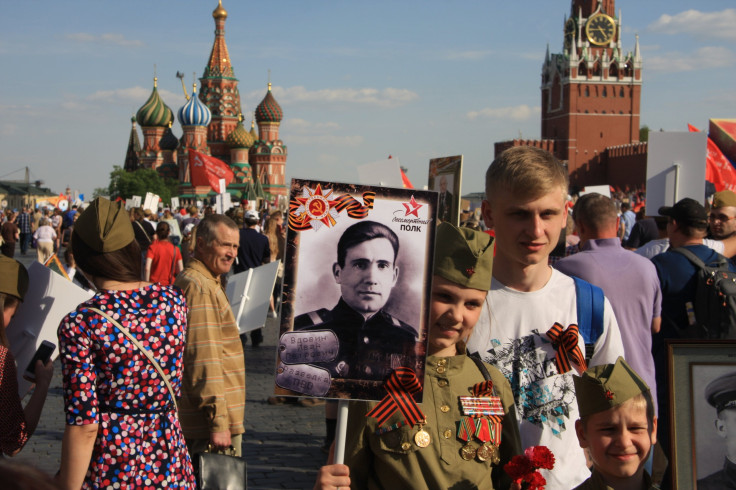 The Immortal Regiment began as a small movement in the Siberian city of Novosibirsk in 2012 and has swelled to become a national event that encompasses hundreds of cities and many thousands of people. Critics say it has been co-opted by a Kremlin eager to deploy the Soviet defeat of fascism in 1945 as a key part of a resurgent Russian nationalism.
The march in Moscow followed the traditional morning parade of Russian troops and military hardware, including tanks, missiles and air defense systems, across Red Square.
"[Victory Day] has become a symbol of the sacred relationship between Russia and its people," Putin told the audience assembled Monday morning. "Our soldiers and commanders have proven that they are worthy successors of the Great Patriotic War heroes and that they honorably protect the interests of Russia."
The Immortal Regiment march took place later in the day, which is a national holiday in Russia and sees memorial events held across the country.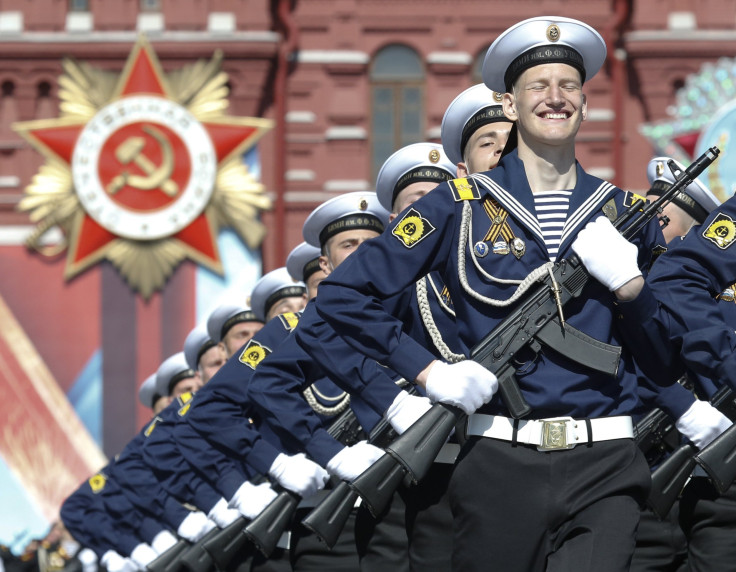 Another participant at the march, Vladimir Movolyan, 48, had extended the remit of the march further back and forward in time. He was carrying a photograph of his grandfather, who was killed in 1921 during Russia's civil war, and a photograph of Russian special forces officer Alexander Prokhorenko, who died this year while supporting Syrian President Bashar Assad's forces fighting against the Islamic State group.
"We will always have victory," said Movolyan. "We remember everything. Americans don't remember everything … and in Europe everyone thinks that America won the war."
Those attending the rally — which took place in bright spring sunshine — carried flowers, Russian and Soviet flags, and wore the orange and black St. George ribbons symbolizing Russian military prowess. Many sported Soviet-era military caps. The event was covered extensively by Russian media, and several state-owned channels broadcast live coverage.
"I am always inspired when people come together. ... It shows that even now we are a united people," said Yelena Nedostoverna, who held aloft a photograph of her father, who was a radio engineer during the war. Her husband, marching next to her, had a photograph of his grandfather, now 92, who fought at Stalingrad, the titanic battle that turned the tide against Hitler.
Moscow police said Monday that more than 600,000 people took part in the Immortal Regiment event in the capital alone.
More than 20 million Soviet citizens are believed to have died in World War II from 1941 to 1945, and commemorations of the end of the conflict have changed over the years. Putin revived the military parade tradition in 2008, and now the Kremlin has embraced the Immortal Regiment movement.
Critics say the day has become a political tool to strengthen nationalism and underscore the importance of having powerful armed forces — rather than remember those who gave their lives. "Fascism," a label often applied by the Soviets to their enemies, has also taken on new meaning in Russia in recent years, where it has a become a term used by Russian officials to describe the Ukrainian government in Kiev that swept to power after demonstrations toppled a pro-Russian regime in 2014.
© Copyright IBTimes 2023. All rights reserved.