Putin Orders Surprise Drills For Russian Black Sea Fleet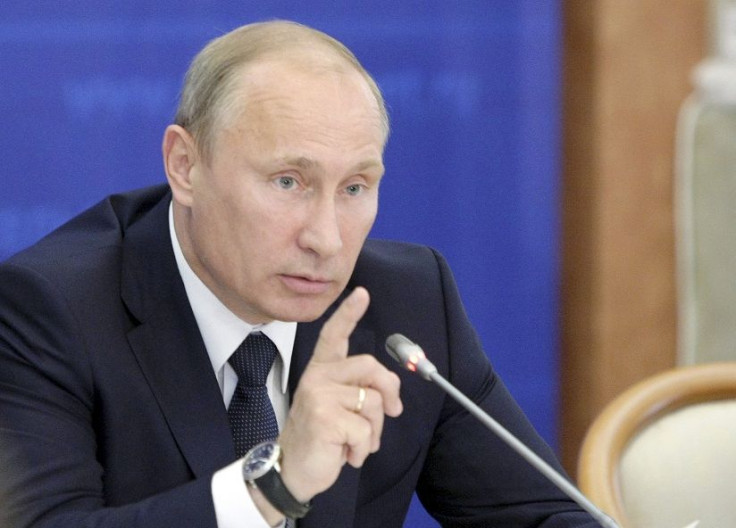 Russian media reported Thursday morning that the much of the Russian navy was participating in huge-scale military exercises in the Black Sea. The Moscow Times said 36 warships, 7,000 personnel, and "an unspecified number of warplanes would take part."
The English-language Russia Today reported the drills were "unscheduled."
Defense Ministry press secretary Igor Konashenkov told Interfax that the drills "engaged over 7,100 troops, around 250 armored vehicles, some 50 cannons, up to 20 fighter jets and helicopters and about 30 various warships. The training partly involves air forces, rapid deployment paratrooper divisions, marines, special forces of the Intelligence Service of Russia's General staff."
The official reason given for the drills was "to test the reaction speed and combat readiness of Russian forces," the Moscow Times reported.
The drills began at 4 a.m. Moscow time, when Russian President Vladimir Putin was on Russia's Air Force One on his way back from Durban, South Africa, at the 5th annual BRICS (Brazil, Russia, India, China, and South Africa) conference.
The drills were a surprise for the few thousand marines who had to get up probably an hour earlier than usual, but also for Russia's neighbors around the Black Sea. Putin's press secretary Dmitry Peskov said the president was well within his rights not to inform any other countries about the drills. Furthermore, Russia's neighbors can probably look forward to more surprise military exercises right off their shores.
"The similar practice of unannounced inspections will actively continue," Peskov said.
Last time Russian conducted similar exercises was in February -- shortly afterwards, Putin said the military needed "to make urgent improvements to the armed forces in the next few years…[to thwart] Western attempts to tip the balance of power," the Moscow Times said. Putin also said that these drills might be held with even less warning, to "keep soldiers on their toes."
This time around, Putin seemed to want to send a signal that Russia is still a force to contend with.
Russian foreign affairs analyst Fyodor Lukyanov, editor of the journal Russia in Global Affairs, told Reuters the exercises were "more likely part of a wider attempt to reconfirm that Russia's navy and military forces in the south are still able to play a political and geopolitical role."
"It is flexing muscles and may have more to do with what is happening in the Mediterranean, around Syria, than in the Black Sea," said Lukyanov.
Russia's only naval base outside of Russia is on the Mediterranean in Syria, whose current government Russia has been staunchly supporting during the two-year civil war.
Russia, Georgia, Ukraine, Turkey, Bulgaria and Romania all border the Black Sea.
© Copyright IBTimes 2023. All rights reserved.