Putin Visits Crimea Amid Heightened Russia-Ukraine Tensions And Military Exercises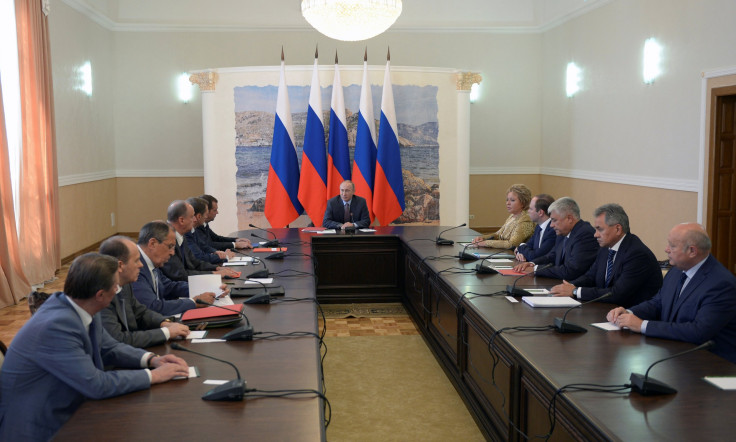 At a moment of heightened tensions between Russia and Ukraine, Russian President Vladimir Putin visited Crimea Friday as military logistics exercises are underway.
Putin's fifth visit since Russia's illegal annexation of the region from Ukraine in March 2014 comes after the Kremlin alleged earlier this month that Ukraine was plotting terror attacks in the peninsula and had killed two Russians soldiers, a charge the government in Kiev denied calling the allegations "fantasies."
"I hope these [provocations] will not be a final choice, will not be a final choice of our partners and common sense will prevail," Putin said at the meeting with members of Russia's Security Council Friday, Russian news agency Tass reported. "We are not planning to roll back our ties despite the unwillingness of the current authorities in Kiev to have full-fledged diplomatic relations at the level of ambassadors, we will still create possibilities for developing contacts and maintaining them."
Ukrainian officials rejected Russia's new candidate for ambassador to Ukraine saying that relations were at such a low that it is unlikely a new ambassador would be able to accomplish much work.
Putin's visit to Crimea comes at a moment increased fighting in eastern Ukraine where Ukrainian government forces have been pitted against Russian-back separatists. Approximately 10,000 people have been killed and over 1.4 million have been displaced since April 2014. Both Ukrainian and Russian officials have blamed each other for failures to implement the Minsk peace accord that was agreed to in February 2015 with the aim of ending the conflict.
Putin said he would discuss the implementation of additional security measures while visiting Crimea. Ukrainian President Petro Poroshenko warned Thursday that a full-scale Russian invasion was still a possibility. "The probability of escalation of the conflict remains very significant," he said while visiting Ukrainian troops.
Both Russian land and naval forces moved military hardware to Crimea ahead of large war games expected there next month, Reuters reported Friday. Russia has also increased the number of its forces along its western border with Ukraine again raising concerns of an increase in fighting. Russia has steadfastly denied that its troops are fighting in eastern Ukraine despite evidence to the contrary.
© Copyright IBTimes 2023. All rights reserved.