Russia-Ukraine War Update: Putin Full-Scale Invasion Is Possible, Poroshenko Says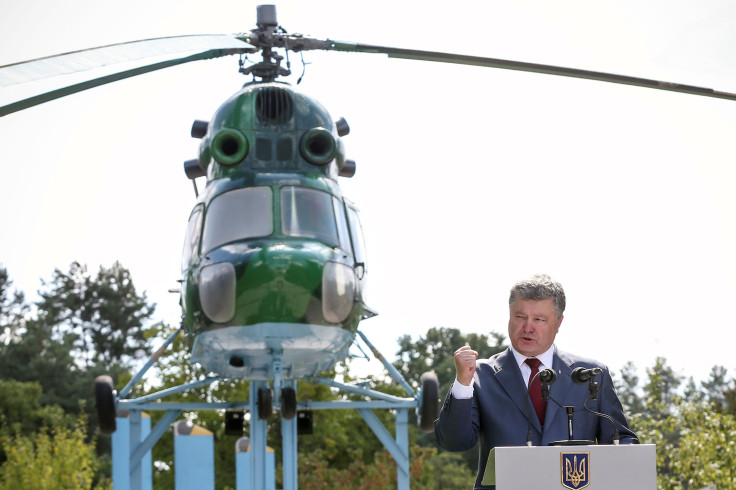 Ukraine's President Petro Poroshenko warned Thursday that a full-scale Russian invasion was possible as tensions again mount between the neighboring nations after increased military activity in Eastern Ukraine and along the border of Crimea.
"The probability of escalation of the conflict remains very significant," Poroshenko said in a televised speech from the western city of Brody, Bloomberg reported. "We don't rule out a full-scale Russian invasion."
Poroshenko was visiting Ukrainian military troops a week after Russia accused Ukraine of plotting a terrorist attack in Crimea that resulted in the deaths of two people. Ukraine flatly denied the allegations calling them "fantasies." Poroshenko warned at the time that Russian President Vladimir Putin was trying to escalate the conflict between the two countries ahead of Ukraine's independence day celebrations on Aug. 24.
Putin said he would take "serious measures" in response to the alleged plot in Crimea. Russia deployed an advanced surface-to-air missile system in Crimea that could reach deep into Ukrainian territory last week. The European Union's President Donald Tusk said Wednesday that Putin's version of recent events in Crimea was not "credible."
Russia illegally annexed Crimea from Ukraine in March 2014 and triggered a subsequent conflict in the eastern Donbass region of Ukraine that has pitted government troops against Russian backed separatists. The conflict has left approximately 10,000 dead and displaced over 1.4 million.
Should the conflict worsen, Poroshenko said he would consider introducing martial law but did not give details on how this would work.
"If the situation escalates in the east and in Crimea we don't rule out the possibilities [that] we will be forced to introduce martial law and announce a [further] mobilization," Poroshenko said, Reuters reported.
The Minsk peace accord agreed to in February 2015 between Russia and Ukraine has stalled. Fighting has continued to escalate in eastern Ukraine with the military reporting Thursday that six servicemen had been wounded and three killed over the last 24 hours.
"The rebels launched more than 500 mortar and over 300 artillery shells at our positions," said Ukrainian military spokesman Oleksandr Motuzyanyk. "The last time we witnessed a similar intensity of fire using heavy armaments was a year ago."
© Copyright IBTimes 2023. All rights reserved.