Q&A With Carlos Honorato, Director Of Chilean Export Agency ProChile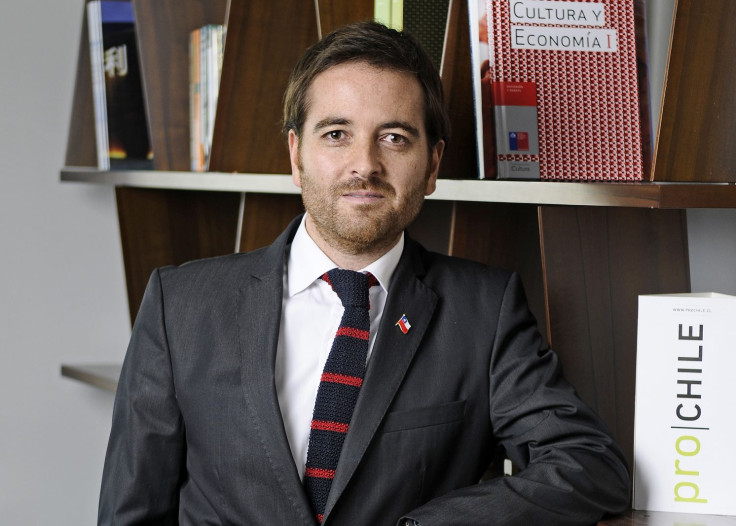 Chile had a very eventful 2013. In those 12 months, the country remembered the late Gen. Augusto Pinochet's coup and Michelle Bachelet was elected president for the second time. The country was named best in Latin America in which to do business and crowned the most stable economy in the region.
With such a precedent, 2014 is shaping up to be a very good year for Chile. Carlos Honorato, director of the Trade Commission of Chile (ProChile), talked to IBTimes about innovation, exports and key trade partners for the country.
Q: How important is innovation for Chile's economy? Why does the interest come at this time?
We are living a very particular moment in Chile at the time – we are on the verge of becoming a developed nation. Our GDP per capita ($19,474 in 2013, the International Monetary Fund expects it to be above $20,000 in 2014) and other economic indicators puts us up there.
And the current government, led by Sebastián Piñera, made it clear that aside from other aspects like education and health – in which there is still work to be done -- innovation and entrepreneurship were going to help reach that goal. It leads to job creation, and it is a way to use talent and technology to advance development and push the economy. We want to diversify our exportations – copper still represents over half of them – and for that, innovation is key.
Q: What measures are being taken to promote innovation?
One of the very first questions was, "what exactly is needed to become a truly entrepreneur, developed nation?" And the answer was that we had to generate a good innovative atmosphere in Chile to turn it into the beacon of innovation and entrepreneurship in Latin America. We needed to promote the academic and private sectors, and fill the country up with talent.
Chile did not have any initiatives nor programs to advance in those fields, so that was the first task. Among those first initiatives were the well-known "Start-up Chile," that looks into bringing world-class early-stage entrepreneurs. We are bringing several specialized institutes for investigation, in several fields, from pharmaceutical to telecommunications. One of our biggest successes is the law to start businesses – you can start your company in a day, 100 percent free and online. We are the second country in the world, after New Zealand, in ease of starting a company.
Q: Some of Chile's main industries are mining and produce. What other industries are you looking to strengthen?
We believe in entrepreneurship in all areas, and are trying to infuse that spirit in Chile, but it is true that our country excels in some fields. Chile is a world power in mining – we are the No. 1 country in production and export of copper. However, we are not a power in what refers to mining development and services, or even engineering.
We are also a power in production and export of produce, and what we want is to generate a larger added value to our produce, make them healthier and more natural. Forestry is another of our big strengths, but we have the same issue as with mining – excellent natural resources but an industry still in development.
Where we are focusing our attention right now is in technology, assembling of batteries, video games, development of state-of-the-art environmental technology.
Q: How much have those measures helped? What change is palpable in the country?
The change has been exceedingly positive. In the last four years, Chile has created a million jobs, which is a record in our history, and 300,000 new entrepreneurial projects -- most after the law was started in 2011. Only in the first year, 67,000 new businesses were opened in Chile. That had never been seen in the country.
Q: Who are your main trade partners? What other countries are you trying to increase relations with?
We have relations with 198 countries in the world -- our economy is very open. We are still the nation with the most free-trade agreements, which reach 61 countries.
In terms of exports, if we talk about the total, including copper and mining, China has been our main trade partner since 2008. Historically it was the U.S., but we signed our FTA with China in 2006 and barely two years later it was obvious the importance of the Chinese market. The U.S. fell to second place, and then there's Japan, Brazil, South Korea, Holland, India. Within Latin America, Peru is very important for Chile.
However, if we take copper away from the equation, then the U.S. goes back to being our main trade partner and China takes No. 2.
About what nations we would like to increase our trade with, India is probably the main one -- India is a complex economy, we have a partial trade agreement but would like to expand it. We have recently signed an FTA with Thailand, Malaysia, Turkey and Vietnam. We are trying to be open to more Asian countries, which are also growing and their middle class is increasingly stronger. Eastern Europe is also another one of our main interests right now. Russia, for example, does not have many FTAs. Chile has a history of being the first to sign an FTA with newly opened nations.
Q: What other economic prospects does Chile have for the near future?
Chile is part of the Pacific Alliance, and that is a main point in our economic strategy. We joined Peru, Colombia and Mexico, and another 30 observers -- including the U.S., the UK, Germany, China and Japan -- in an alliance that is 100 percent trade, not political. Innovation and entrepreneurship are key in that alliance, they are at the heart of the alliance and we expect it to become a main aspect of Chile's economy.
FOR FREE to continue reading
✔️ Unlock the full content of International Business Times UK for free
offer available for a limited time only
✔️ Easily manage your Newsletters subscriptions and save your favourite articles
✔️ No payment method required
Already have an account? Log in
© Copyright IBTimes 2023. All rights reserved.