Qantas Move To Dubai Will Lower Costs, Help Stop Losses On Int'l Routes: Analysts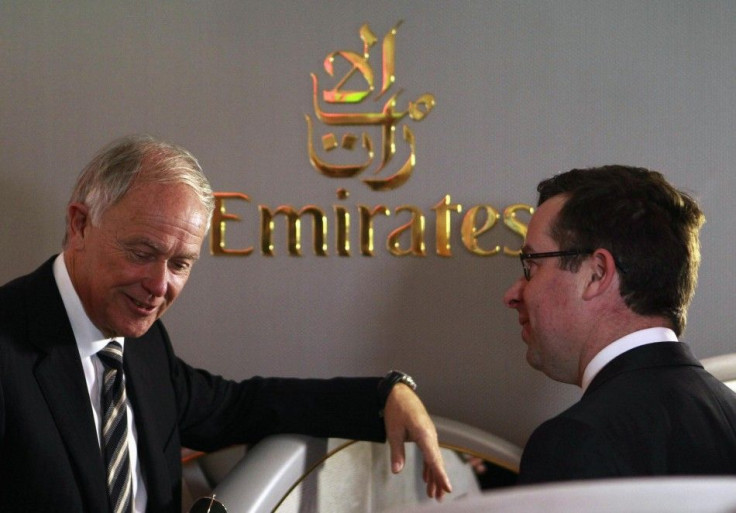 Dubai International, which in July broke the five-million mark in terms of monthly passenger traffic for the first time, is rapidly becoming a major international connection, and for ailing Qantas Airways Limited (ASX: QAN) moving the hub for its flights to Europe from Singapore to the United Arab Emirates will help lower the cost of shuttling travelers back and forth between Melbourne or Sydney and London.
Any cost savings will help the world's oldest carrier, which has lost A$450 million ($465.7 million) in its international operations in the year ended June 30 and reported its first revenue loss since being privatized in 1995. On Friday, just a day after the "Flying Kangaroo" announced it was breaking a 17-year relationship with British Airways Plc and tying the knot with Dubai-based Emirates, S&P downgraded Qantas from BBB to BBB- with a stable outlook.
Qantas preferred to focus less on the downgrade part and more on the "stable outlook" part, saying in a statement Friday that it "highlights the inflection point now reached by Qantas as its international turnaround strategy is delivered."
It also underscored its dominance in Australian domestic routes and its free cash flow, which as of Aug. was $206 million. The airline is one of the few that S&P and Moody's currently consider investment grade, as rising fuel prices and a sluggish global economy has battered the sector's profitability.
Part of that turnaround involves relocating its most important international hub from Singapore Changi Airport to Dubai International. The new hub is about 4,000 miles closer to the UK, which will lower the British departure tax, known as the APD, according to Tony Webber, a former Qantas Group chief economist and current associate professor at the University of Sydney Business School.
The APD "is based on the distance travelled between Britain and the port where the aircraft lands. The longer the distance, the higher the rate that is paid," said Webber in a column published in Friday's edition of the Sydney Morning Herald. "Qantas was paying an APD of £92 ($A142) for economy class passengers and £184 for premium economy, business and first-class passengers using the Singapore hub. By hubbing through Dubai, the rate paid by Qantas passengers falls to £65 and £130 respectively."
The relocation "will help shore up Qantas's viability, which would be further assisted by a more flexible labour market and lower business costs," said an editorial in Saturday's edition of The Australian. The 10-year deal with Emirates will strengthen Qatas' Asian routes and give it access to more than 70 of Emirates' destinations. The partnership, stronger than standard code-sharing, will be beneficial also to Emirates' bottom line, Russell Shaw, an analyst at Macquarie in Sydney, told the New York Times.
"With European services transiting through Dubai, Qantas's Asian services will no longer be a subsidiary of the 'Kangaroo Route.' Instead, they will be dedicated to connecting Australians with our region, and Asian visitors to Australia," Alan Joyce, Qantas's chief executive, said in a statement announcing the move.
The carrier's stock price closed up 5 percent to A$1.26 on the Australian Securities Exchange in Sydney, but the price has been on a steady decline from a ten-year peak of A$6.01 struck in October 2007 before the U.S. mortgage meltdown kicked off the latest global economic downturn.
Meanwhile, the extra parking spaces Changi Airport will have by March when it loses Qantas' two daily Sydney/Melbourne-to-London stopovers for its Airbus A380 superjumbos, will help competitors British Airways and Singapore Airlines Ltd. (SGX: C6L) by allowing them to better fill up their planes, lowering their per-passenger operating cost, according to the Southeast Asian edition of the Wall St. Journal on Friday. However, the loss of an important carrier means less revenue and prestige for Changi.
© Copyright IBTimes 2023. All rights reserved.
FOLLOW MORE IBT NEWS ON THE BELOW CHANNELS