In Qatar, Workers Treated Like 'Animals' Amid Construction Boom Ahead Of FIFA World Cup 2022: Amnesty International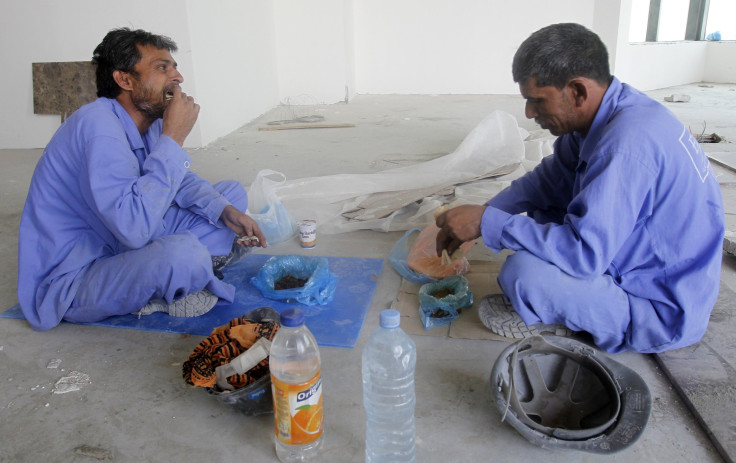 Workers employed on massive construction projects in Qatar, one of the world's richest countries, face widespread abuse and are deprived of their pay and other rights, Amnesty International said in a report on Sunday, as the Middle Eastern country is set to begin preparations to host the FIFA World Cup in 2022.
About 1.35 million foreign nationals are estimated to be working in Qatar, where migrant workers constitute 94 percent of the total workforce, and as many as 90 percent of workers have their passports held by their employers, according to statistics provided by Amnesty. Contractors hired by companies such as South Korea-based Hyundai Engineering & Construction Co. (KRX:000720), Spain-based Obrascon Huarte Lain SA (MCE:OHL) and the government-owned Qatar Petroleum were also found to have been exploiting workers, the report said.
"Qatar is recruiting migrant workers at a remarkable rate to support its construction boom, with the population increasing at 20 people an hour," Salil Shetty, secretary general of Amnesty International, said in a statement accompanying the report. "FIFA has a duty to send a strong public message that it will not tolerate human rights abuses on construction projects related to the World Cup."
Amnesty said employees were found working up to 12 hours every day of the week, and added that its researchers heard a manager of a construction firm refer to workers as "the animals."
Workers are often subjected to blackmail, and, in several cases examined by Amnesty, were made to sign papers falsely confirming that they received their wages so they could retrieve their passports back from employers.
Several workers, who had been promised higher wages compared to what they could receive back home, also suffer severe psychological distress due to their inability to support families back home, as wages often fall short or are delayed for weeks and months, according to the report.
Since Qatar has a "sponsorship" system for recruiting migrant workers, their presence in the country is supported by the employer who recruited them, meaning they are not free to look for another job within the country.
Earlier in November, Francois Crepeau, U.N. Special Rapporteur on the human rights of migrants, had called on Qatar to scrap the sponsorship system saying it is a "stain" on the country and "a source of abuse against migrants."
"Behind the often complex contractual chains linked to employment in Qatar lie the widespread and routine abuse of migrant workers – in some cases amounting to forced labor," James Lynch, researcher on Gulf Migrants' Rights at Amnesty International, said in the statement.
© Copyright IBTimes 2023. All rights reserved.
FOLLOW MORE IBT NEWS ON THE BELOW CHANNELS