With QE3 In Place, Republicans React Negatively -- But Keep Distance From Ron Paul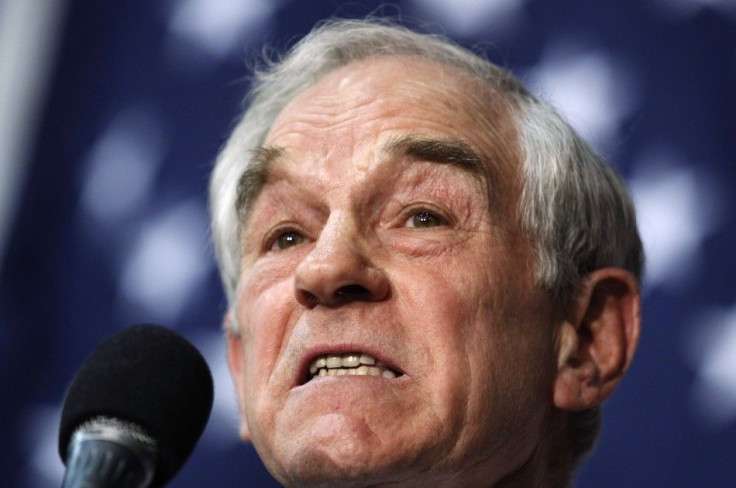 Despite stern warnings from top Congressional Republicans like Ron Paul -- and even a threat from Texas Gov. Rick Perry last year -- to forget about using quantitative easing (QE) to jumpstart the economy, the U.S. central bank is doing it anyway.
After a two-day meeting of the Federal Reserve's interest rate-setting committee, Fed Chairman Ben Bernanke announced Thursday a third round of QE, an open-ended bond-buying program that expands the money supply. Specifically, the Fed will buy more than $80 billion in securities each month, with about $40 billion of those being mortgage-backed securities.
"[This] should put downward pressure on longer-term interest rates, support mortgage markets, and help to make broader financial conditions more accommodative," the Fed said in a statement.
While a robust debate about the positives and the negatives of the new round of QE continues, some Republicans came out swinging against it. But even those critics are a long way away from Paul's radical call to simply do away with the nation's central bank.
In July, Paul scored some success by gaining overwhelming bipartisan support for the House of Representatives' approval of his bill to increase Federal Reserve transparency. The measure passed the House 327-98. The bill was one Paul first introduced about a decade ago, but had been ignored until last summer.
Paul, who has been gunning for more transparency and an audit of the Fed, made his oposition to the central bank one of the fundamental aspects of his campaign for the Republican nomination for president, during which he gained a lot of national attention for his extreme libertarian ideas while ultimately dropping out of the race.
Thursday, he reacted in predictably strong manner to the announcement of QE3: "The Fed's only solution for every problem is to print more money and provide more liquidity. Mr. Bernanke and Fed governors appear not to understand that our current economic malaise resulted directly because of the excessive credit the Fed already pumped into the system."
"Rather than stimulating a real recovery by focusing on a strong dollar and market interest rates, the Fed's announcement today shows a disastrous detachment from reality on the part of our central bank," he added. "Any further quantitative easing from the Fed, in whatever form, will only make our next economic crash that much more serious."
Republican Presidential nominee Mitt Romney's camp chimed in saying a third round of QE is "confirmation that President Obama's policies have not worked." The standard-bearer of the Republican party has, in other words, decided to focus his criticism not on the Fed, as Paul did, but on Obama himself.
"After four years of stagnant growth, falling incomes, rising costs, and persistently high unemployment, the American economy doesn't need more artificial and ineffective measures," Lanhee Chen, Romney for President policy director said.
To find a voice somewhat similar to Paul's radical anti-Fed stance one has to go all the way to the far right of the party and find Rick Perry, who last year told a gathering in Iowa that if Bernanke keeps printing money he will be treated "pretty ugly down in Texas" because the act is "almost treasonous."
"Not only is QE3 no solution to our economic woes, it represents a huge step backward," Perry said. "While it might provide a temporary boost -- or at least maintain the sluggish status quo -- before the November elections, it will add untold billions of dollars to the Fed's balance sheet to give the illusion of an improving economy.
"In essence, this is the mother of all bailouts -- with Mr. Bernanke throwing trillions of dollars at the economy to cover up Washington's fiscal failures," he added. "But this bailout has potentially devastating long-term consequences in the form of a weaker dollar and the increased likelihood of inflation. And, not coincidentally, we have seen rising commodity prices in recent years even as real incomes are declining - making life in the middle class all the more difficult."
Perry once more called for Bernanke's resignation.
And even among economists who don't like Bernanke's policy, Paul's ideas don't seem to have much traction.
At the libertarian Cato Institute, a prominent libertarian think tank, the belief is QE3 will have little effect.
"Reduction in rates will be modest and as price of credit is not holding back the economy, impact on job creation will be minimal if not non-existent," said Mark A. Calabria, Cato's director of financial regulation studies. "Ultimately increasing of mortgage credit and interest rate risk onto Fed's balance sheet will constrain the Fed's ability to act in the face of future inflation."
BTIG LLC's chief global strategist Dan Greenhaus said Friday that it is hard to make the case that QE is bad. Still, he believes the Fed should not have gone ahead with QE3.
Greenhaus said this is because the economy is still cruising along at a "pretty slow, uninteresting rate" that he believes isn't enough to lower the umeployment rate. He also said that the problems currently facing the U.S. economy is amplified by the nervousness in Europe and nervousness about policies in the U.S. -- "things that cannot be fixed by monetary policy."
"It makes sense there is a period of time that the economy is depressed, lasting several years," he added. "That can be helped by monetary policy, but another round of QE on its own cannot work."
Not an endorsement of Ben Bernanke, for sure. But neither are these Paulite-style calls for repudiating the entire system based on having one central bank that sets monrtary policy.
© Copyright IBTimes 2022. All rights reserved.
FOLLOW MORE IBT NEWS ON THE BELOW CHANNELS