Quebec Mosque Shooting Victims Identified: Muslims In Canada Fear More 'Terrorist' Attacks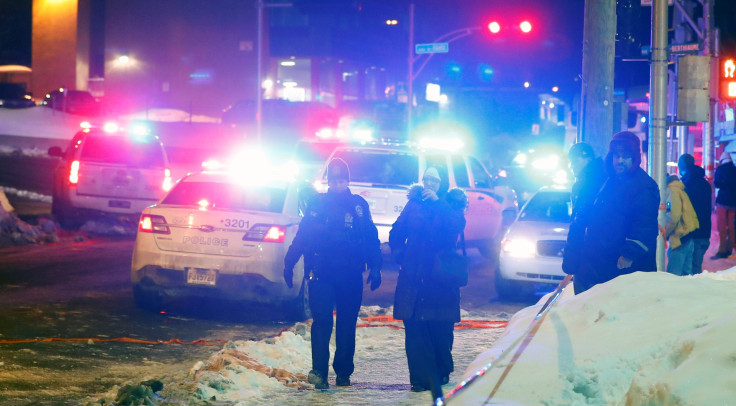 At least four of the six people who were killed in an apparent "terrorist attack" in a Canadian mosque Sunday night have been identified, according to multiple reports. The devout Muslims in were all participating in evening prayer when two gunmen opened fire inside the house of worship in Quebec, injuring eight others.
The alleged assailants, named by local law enforcement as Alexandre Bissonnette and Mohamed Khadir, were taken into custody shortly after the shooting. A motive was not immediately announced.
The four fatal victims were named as Khaled Belkacemi, Abdelkrim Hassen, Azzedine Soufiane and Boubaker Thabti. While their ages were not disclosed, the six people who dies ranged in ages from 35 to about years old.
Five of the eight people injured remained hospitalized from their injuries.
Belkacemi was remembered by Université Laval, where he was a professor at the Faculty of Agricultural Sciences And Food (FSAA) in Quebec City, according to a statement by the university.
"I wish to salute the human qualities and professionalism of my colleague Khaled Belkacemi. He was a very educated man, passionate and committed to the Faculty. His remarkable work will survive his sudden departure, which sadden us all deeply," said Jean-Claude Dufour, a dean at the FSAA.
Hassen, who had three children, was a government employee.
Soufiane, who was also a father to three children, was a fixture among local Muslims in Quebec "because he opened one of the first [Muslim] community businesses here," Karim Elabed, an imam at a nearby mosque, told the Canadian Press. "Myself, when I arrived here eight years ago, (his shop) was the first place I learned about and pretty much all of Quebec's Muslims did their groceries there," he added.
Details on Thabti were scarce, but the father of two moved to Quebec in 2011, according to CBC.
Canadian Prime Minister Justin Trudeau called the shooting "a terrorist attack on Muslims," a designation that has left the local Islamic community in Quebec on edge.
"It's not just that it's unsettling, it's scary," Imam Zia Khan of the Centre for Islamic Development in Halifax told local news outlet The Star. "What's the next mosque? It's not a good feeling. It's a feeling of the unknown."
© Copyright IBTimes 2022. All rights reserved.
FOLLOW MORE IBT NEWS ON THE BELOW CHANNELS