Rafael Nadal News: Why Rafa Should Bounce Back From Early 2016 Australian Open Exit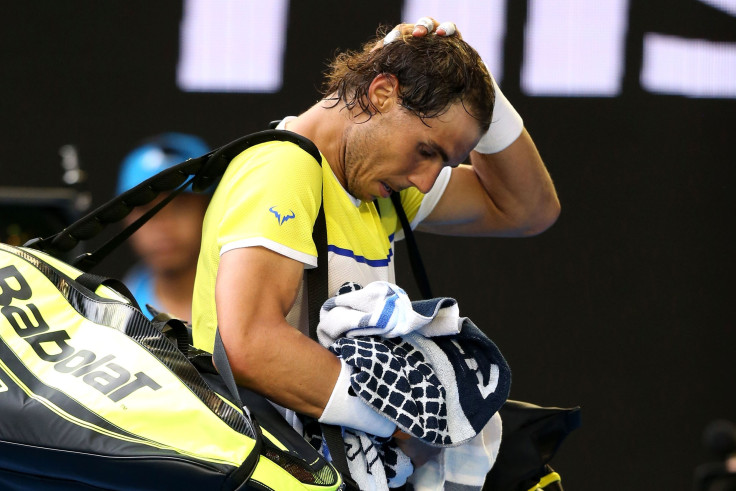 Having suffered only his second first-round loss in a Grand Slam, and on the heels of a year in which he failed to land a Grand Slam title for the first time in over a decade, Rafael Nadal has plenty of reason not to be in the best mood at the start of 2016. Yet his Australian Open loss to Fernando Verdasco at the Australian Open on Tuesday shouldn't necessarily signify gloom and doom for the 14-time Grand Slam champion.
On the surface it is easy to take the loss as the continuation of a steep decline in Nadal's fortunes. In 2015, the Spaniard failed to make it past the quarterfinals of a Grand Slam, and he has now failed to get into the second week of the last three Majors, following early exits at both Wimbledon and the U.S. Open. Even though Nadal now appears physically sharp after fighting back to fitness at the start of last year, the aura surrounding him remains absent. And, given that he will turn 30 in June, many have understandably doubted whether he will ever return to the form required to land tennis' major titles.
Yet Nadal was keen to stress afterward that the circumstances surrounding his defeat to Verdasco were very different to last year's struggles.
"Last year was a different story," he said in his press conference. "I don't want to compare last year, because last year was different issues. But this year, the real thing is I was not enough aggressive with my forehand during the whole match. I didn't feel it. I tried. I fighted. I was ready to do it, and I didn't. So I am sad for that.
"Sometimes you have success; sometimes you do not. Today it is obvious that I didn't."
Certainly that lack of aggression was evident during his five-set loss. For the vast majority of the encounter it was Nadal's compatriot Verdasco who was dictating the play. Nadal's forehand, for so long such a devastating weapon, lacked real depth or menace, allowing Verdasco to control the rally with his own big left-handed forehand.
Yet the fact that it was a meeting between two left-handers is just one of the factors that mean it would be dangerous to extrapolate what lies in store for Nadal from this one match. Not only was Nadal's strength diminished by going up against another left-hander, but he was also taking on a player who knows his game better than almost any other. Featuring his good friend and frequent practice partner, this was not a matchup Nadal will have been thrilled to see in the first round. And, while Verdasco has slipped down to No. 47 from his career-high ranking of No. 7, the 32-year-old maintains the firepower to trouble the game's best when he is going for broke and having a good day, as he was on Tuesday.
For Verdasco, too, there was particular motivation, having been defeated by Nadal in a five-set epic in the 2009 Australian Open semifinals. And, in truth, the result could easily have gone in Nadal's favor once again. He had opportunities in both the first and fifth sets that should have been taken.
Taking out the Australian Open loss, the trend for Nadal has been upward in recent months. After reaching the final in Basel and Beijing, he then finished 2015 by beating Andy Murray and Stan Wawrinka en route to the semifinals of the ATP World Tour finals. At the start of this year, he picked up where he left off by making the final in Qatar, harnessing a more aggressive style. It is that approach that, as Nadal admits, it will be crucial to develop.
"I felt myself that I was practicing great, playing very good," he said after defeat to Verdasco. "I was practicing little bit different, trying to be more inside the court. It's obvious that all the changes are not easy and especially are difficult to make that happen when you are competing.
"But the real thing is if I am not doing that, then I am dead. I can play defensive or offensive. But if you stay in the middle, finally, at the end of the day, you are not doing nothing. You cannot be in the middle of being offensive or defensive, because it is obvious that finally you don't have a consistent strategy, then you are lost."
Against both Novak Djokovic, in a comprehensive final defeat in Qatar, and Verdasco, Nadal couldn't maintain the required aggression. But more favorable conditions to implement it will soon be forthcoming. As well as now getting a considerable layoff to hone his play on the practice court, his return to the tour in Rio de Janeiro next month will see Nadal return to his beloved clay. After a brief return to the hard courts with the Masters 1000 events in Indian Wells and Miami in March he will then settle into his favorite part of the calendar -- the European clay-court season.
Despite the setback in Melbourne, there remains reason to think that Nadal will improve on his failure to win a single event on the European clay last season and be a real threat to win a 10th French Open. Do that and his confidence will surely be high when attempting to thrive once again on the faster surfaces for the rest of the year.
© Copyright IBTimes 2023. All rights reserved.