Rajon Rondo Ejected: Does Celtics Guard Deserve Suspension? [VIDEO]
COLUMN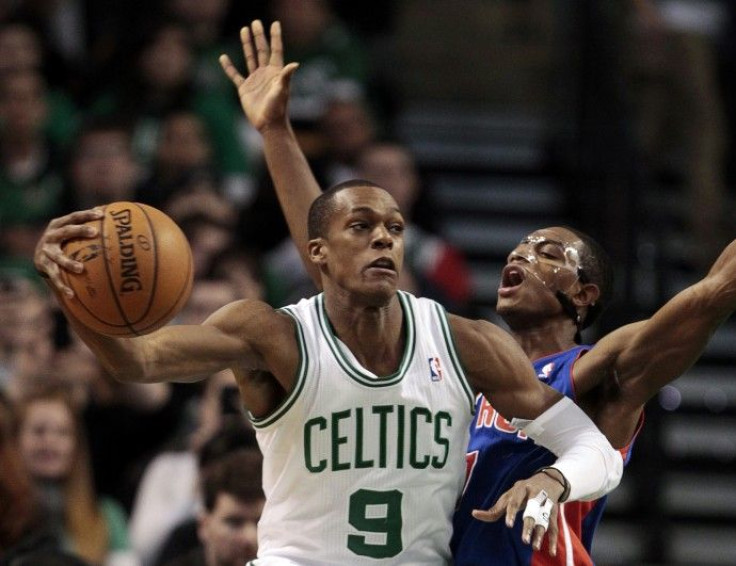 Physicality has been a motif early in the 2012 NBA playoffs, and no one exemplified a high level of it-perhaps mistakenly-in the heat of battle more than Boston Celtics point guard Rajon Rondo did on Sunday during Game 1 of the Celtics' 83-74 first-round loss to the Atlanta Hawks.
With 41 seconds left in the fourth quarter and down just four points, the Celtics were staging an all too familiar comeback to walk out of Philips Arena with an all too important road win. Things soon got a little messy as the shot clock wound down for the Hawks: Kevin Garnett knocked the ball away from Joe Johnson as the latter dribbled in the paint, resulting in a scrum on the floor between Celtic forward Brandon Bass and Hawks forward Josh Smith. Finally, a foul was called on Bass, which irked Rondo enough to argue the call in the face of the referee Marc Davis.
Rondo screamed in Davis's face and he was hit with a technical foul. But, it didn't stop there as Rondo kept walking towards Davis, tripped on Davis's foot and bumped him in the back with his chest. That earned Rondo a second technical foul and an automatic ejection.
Now, it's possible that Rondo could be suspended for Game 2 and some number of games beyond for violating the league's no contact rule, which states: Any player or coach guilty of intentional physical contact with an official shall automatically be suspended without pay for one game. A fine and/or longer period of suspension will result if circumstances so dictate.
However, did Rondo actually intentionally contact Davis?
It would seem as though one can argue both ways. On the one hand, Rondo was vehemently gesturing and yelling at Davis for his foul call when he initially stepped up to him, which warranted the first technical. Then, when Davis turned slightly to signal the technical to the scorer's table, Rondo's dissatisfaction with that prompted him to further confront Davis, move closer to him and make contact with him, which might have signaled Rondo's intention to forcefully and directly dispute-whether through words, gestures or both-the initial technical foul call, too.
On the other hand, Rondo, on Davis's initial technical foul call, tripped over Davis's foot as he approached the referee for the second time. That unintentional trip may have driven Rondo's body forward enough to make unintentional contact.
Yet, despite the trip, couldn't Rondo have still stopped his body from making contact? Why did he immediately just walk away after bumping Davis without going up to him and pleading his case that the bump was in fact unintentional?
The league will most likely try to answer all questions after watching replays of the incident countless times and will decide Rondo's fate before Tuesday when the Celtics take on the Hawks in Game 2.
Rondo maintained to reporters after the game that the contact was not intentional, citing that he knew the rules.
Remember, too, that Rondo was suspended for two games during the regular season for throwing a ball at an official and hitting him in the chest during a loss to the Detroit Pistons. Whether that incident has anything to do with the present predicament remains to be seen.
FOLLOW MORE IBT NEWS ON THE BELOW CHANNELS